Discover more from Cardijn Research
My research notes about the life and work of Joseph Cardijn and his network
A Cardijn apostle, Bishop Manuel Larrain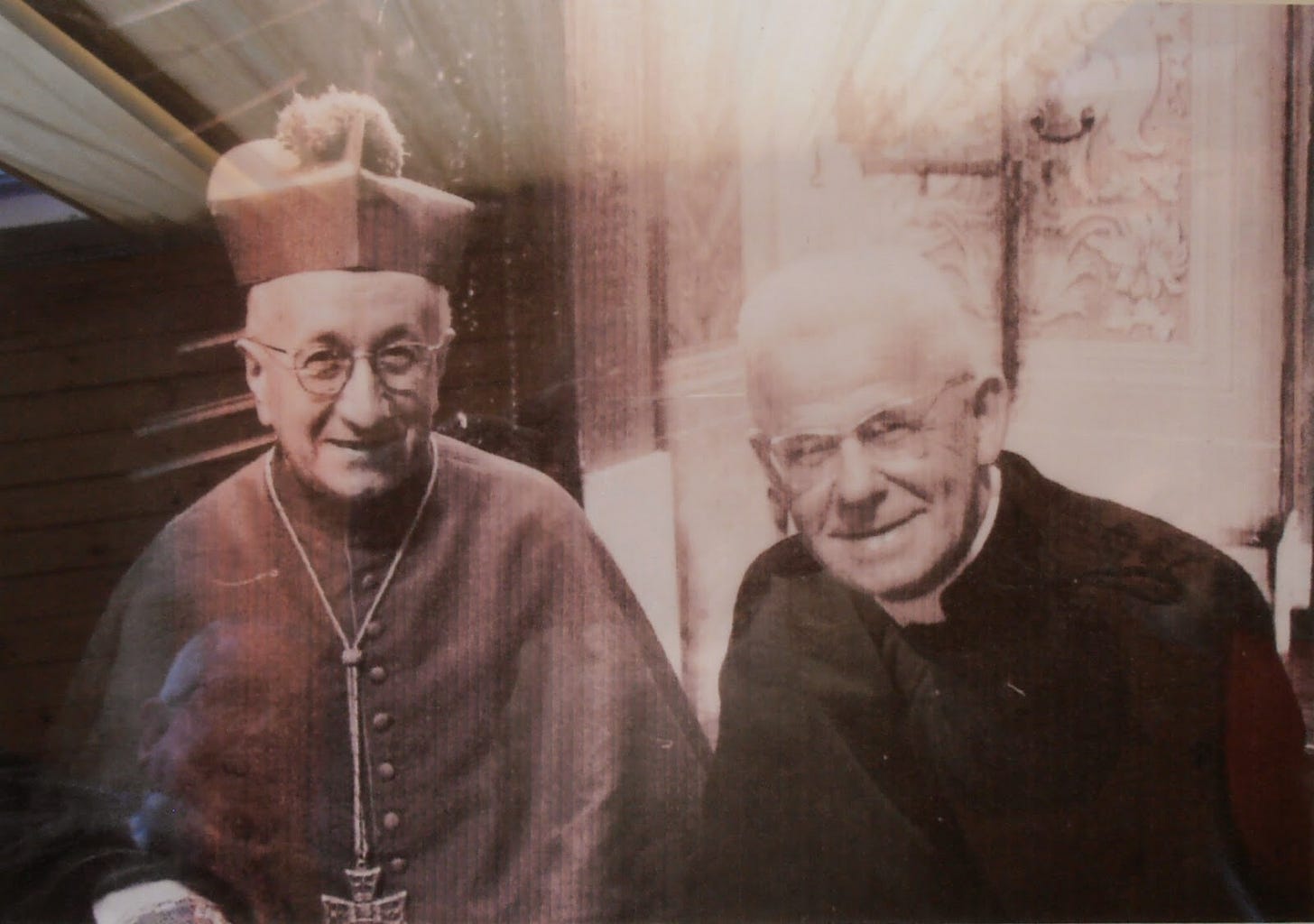 After Cardijn was left off the list of experts for the First Session at Vatican II, one of the bishops who, according to Helder Camara, worked (successfully) to have him appointed to the Commission on Lay Apostolate, was the Chilean Bishop Manuel Larrain of Talca.

During the Council, Larrain did indeed play a very significant role not only in the lay apostolate commission but also in the preparation of Schema XIII, the future Gaudium et Spes. He was also a key actor in the foundation of the Latin American bishops conference, CELAM, and helped prepare the way for the famous 1968 Conference at Medellin, Colombia, which sought to implement Vatican II in the Latin American context. Tragically, however, Bishop Larrain was killed in a car accident in 1966.

As Larrain's writings make clear, he was a close collaborator and ardent supporter of the Cardijn approach to Catholic Action throughout his long episcopate which began in 1938 when he was himself only 38.

I have not been able to identify exactly when Larrain first met Cardijn. However, it is highly significant that young Fr Larrain studied at the Gregorian University in Rome from 1923 to 1928.

Moreover, according to Edward Llewellyn-Jones, Larrain later "acknowledged the influence of one of his teachers, Father Veermach, in appreciating the value of the Church's social teaching and of recent Papal additions to it".

Reference:

http://arts.monash.edu.au/publications/eras/edition-6/llewellyn-jonesarticle.php#a11

I suspect that this "Father Veermach" was actually Fr Arthur Vermeersch SJ, the sociologist and canon lawyer at the Gregorian, who also happened to be a spiritual director of Cardijn.

Indeed, according to Marguerite Fiévez and Jacques Meert, Fr Vermeersch may also have played a role in organising Cardijn's famous 1925 meeting with Pope Pius XI.

Reference:

http://www.josephcardijn.com/chapter-5-pus-xi-first-ycw-congress

And it was precisely during this time that young Larrain was studying in Rome. So it's possible that Larrain knew of Cardijn as early as 1925.

In any event, one of Larrain's early mentors, the Chilean Jesuit sociologist, Fr Fernando Vives Solar, was in touch with many of the Catholic Action developments in Europe, particularly France and Belgium. After studying in Spain and in Argentina, it appears that Fr Vives was in contact with Catholic sociologists in Europe as early as 1909.

By the mid-1920s, he was making frequent study trips to Europe as indicated by these biographical notes:

De 1925 en adelante 10s viajes del padre Vives fuera de España se hacen frecuentes. Asistio a la Semana Social de Lyon en agosto de aquel año, a1 VI Congreso de la Federacion Internacional de Estudiantes Catolicos, celebrado en Holanda en 1926, a un Congeso de la Juventud Catolica en Lieja en 1927, a1 4O Congreso de la Confederacion lnternacional de Sindicatos Cristianos celebrado en Munich en septiemhre de 1928 y a la Semana Social de Marsella en agosto de 1930.

Reference:

http://www.memoriachilena.cl/archivos2/pdfs/MC0039759.pdf

It therefore seems probable that Fr Vives came into contact with Cardijn at the Catholic Youth Congress of Liège in 1928. Four years later in 1932, he attended the VIIth national congress of the French JOC, meeting early leaders such as Georges Quiclet and chaplain Fr Georges Guérin, and later writing a report published in the Chilean journal, La Union on 29 May 1932.

In the light of all this, it's virtually certain, I believe, that Larrain was quite familiar with the Cardijn movements by the early 1930s at least.

The first reference to Cardijn in Larrain's writings as a bishop comes in 1941 in an article entitled "The Church and social problems", in which he quotes Cardijn as follows:

La doctrina social católica, la organización social católica, escribe el abate Cardijn, deben aparecer como la realización de la catolicismo integral, como la instauración magnífica de la realeza social de Cristo, como el desarrollo social del Catolicismo, irradiando entre los hombres más justicia y caridad.

Translation:

Catholic social teaching, Catholic social organisation, writes Fr Cardijn, should appear as the realisation of integral Catholicism as the magnificent installation of the social reality of Christ, as the social development of Catholicism, radiating justice and charity among men.

During the 1940s, Bishop Larrain promoted the development of specialised Catholic Action as the core of his episcopal ministry, with the diocese of Talca becoming a major centre for movements such as the JOC, the JAC, the JEC and their adult counterparts.
When the first World Congress on Lay Apostolate was held in Rome in 1951, Bishop Larrain took part, quite possibly at Cardijn's instigation, becoming a key supporter in Latin America of COPECIAL, the Pontifical Committee for the Lay Apostolate, created by Pope Pius XII in 1952.
In a 1952 article reporting on the Congress, Larrain highlights Cardijn's landmark keynote address to the conference on "The world today and the lay apostolate".

En primer lugar el Congreso hizo contemplar el panorama del mundo de hoy y el apostolado seglar y sentir cómo los problemas tanto de orden material como espiritual se plantean y resuelven en un plano universal. Fue esta la idea que iluminó la primera y magistral conferencia de Mons. Cardijn y la que dio una de las notas salientes del Congreso. El primer Congreso del Apostolado de los Laicos toma conciencia clara de un hecho capital de la historia: el nacimiento DE UN MUNDO NUEVO. 

Translation:

In the first place, the Congress contemplated the panorama of the world today and the lay apostolate starting from the problems both of the material and spiritual order present themselves and are resolved on the global level. This was the idea that illuminated the first, magistral conference of Monsignor Cardijn and which provided one of the most salient notes of the Congress. The First World Congress on the Lay Apostolate arrived at a clear consciousness of a capital fact of history, the birth OF A NEW WORLD.

Bishop Larrain's article continued:

Esa evolución, continúa Cardijn, exije 4 cosas:

a) Que los cristianos vivan intensamente su cristianismo, que vivan el Evangelio en toda su vida personal y con todas sus experiencias seglares.

b) Cristianos conscientes de una misión explícita: el llamado a trabajar en la extensión del Reino de Dios.

c) Cristianos que penetren todos los sectores, todos los aspectos, todas las instituciones del mundo moderno, como testigos de Cristo y portadores de la doctrina de la Iglesia.

d) Cristianos que comprenden toda la importancia que hay en formar COMUNIDADES DE APOSTOLADO, es decir, un apostolado organizado, por un lazo interno, del cual la forma jurídica es su expresión externa.


La palabra de Cardijn no ha sido tan sólo la frase elocuente y profunda de un apóstol, ha sido la expresión clara y en voz alta de lo que todo el Congreso sentía.

Translation:
This evolution, Cardijn continued, demands four things:
a) That Christians live their Christianity intensely, that they live the Gospel in their whole personal life and in the midst of all their secular experiences.
b) Christians conscious of an explicit mission: the call to work for the extension of the Kingdom of God.
c) Christians who will penetrate all sectors, all aspects, all institutions of the modern world, as witnesses of Christ and bearers of the Church's doctrine.
d) Christians who understand the whole importance of forming COMMUNITIES OF THE APOSTOLATE, that is to say, an organised apostolate, with an inner unity, of which the juridical form will be its clear expression.
The words of Cardijn were not only the eloquent and deep phrases of an apostle, but also the clear and loud expression of all that the Council felt.
Six years later, it would be Bishop Larrain himself who would deliver a keynote address to the Second World Congress on Lay Apostolate in Rome in 1957.
As a final indication of Bishop Larrain's commitment to the Cardijn method, there's no need to go any further than this article entitled "Development: Success or failure in Latin America", published in August 1965, just before the Fourth Session of Vatican II, which would adopt Gaudium et Spes. H
Fifty years later, it's still a model of the application of the see, judge, act method as is evident from the contents page:
INDICE
INTRODUCCION
1. ¿Por qué escribo?                  
2. La gran amenaza para América latina    
3. Subdesarrollo, ruptura de la paz   
4. Punto de vista de un Obispo  
5. Lograr el desarrollo 
6. Ver, juzgar, actuar 
Parte I
VER
1. ¿Somos países en vías de desarrollo?
2. Características del subdesarrollo de América latina 
3. Nuestro subdesarrollo en comparación del resto del Tercer Mundo   
4. El por qué de nuestro subdesarrollo 
5. Dificultades superables 
Parte II
JUZGAR
1. El subdesarrollo es un mal 
2. Las falsas concepciones del desarrollo 
3. Desarmar para desarrollar     
4. Desarrollar: un medio nuevo de eliminar la guerra 
5. Falsos modelos de desarrollo 
6. Visión cristiana del desarrollo  
Parte III
ACTUAR
1.Comprender mejor para actuar mejor  
2. Comprender, es unir el desarrollo con la paz 
3. Obrar es escoger    
LAS VIRTUDES DEL DESARROLLO
1. Para todos   
2. El deber de cada uno  


Less than a year later, on 22 June 1966, Bishop Larrain died in that car accident on the road from Talca to Santiago.
But his Pastoral Testament remains in which he concludes by emphasising three points:

Orad con la Iglesia: La oración es la voz de la esposa. Su clamor llega hasta Dios. Trabajad todos, sacerdotes y fieles, para dar a la Liturgia de la Iglesia su lugar en la vida cristiana. Para sentir con la Iglesia hay que orar con la Iglesia. He tratado modestamente de luchar por la vida litúrgica. Quiero que mi última palabra sea para que sigáis adelante en esta empresa: "propter Sion non tacebo et propter Jerusalem non quiescam". ("Por el amor de Sión no callaré y por Jerusalén no descansaré").

Trabajad con la Iglesia: La Acción Católica es la gran necesidad de hoy. Muchos y santos sacerdotes, sí, pero muchos y apostólicos seglares también. Para transformar los ambientes necesitamos apóstoles de ellos. Es la inmensa tarea del laicado católico a que la Iglesia llama a todos, el equipo sacerdote-laico es el equipo apostólico de hoy.

Sufrid con la Iglesia: La Iglesia tiene hoy un sufrimiento especial: el alejamiento de la clase obrera de ella. Hay que hacer que retorne. La Iglesia tiene su doctrina social. Debe enseñarse con valentía. Debe aplicarse con decisión. Muchos no me han comprendido en esta posición. Han creído que hacía política o demagogia.

Ante la majestad de la muerte, afirmo que no he hecho ni lo uno ni lo otro. He cumplido con un deber de Iglesia; trabajar porque cese "el gran escándalo del siglo XX". Porque la clase obrera retorne al seno de su Madre que les aguarda.
Estos han sido mis tres grandes ideales: la liturgia, la Acción Católica y el Problema Social. En los tres he buscado una sola cosa: servir, amar y trabajar por la Iglesia.
Translation:
Pray with the Church. Prayer is the voice of the spouse. Her cry reaches God. All work together, priests and lay people, to give the liturgy its place in Christian life. To feel with the Church is to pray with the Church. I have tried modestly to fight for liturgical life. I would like my last word to be to go forward with this objective: "propter Sion non tacebo et propter Jerusalem non quiescam" ("For the love of Sion I will not keep silent and for Jerusalem I will not rest."
Work with the Church: Catholic Action is the great necessity of today. Many holy priests, yes, but many and apostolic lay people as well. This is the immense task of the Catholic laity to which the Church calls all, the priest-lay team is the apostolic team of today.
Suffer with the Church: The Church today experiences a special suffering: her loss of the working class; work because this is "the great scandal of the 20th century". Because the working class must return to the bosom of the Mother who awaits.
These have been my three great ideals: the liturgy, Catholic Action and the Social Problem. In the three of them, I have sought one thing: to serve, to love and to work for the Church.
Even his last testament is full of reference to Cardijn! What a tragedy that he died even before Cardijn's own death in 1967!
No wonder Cardijn looks so happy, why they both look so happy in the photo above.
Manuel Larrain, a great Cardijn apostle, a true spiritual son of Cardijn.

Read more:

http://priests.josephcardijn.com/manuel-larrain

http://testimonies.josephcardijn.com/manuel-larrain