Discover more from Cardijn Research
My research notes about the life and work of Joseph Cardijn and his network
A letter from Léon Ollé-Laprune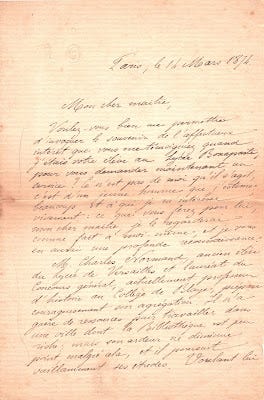 Another letter today, this time from my own collection of papers and documents, a letter written by the  French  philosopher, Léon Ollé-Laprune, a great influence both on Marc Sangnier and the Sillon movement as well as on Cardijn himself.
As his name card which appears to have been attached shows (see below), at the time of the letter dated 14 March 1874, Ollé-Laprune, then 35, was teaching philosophy at the prestigious Lycée Henri IV in Paris's famed Latin Quarter.

It is addressed to an unnamed former high school history teacher of Ollé-Laprune requesting assistance for a young "protégé," Charles Normand, who was seeking to succeed in gaining his "agrégation," a qualification enabling people to teach in the French system.
I've posted the full letter here:
https://www.olle-laprune.net/p/1874-mon-cher-maitre.html
Although I don't know the outcome of this request, Charles Normand did in fact go on to become a well-known historian of French monuments and an archaeologist:
Charles Normand (historien) (Wikipedia.fr)
In a general sense at least, Ollé-Laprune's endeavours appear to have borne great fruit.
So while it's not an important letter, it does illustrate Ollé-Laprune's desire to be of service to others.
Plus, of course, personally I'm pleased and proud to have an original handwritten letter written by the man, who later became known as "another Ozanam" and who I regard as "the philosopher of the see-judge-act."
Stefan Gigacz
Read more about Léon Ollé-Laprune here:
https://www.cardijnresearch.org/search?q=oll%C3%A9-laprune
Joseph Cardijn, My reading (Joseph Cardijn Digital Library)