Discover more from Cardijn Research
My research notes about the life and work of Joseph Cardijn and his network
Another earlier Sillon magazine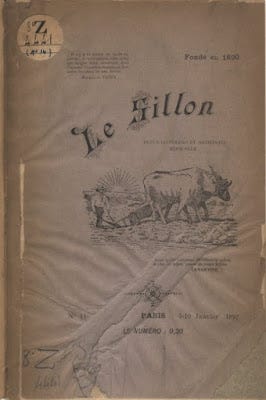 Thanks to the Institut Marc Sangnier and France's Bibliothèque Nationale, the complete collection of Marc Sangnier's famous journal, Le Sillon, is now online on their Gallica website.

http://gallica.bnf.fr/ark:/12148/cb328683032/date&rk=64378;0

Truly a magnificent resource for researching the sources of the JOC!

What's more there are now a number of Sillon-related publications online now available on Gallica, including Louis Cousin's Vie et doctrine du Sillon, a copy of which Cardijn had himself in his own library.

http://gallica.bnf.fr/ark:/12148/bpt6k5548620m?rk=107296;4

What caught my eye today, though, was another magazine, also called Le Sillon, which began publication in 1890 and lasted until around 1892 as indicated by the three copies that are online:

http://gallica.bnf.fr/services/engine/search/sru?operation=searchRetrieve&version=1.2&collapsing=disabled&query=dc.title%20all%20%22le%20sillon%22%20and%20arkPress%20all%20%22cb328683121_date%22&rk=150215;2

This was published by an editorial team comprising Jules Bonnet, Ernest Bouhaye, Auguste Cheylack, Léon Maupryn, Ariste Richard.

Jules Bonnet is the one who appears to have made the most impact on history, precisely by writing a History of Protestantism.

https://fr.wikipedia.org/wiki/Jules_Bonnet

The others all seem to have been more literary in their orientation, as was the magazine itself.

https://www.amazon.fr/Auguste-Cheylack-Jentends-appels-myst%C3%A9rieux/dp/B0018GDEAS

http://unpeudetao.unblog.fr/dans-la-tourmente-ernest-bouhaye/

Gallica only has three copies of the magazine from 1891 and 1892 so it appears to have been quite ephemeral.

Moreover, the new magazine Le Sillon launched by Paul Renaudin, Marc Sangnier and others began in January 1894, also based in Paris.

The immediate question, of course, is: was there any link between the two publications?

Clearly the logo used by the magazine published by Bonnet's team is similar to that later used by the Renaudin-Sangnier one as visible below.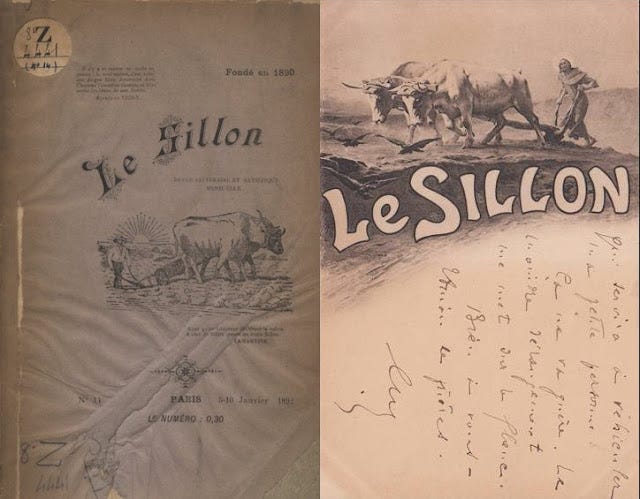 There are other similarities too.
Visible at the top left of the Bonnet-team magazine is a quote from Alfred de Vigny, the mid-19th century writer, who was certainly close to the ancestors of Marc Sangnier.
"Il n'y a ni maître ni école en poésie; le seul maïtre, c'est celui qui daigne faire descendre dans l'homme l'émotion féconde et faire sortir les idées de nos fronts."
Translation:
"There are no masters or schools in poetry; the only master is he who deigns to cause the fruitful emotion to descend into man and to bring out our ideas."
Indeed, this very thought of not having a master or a school is very close to the line that the Sillon of Marc Sangnier would later pursue, which is also close to that of Alphonse Gratry and Léon Ollé-Laprune. This is also reflected in Cardijn's own spirituality based on the notion of each one being an "apostle" rather than a "disciple."
Also interesting in the Bonnet magazine are the references to Alphonse de Lamartine, who played a major role in the Revolution of 1848, which was also key to the democratic orientation of Marc Sangnier's Sillon.
Moreover, the Bonnet Sillon cites a phrase from Lamartine XVème Meditation dedicated to Victor Hugo:
Ainsi qu'un laboureur qui passe et qui repasse,
Et, sans se reposer déchirant le vallon,
A côté du sillon creuse un autre sillon
Translation:
Thus, a labourer who passes back and forth
And, without resting, tearing a little valley,
Digging another furrow alongside the furrow
Similarly, it's not surprising to find Bonnet's Le Sillon citing Lamennais: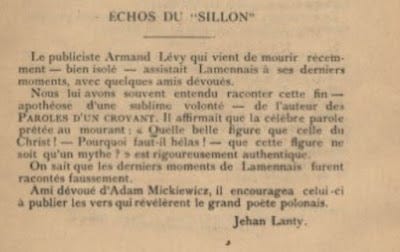 While this still does not definitively prove that either Sillon magazine borrowed the name from the Sillon beach in Lamennais's birth city of Saint Malo, it is a further intriguing link.
In any event, there certainly appears to be significant continuity between the Bonnet and the Renaudin-Sangnier Sillon magazines.