Discover more from Cardijn Research
My research notes about the life and work of Joseph Cardijn and his network
Antoine Sondag, a diaconal priest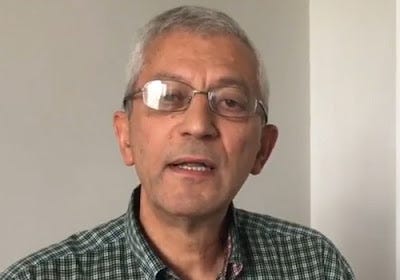 Very sad this week to record and report the death on Saturday 7 November of French priest, Fr Antoine Sondag, a friend for over 30 years, chaplain to the International YCS during the late 1980s and to Pax Romana ICMICA some 20 years later.
Born in 1948 at Sarraguemines near Metz in France's Lorraine region, now part of the Grand Est, Antoine later graduated from the elite Institute of Political Science in Paris, better known as "Sciences Po" to its students.
Quickly, however, he took another path, entering the seminary and being ordained as a priest for the Diocese of Metz, where he served in a parish for ten years.
I believe that it was there that he became involved as a chaplain with the Jeunesse Etudiante Chrétienne (Young Christian Students) movement.
By the time I met him in Hong Kong in 1989, he was chaplain for the International YCS.
But I really got to know him and appreciate his friendship and generosity later when I studied and worked in Paris for several years.
By then, he had become secretary-general of the French bishops National Commission on Justice and Peace. Later still he worked for Secours Catholique (Caritas France) as the head of its research department.
Following that he returned to the French Catholic Bishops Conference as the director of their "mission universelle" or international affairs department.
In 2011, he joined us in Bangkok as the keynote speaker for a peace-building forum hosted by the Cardijn Community International.
More recently he edited "Développement et civilisations," the magazine published by the Centre Lebret-IRFED, which promoted development in line with the work of the Dominican, Louis-Joseph Lebret, who had founded the jocist-inspired specialised movement for young maritime workers before making his name as a development specialist and the inspiration of Pope Paul's encyclical, Populorum Progressio.
At an intellectual level, he published a number of books dealing with subjects ranging from the demography of the Catholic population to the question of poverty.
One of his most hardhitting books bears the title "On ne supprimera jamais la pauvreté. Même pas vrai" - "We will never get rid of poverty. Totally untrue." In a similar vein, he also published "La solidarité, chemin de spiritualité" - "Solidarity, a spiritual path."
And finally, "Pour une église diaconale, Chrétiens au service de la société" - "For a diaconal church. Christians at the service of society."
In September 2019 he moved to Villejuif, an inner suburb of Paris, where he became part of the local Catholic parish. By then, however, he knew he had the cancer that would claim his life this month.
Yet he continued to welcome friends from around the world and also to financially assist those in need.
Aware of his probable fate, Antoine took the opportunity to record a remarkable video that I will post here for those who understand French and which he divides into three parts: thanks, pardon and hope.
I have translated it into English here.
Indeed, just five days after his death, his "testament" has already been translated into over ten languages including Arabic, Chinese, German, Spanish, Italian, Filipino, Tamil, Vietnamese, Indonesian.
It is a fitting tribute to Antoine's quiet yet powerful influence and impact.
Meaningfully, indeed providentially, his funeral will take place tomorrow, 13 November, which is also Cardijn's birth anniversary as well as "IYCS World Day."
As his Villejuif parish colleagues noted, he "placed himself in the line of the Catholic social doctrine developed by Frédéric Ozanam during the 19th century."
In an age that has grown tired of an authoritarian, clerical, top-heavy Church, Antoine Sondag showed us what it means to be a truly diaconal priest at the service of his people and offers us a model of how to build a genuinely diaconal Church.
Stefan Gigacz
READ MORE
A Dieu (Joseph Cardijn Digital Library - in 10 languages)
A Dieu père Antoine (Eglise de Villejuif)
IYCS World Day (IYCS-JECI)
Guido Mocellin, Un testamento spirituale in Rete: i «grazie», il perdono, la speranza (Avvenire)
Fr Antoine Sondag (Online celebration 21 November) (Pax Romana ICMICA)
Décès du Père Antoine Sondage (Diocèse de Metz)
L'adieu d'Antoine Sondag (Secours catholique
Antoine Sondag funeral details and live broadcast (Diocese of Metz/Facebook)