Discover more from Cardijn Research
My research notes about the life and work of Joseph Cardijn and his network
Bottom up or top down?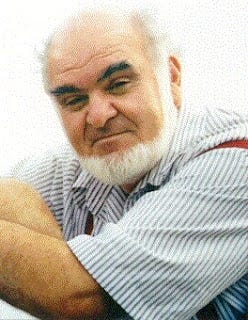 As luck or Providence would have it, this week I finally got some time to post a few articles by former IYCW president Romeo Maione.
And his views about Cardijn certainly offer an interesting counterpoint to those of his Canadian compatriot, Fr Sheppard, that we looked at earlier.
"Where did this comet - shooting across the industrial sky - come from?" Romeo asked at the Cardijn Centenary Conference in Melbourne, Australia in 1982, one of the first times I heard him speak.

"Was he just a shooting star? Was Cardijn just a passing phenomenon? Does he have anything to say to the modern world and to the post-Vatican II Church?" he continued.

But why was Romeo asking all these questions? Wasn't Cardijn's contribution obvious? Apparently not, even then.

"I do not ask these questions lightly. In my country and others, especially, those at the edge of the post industrial world, the YCW has, one can only hope, temporarily been abandoned.

"At a recent church meeting, I was told by a bishop that 'the YCW, the YCS, the CFM, all Cardijn movements had served the church well. In fact, it was their ideas, experiences and witness that were at the centre of the last Council. We salute you. You were the instruments that renewed the church. You have done your job.'

Indeed, this was a theme to which Romeo Maione often returned, namely what he saw as the post-Vatican II abandonment of the YCW and the young workers by the Church.

The last time I heard him speak was at the YCW History Colloquy prior to the IYCW World Council and 75th anniversary celebration in Brussels in 2000.

It was a familiar refrain.

"Finally, I want to speak to you like an old man of 75 years who has seen and been in many parts of the world," he said.

"The saddest event in my life was to see the overnight destruction of not only the YCW, the YCS and all the other organizations of specialized Catholic Action groups in Canada. The most progressive bishops who just returned from the Vatican Council in one meeting of a few hours closed down all these movements.

"The reason that was given was that the Council had renewed the Church and they had not only done wonderful work but it was their ideas that were at the heart of the Council.

"I remember telling the bishop 'tell me that the world has been changed by the Council and I will go back to sleep'," he said.
I am not familiar with the details of what happened in Canada in the post-Vatican II years. Nevertheless, his comments certainly jibed with my own experience of the abandonment of the Cardijn movements in Australia during that period.
No doubt this was also what Fr Sheppard was thinking of in his article on the See Judge Act and Ignatian Spirituality where he referred to the See Judge Act method having survived "the collapse of Catholic Action." By "Catholic Action," it's clear that Fr Sheppard means "specialised Catholic Action," although it is significant that he conflates the two.

But it's also interesting that he speaks of a "collapse" of (specialised) Catholic Action, whereas Romeo Maione emphasized many times that this was a deliberate move on the part of the Canadian bishops. Unfortunately, Romeo is no longer with us to clarify what happened. But it's certainly an issue that needs to be studied.
In any event, there's no denying that the YCW did decline massively in the wake of Vatican II, as did many other existing Church organisations, including the Jesuits themselves. In fact, the Canadian Jesuits themselves dropped - or should I say "collapsed"? - in number from 1270 in the early 1960s to around 280 in 2014! Either way it's a phenomenon worth reflecting on that was not exclusive to the JOC and the other specialised Catholic Action movements.
Moreover, Fr Sheppard's apparent conflation of  specialised Catholic Action based on the Cardijn methodology with Catholic Action in general, which took a variety of forms in many countries and at different times, may also be what has led him to confuse Cardijn's life-based method with the top down doctrinal method that the JOC founder sought to renew and replace.

In any event, as Romeo Maione also made clear on many occasions, the Cardijn method was a "down up" method.

"His belief was that the top down strategy was a waste of time. His was a 'down up' strategy," Romeo said in 2000.

"We have still to discover Cardijn's bottom up strategy," he added later. "A strategy that was based on discovery not imposition. A young worker finally comes to ask questions about his or her life," he repeated in the same speech.

And as Romeo said on other occasions, this also applied to the kind of spirituality Cardijn promoted.

"This earthly spirituality brought Cardijn to add Gospel studies to his small groups. Cardijn's spirituality was bottom up socially and earthly. He would tell workers, 'your work bench is your altar'," Maione noted in 1982, recalling another classic Cardijn phrase. 
Thus, "Cardijn did not bring the light to young workers rather he allowed them to discover the light that lives eternally in every person," Romeo said in 2000.
"This incredible act of faith must necessarily precede all other acts of faith. how can one believe in another person if one does not believe in himself. How can one believe in Jesus if one does not believe in oneself?" Romeo asked.
These simple citations suffice, I think, to illustrate that Cardijn's method was anything but top down. What's more they come from a man who worked closely with Cardijn, initially in Rome for the preparation of the International Pilgrimage and World Council in 1956-57 and then as international president from 1957-61.

This still leaves us with a troubling question: How did Cardijn's method become so forgotten and even misunderstood?

SOURCES
http://pioneers.josephcardijn.com/romeo-maione
http://pioneers.josephcardijn.com/cardijn-the-man
http://pioneers.josephcardijn.com/2000---doctor-cardijn
http://pioneers.josephcardijn.com/discovering-cardijn
http://cardijnresearch.blogspot.my/2017/01/breathtaking-misconceptions-about-see.html