Discover more from Cardijn Research
My research notes about the life and work of Joseph Cardijn and his network
Brazil's "red bishop" has died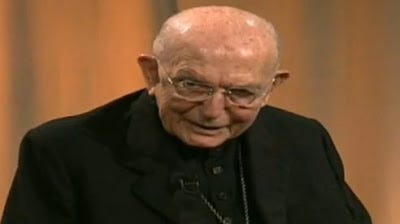 Cardinal Eugenio de Araujo Sales
Retired archbishop of Rio de Janeiro, Cardinal Eugenio de Araujo Sales died last month at the age of 91.

Well, he had a good long life but I'm sorry to see him go in particular because I had just written to his office to try to get an interview with him on his relationship with Cardijn.
In Cardijn's extensive personal notes on Vatican II, I found his record of a meeting in Rome in 1964 with then Bishop Sales together with Dom Helder Camara and Dom Fragoso.
Clearly it was to do with the drafting on conciliar documents. But what specifically? That's what I wanted to ask him.
According to the UK Telegraph:
Sales was no fan of "liberation theology". He proscribed the so-called base communities (laity-led, grassroots, mostly quasi-Marxist Church groups which sprang up in Latin America in the 1970s and 1980s).

He refused to allow the Left to make the running on social issues, explaining in an early interview: "Christians are also revolutionaries, and they have a much better alternative for social progress. With the authentic application of the Gospel, we will bring about a deep change in society without a revolution in the Communist sense, without putting class against class, without hate and without bloodshed."

In the early 1960s, as Bishop and Apostolic Administrator of Natal, a city in the country's impoverished rural north-east, he founded a Rural Assistance Service run by clergy and lay volunteers which founded radio schools to tackle the problem of illiteracy and maternity centres to reduce maternal and infant mortality. For the workers there were co-operatives, credit unions and labour unions. Later, as Archbishop of Rio de Janeiro, he created dedicated ministries for prison inmates, for young people and residents of the shanty towns that surround the city.

So it's pretty clear that he was in the line of Cardijn prior to the Council. Moreover, as I understand it, Sales was actually one of the founders if not the creator of the Basic Christian Communities as reported here and here in Brazilian Portuguese.

And there were many from the YCW and other lay movements who were instrumental in the basic Christian communities.
The problem for Cardinal Sales was the alleged political involvement of some of those BCCs.

Moreover, during the period of Brazil's military dictatorship he became known for his closeness to the military. On the other hand, he later explained how he used that relationship to defend Church workers:

Shortly before he retired Sales revealed that, between 1976 and 1982, when the respective juntas then ruling Argentina, Brazil, Chile and Uruguay collaborated in the eradication of political opponents, he had used the resources of the archdiocese to help some 5,000 dissidents, lodging them in rented apartments or securing their safe passage abroad.
He also explained:
"If I announced what he was doing, I had no chance. Many did not agree, but I would rather talk and save. I had never had any interest in disclosing it. I wish things worked, and the way it was at that moment, the way was not to step foot in the government. " (Google translation of this article)

FoxNews, which notes that he was known as the "red bishop", adds:
Sales revealed 12 years ago that he used the resources of the archdiocese to aid some 5,000 persecuted South American dissidents between the years 1976 and 1982, when the respective juntas then ruling Argentina, Brazil, Chile and Uruguay collaborated in the eradication of political opponents.

Well, I won't get to talk to him now. But I'd love to get some more feedback from some of those who were involved in the Brazil YCW of that time on how they perceived his role.