Discover more from Cardijn Research
My research notes about the life and work of Joseph Cardijn and his network
Breathtaking misconceptions about Cardijn and the See Judge Act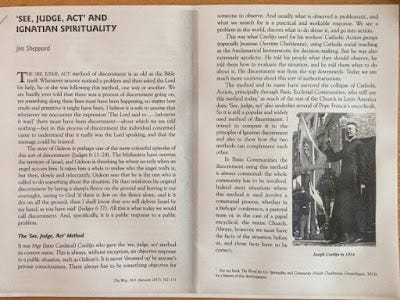 According to Canadian Fr Jim Sheppard SJ, Cardijn was extremely "apodictic,"which, according to the Merriam-Webster dictionary, means "expressing or of the nature of necessary truth or absolute certainty."

"It was Mgr (later Cardinal) Cardijn who gave the 'see, judge, act' method its current name," Fr Sheppard writes in the January 2017 edition of the Jesuit magazine, The Way.

"We see a problem in the world, discern what to do about it, and go into action," he continues.

"This was what Cardijn used for his workers' Catholic Action groups (especially Jeunesse Ouvrière Chrétienne), using Catholic social teaching as the fundamental hermeneutic for decision-making. But he was also extremely apodictic.

"He told his people what they should observe, he told them how to evaluate the situation, and he told them what to do about it. His discernment was from the top downwards. Today we are much more cautious about this sort of authoritarianism," Fr Sheppard adds.

Frankly, I'm stunned. Where did Fr Sheppard get this information from? No doubt it's true that at various times YCW groups, YCW chaplains and others have failed to completely understand or follow the Cardijn method.

Nevertheless, what Fr Sheppard has written here is a complete caricature of Cardijn and his work that would be unrecognisable to almost all of those who actually worked with Cardijn and/ or the YCW.

Fortunately, he is not completely negative about the SJA.

"The method and its name have survived the collapse of Catholic Action, principally through Basic Ecclesial Communities, who still use this method today, as much of the rest of the Church in Latin America does. 'See, judge, act' also underlies several of Pope Francis's encyclicals.

"So it is still a popular and widely used method of discernment. I intend to compare it to the principles of Ignatian discernment and also to show how the two methods can complement each other."

And he devotes the rest of his article to showing how the Jesuit and Cardijn approaches can work together. Indeed, it's quite a good article as far as it shows this complementarity.

The great irony, however, is that this "discernment" element formed part of the SJA from the very beginning of the YCW. In fact, one of the first if not first published references to the SJA in YCW documents, La formation sociale de la JOC was written by the Jesuit Fr Joseph Arendt, although he referred to it as voir, juger, faire - see, judge, do.

Secondly, Cardijn worked very closely with the Belgian Jesuits from the very beginning of the movement. Indeed, his spiritual director for many years was the Jesuit sociologist and canonist, Fr Arthur Vermeesch, who may even have had a direct role in the development of the SJA. There were many others from the "Red priest" Jean Boulier to the Jesuit Superior-General Jean-Baptiste Janssens. Belgian Jesuits were also particularly important in the development of the YCW, particularly in countries such as India. In other countries, such as Argentina, homeland of Pope Francis, the Jesuits played a particularly important role in the JUC.

In this sense, the aspect of discernment has always been part of the SJA process fostered by the YCW and other Cardijn movements.

What is even more galling in Fr Sheppard's comments, however, is his characterisation of Cardijn's approach to the SJA as an "authoritarian" method of telling people what to see, to judge, and to act. Nothing could be further from the truth.

What is true, however, is that there were people who DID misunderstand the SJA in this sense. And Cardijn combated them at every opportunity.

What's more, one of Cardijn's biggest battles at Vatican II was on precisely this point, when he had to fight to prevent an incorrect understanding of the SJA from being incorporated into the Decree on Lay Apostolate, Apostolicam Actuositatem.

This is what Cardijn wrote about an early version of the draft text of the decree.

C'est un numéro très brouillé ! La « méthode » voir, juger, agir, telle qu'elle est décrite dans le chapitre est fort peu authentique, on la réserve pour la formation de chrétiens engagés dans l'action temporelle, afin qu'ils trouvent eux-mêmes les solutions concrètes à partir de principes de doctrine qu'on leur a « donnés ».

Tout ce numéro 29 pourrait être consacré à montrer comment la paedagogie voir, juger, agir est nécessaire pour tous. Tous les chrétiens laïcs ont besoin pour se former à une vie apostolique de « découvrir » le monde dans lequel ils vivent (milieu, autres personnes, conditions de vie, mentalité et attitudes de vie), (VOIR), de découvrir dans la foi la pensée et la présence active du Seigneur par rapport à cette situation de vie (JUGER), de découvrir à partir de cela l'appel concret que le Christ leur adresse dans le monde et dans l'Eglise (AGIR).

Toutes ces découvertes se font en équipe (cellule d'Eglise) et la réponse à l'appel du Christ set possible grâce au soutien mutuel et dans la collaboration fraternelle. Ces principes de formation, valent pour tous.

Translation:

This is a very confused number! The see, judge, act "method", as it is written in this chapter is hardly authentic and it is reserved for the formation of Christians engaged in temporal action so that they find concrete solutions for themselves based on doctrinal principles that they have been "given."
The whole of Number 29 could be consecrated to showing how the see, judge, act pedagogy is necessary for all. All lay Christians need to be formed for an apostolic life of "discovering" the world in which they live (milieu, other persons, conditions of life, mentality, attitudes to life) (VOIR), to discover in faith the thought and active presence of the Lord with respect to this life situation
(JUDGE), to discover beginning from that the concrete call that Christ addresses to them in the world and in the Church (ACT).
All these discoveries take place in a team (Church cell) and the response to Christ's call is possible thanks to mutual support and in fraternal collaboration. These principles of formation are valid for all.
(Joseph Cardijn, Note 22, Vatican II, Cardijn Archives, N° 1577/11.
I think that it's pretty clear from this text that Fr Sheppard's characterisation of Cardijn and his method is very far removed from reality. In fact, Fr Sheppard has described a misconception of the SJA that is even worse than that in the early draft of Apostolicam Actuositatem.
"Always, we must have the facts of the situation before us. and those facts have to be correct," Fr Sheppard also writes. Unfortunately, the historical "facts" about Cardijn that he presents are far from correct.

Let's hope that it does not detract from his far more helpful observations illustrating the way in which Ignatian discernment complements Cardijn's SJA.

By the same token, such a distorted representation of what Cardijn stood for cannot be allowed to go unanswered.