Discover more from Cardijn Research
My research notes about the life and work of Joseph Cardijn and his network
Cardijn and Blessed Paul VI: 30 years of friendship and partnership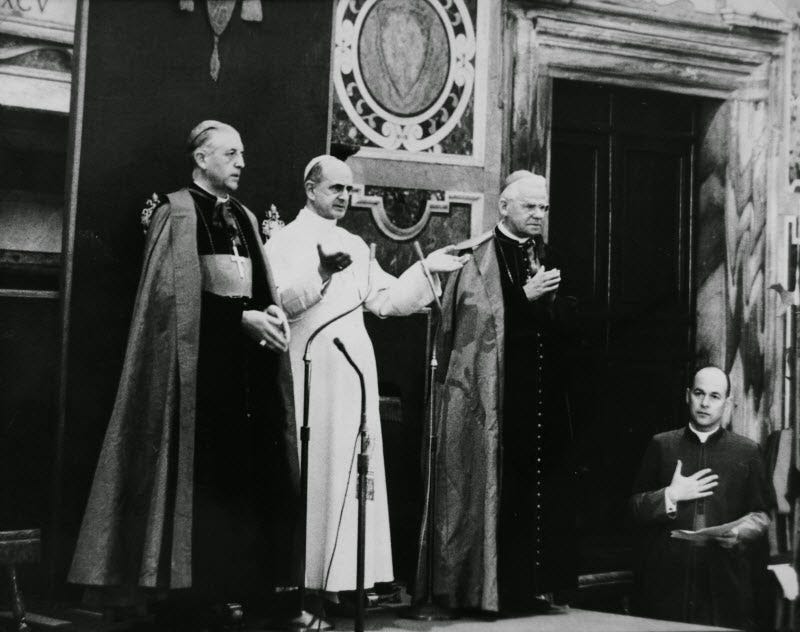 Paul VI with Cardinal Suenens and Cardinal Cardijn
Fr Giovanni Battista Montini (1897 - 1978), the future Blessed Paul VI, had already been working for several months as an official on the lowest rung at the Vatican Secretariat of State when Cardijn first arrived in Rome for his first and famous meeting with Pope Pius XI, although there's no indication that he was aware of Cardijn's visit at that time.

Originally from the Diocese of Brescia in Italy's Lombardy region, which neighbours the Diocese of Bergamo where the future Pope John XXIII was born, Fr Montini's father had even been the president of Catholic Action in his home diocese. He therefore had a family disposition to social action.

Thus, in 1923, he was named by the Holy See official Mgr Pizzardo as chaplain to the Roman circle of the Italian Catholic university students federation (FUCI). Two years later he would become national chaplain, a position he held until his resignation in 1933, seemingly in protest at restrictions placed on the movement's freedom as part of Italian Catholic Action.

Reference: Philippe Levillain, Paul VI, The Papacy, An Encyclopaedia, Vol. 2, 2002 at p. 1131 et s.

Henceforth, he worked fulltime for the Secretariat of State.

According to his own testimony, it was around this time that Montini first came into contact with Cardijn, who was already making annual visits to Rome and had started to become a well-known figure.

In 1937, Pius XI made him Substitute, a position that would certainly have brought him into closer contact with Cardijn, particularly concerning the organisation of the planned Pilgrimage to Rome in 1939, which was eventually cancelled at the last minute owing to the outbreak of World War II.

Under Pius XII, Mgr Montini continued to work at the Secretariat of State. It is clear that in the years after the war, he became ever closer to Cardijn, as their abundant correspondence shows.

In 1947, no doubt at Cardijn's behest, he sent his first public letter to the International YCW on the occasion of the International Conference held in Montreal, Canada in August of that year.

http://www.josephcardijn.fr/monseigneur-montini-a-cardijn-1947

A year later, he was writing again, this time to IYCW president, Patrick Keegan:

http://www.josephcardijn.fr/mgr-montini-a-patrick-keegan-1948

The same year, he wrote to Cardinal Motta of Sao Paulo, once again praising the work of the JOC.

http://www.josephcardijn.fr/mgr-montini-a-cardinal-motta-de-sao-paolo

By 1951, it was already clear that Montini had more than a professional interest in the work of the YCW. Visiting Canada in that year, the Catholic Action chaplains' magazine, Action Catholique Ouvrière, in a special issue dedicated to Cardijn and to Montini, identified him as a "friend" of the YCW, a term that he welcomed.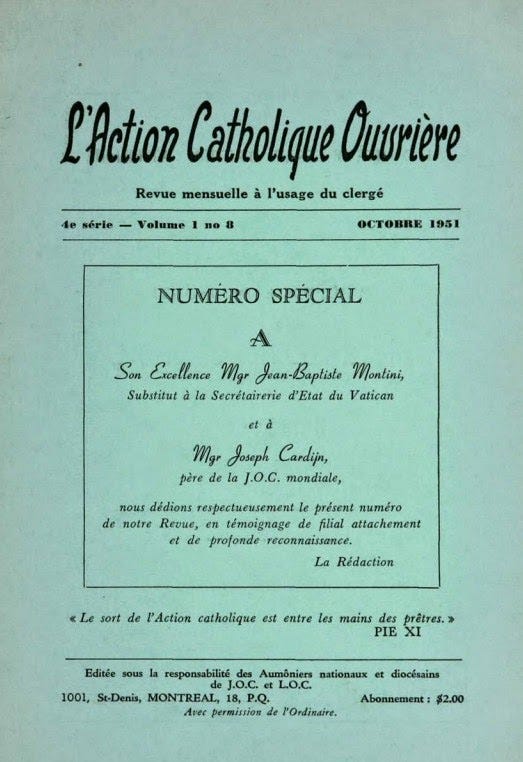 http://collections.banq.qc.ca:8008/jrn03/aco/src/1951/10/164786_01_008_01.pdf#view=fit

Montini wrote:

On a dit que je suis l'ami de la JOC. Je l'accepte. Peut-être ne-suis je pas digne de ce titre, mais parce que je veux le mériter, je tâcherai de mieux comprendre votre travail, de le soutenir.

Translation:

They say that I am a friend of the YCW. I accept it. Perhaps I'm not worthy of this title, but because I wish to merit it, I will endeavour to better understand and support your work.

During the difficult years of the late 1940s and 1950s when theologians close to Cardijn, such as the Dominicans, MD Chenu and Yves Congar, had come under suspicion for their "new theology", and the French worker priests were under a cloud, it is easy to imagine that Cardijn and Montini would have developed even closer relations. Moreover, Montini himself, even though he was now Pro-Secretary of State, was himself under fire for pushing for an opening to the Soviet bloc. (Yet another subject for further research.)

When Montini was ordained archbishop of Milan in December 1954, it meant that Cardijn had lost his closest collaborator and confidant at the Holy See. Witnesses of the time say that Cardijn was increasingly nervous concerning the future of the movement at this time. Some of Cardijn's own personal notes also reflect these growing fears.

As usual, however, Cardijn met these fears head-on, with the organisation of the International Pilgrimage of 1957 which brought 32,000 young workers to Rome to meet with Pope Pius XII. Several weeks later, Archbishop Montini would deliver one of the keynote addresses to the Second International Congress on Lay Apostolate, also held in Rome.

However, Montini's long term absence from Rome also no doubt helps explain Cardijn's concerns in the lead up to his first meeting with the new Pope John XXIII, who was elected in October 1958. Suddenly, for the first time, Cardijn was confronted with a pope whom he did not know personally. As we know, however, Cardijn soon made a friend of John XXIII.

It was John XXIII also who made Montini a cardinal. And when the Second Vatican Council opened in October 1962, he requested and arranged for Montini to take up residence at the Vatican in a clear indication of the person that John, who already suspected or knew that he was terminally ill, wished to succeed him.

Along with Cardinal Suenens, it was Cardinal Montini who proposed that the Council's work be divided into studying the Church on one hand and the world on the other, a framework that Cardijn himself, along with others, had advocated on many occasions.

When, as expected, Montini became Pope on 21 June 1963, he immediately signaled that the work of the Council should continue.

Quickly, he also showed his continuing favour for Cardijn, addressing him an Autograph Letter on 4 November 1963:

A l'exemple de Nos derniers prédécesseurs, Nous désirons à Notre tour témoigner au cher Mouvement de la Jeunesse Ouvrière Chrétienne Nos sentiments de bienveillance, d'estime et de confiance.

Voici bientôt trente ans que Nous suivons les développements de ce beau Mouvement et c'est avec des sentiments de joie et d'action de grâce envers Dieu que Nous avons assisté, en ces dernières années, à son expansion croissante sur le plan international.

Translation:


Following the example of Our predecessors, We in Our turn desire to bear witness to the dear Movement of Young Christian Workers of Our feelings of goodwill, esteem and confidence.
For almost thirty years We have followed the development of this beautiful Movement and it is with these feelings of joy and thanksgiving to God that We have followed its growing expansion at the international level in recent years.

In 1964, as he prepared his first encyclical, Ecclesiam Suam, in which he aimed to provide direction for the work of Vatican II as a Council of dialogue, he invited Cardijn to submit his thoughts on dialogue.

Cardijn responded with a ten page reflection together with another 40 pages of citations on dialogue for use in the drafting of the encyclical.

http://www.josephcardijn.com/1964---reflections-on-dialogue

Shortly afterwards, in August 1964, Pope Paul prepared a talk to be broadcast to the European YCW Rally in Strasbourg.

http://www.josephcardijn.fr/paul-vi---euro-rally

In December 1964, while visiting India for the Eucharistic Congress in Mumbai, Paul VI opened the Joseph Cardijn Technical School.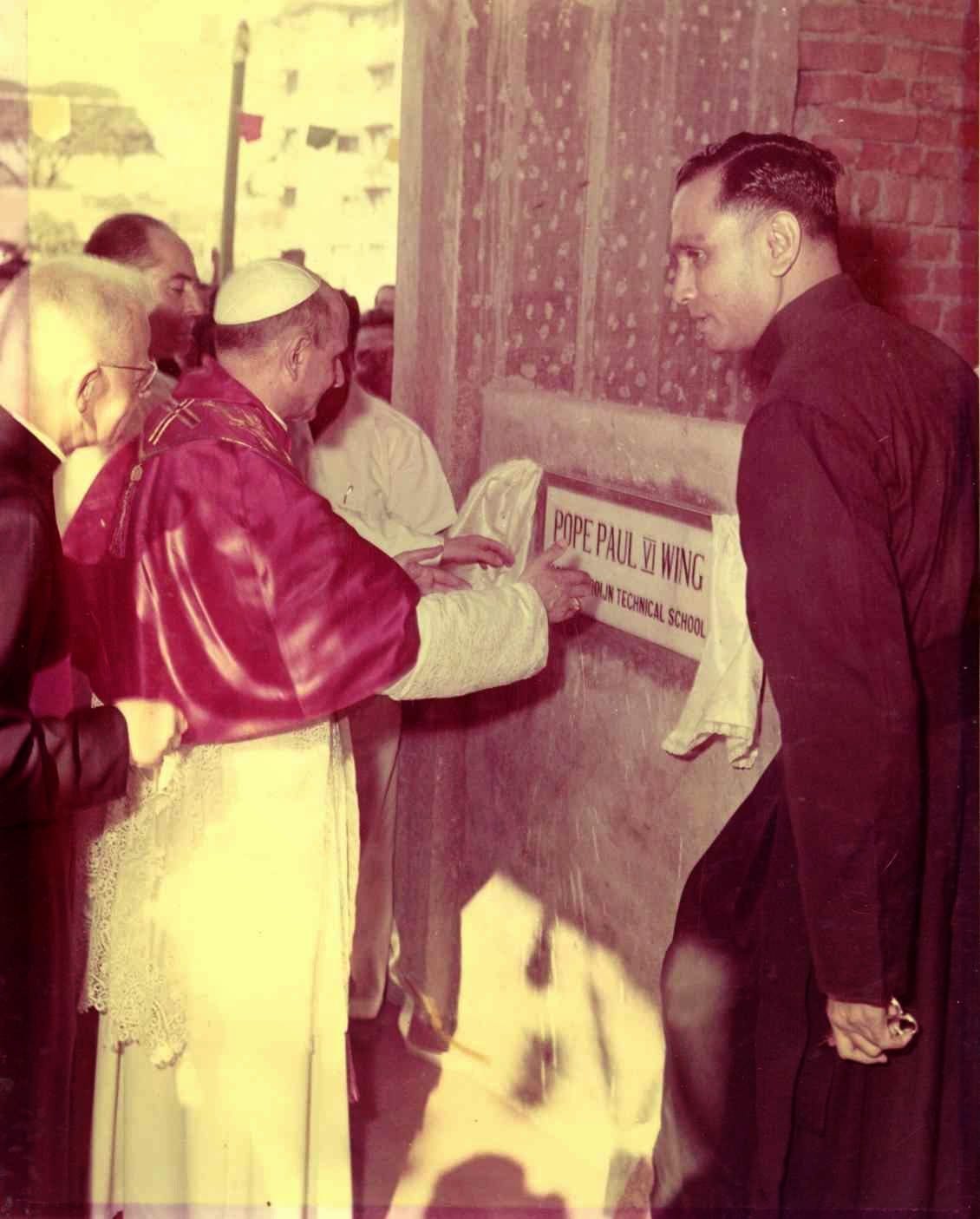 Weeks later, the Pope announced that he was making him a cardinal and archbishop.

"It was not because you represent an historical see or a national episcopate, it was for the YCW that I have made you Cardinal!" the Pope told Cardijn at a ceremony on 23 February 1965. 
Bishop André-Marie Charue of Namur, Belgium, another friend of Cardijn, recorded the events in his diary:

À 11 h.30, nous allons vers St-Pierre et nous rejoignons les Belges dans la salle Clémentine, pour l'audience pontificale. La salle est archicomble. Comme il y a un micro, nous suggérons au card. Cardijn de dire quelques mots au Pape, mais il déclare n'avoir rien préparé. Il n'empêche que lorsque le Pape est arrivé, Cardijn se précipite au micro et a une de ses improvisations donc il a le secret et qui réjouit visiblement le Pape. Puis, celui-ci fait une allocution remarquable, qui sera précieuse pour l'Action catholique spécialisée. Enfin, le Pape se rend parmi les jeunes et serre des mains en grand nombre.


Translation:
At 11.30, we went to St Peter's and we joined the Belgians in the Clementine Hall for the papal audience. The hall was packed. As there was a microphone, we suggested to Cardinal Cardijn to say a few words to the Pope, but he said that he had nothing prepared. Nevertheless, as soon as the Pope arrived, Cardijn leapt to the microphone and gave one of those improvised talks of which he had the gift and which visibly pleased the Pope. Then, the latter also gave a remarkable talk, which will be precious for specialised Catholic Action. Finally, the Pope joined the young people and shook hands with a great number of them.
In his allocution, at which Cardinal Suenens was also present (cf. photo above), the Pope had said:

L'honneur qui est fait en ce jour au Cardinal Cardijn rejaillit donc, d'une certaine façon, sur toute l'Action Catholique. Elle rejaillit plus particulièrement sur la J.O.C., et sur vous surtout, chers Jocistes de Belgique

Translation:

The honour that is given this day to Cardinal Cardijn thus rebounds in a certain way on the whole of Catholic Action. It rebounds more particularly on the YCW and you above all, dear Belgian jocists.
http://www.josephcardijn.fr/1965---paul-vi---allocution-aux-jocistes-lors-du-cardinalat-de-cardijn
As Bishop Charue's comments make clear, the Pope was backing Cardijn in the very presence of Suenens who, as we have seen, had sidelined Cardijn from the Council and contested his understanding of Catholic Action.
By making him cardinal and archbishop, Paul VI also gave Cardijn the opportunity to speak at the Fourth Session of the Council, which Cardijn also did, delivering three speeches orally, and submitting two more written interventions.
http://www.josephcardijn.com/cardijn-vatican-ii
In 1966 after the conclusion of the Council, Paul nominated Cardijn to be a member of the Commission for revising the Code of Canon Law, an interesting and significant appointment given that Cardijn had never been a canon lawyer. I believe that the Pope's intention was that Cardijn would be involved in developing future canonical structures for lay movements and initiatives. 
He also named Cardijn to the Commission preparing the future Pontifical Council of the Laity.
But, Cardijn was now 84, and although he was still travelling, his health was beginning to fail.
On the other hand, as a cardinal, he did not hesitate to write several letters to the Pope, offering a variety of reflections and suggestions, particularly relating to the implementation of Vatican II.
As he lay in hospital during his final illness in June 1967, he wrote to Paul VI one last time, requesting the Pope to fly to Paris for the JOC Congress that was about to be held there and that Cardijn himself was unable to attend.
Sadly, Paul was unable to meet this final request from Cardijn who died a few weeks later on 25 July 1967. Although it must have seemed like a daring, even outlandish request, history shows that just thirteen years later, Pope John Paul II did in fact hold a mass for workers with the YCW at St Denis near Paris on Saturday 31 May 1980.

http://www.vatican.va/holy_father/john_paul_ii/homilies/1980/documents/hf_jp-ii_hom_19800531_lavoratori-francia_fr.html

And here is John Paul's message to the JOC:

http://www.vatican.va/holy_father/john_paul_ii/speeches/1980/may/documents/hf_jp-ii_spe_19800531_joc-saint-denis_sp.html (In yet another Vatican website enigma, John Paul's message to the JOC strangely only seems available in Spanish!)

Nevertheless, Cardijn's request is a striking testimony to the confidence and friendship that he shared with Blessed Paul VI, who clearly made great efforts to support Cardijn and the YCW.