Discover more from Cardijn Research
My research notes about the life and work of Joseph Cardijn and his network
Cardijn and the 'Co-operative Commonwealth'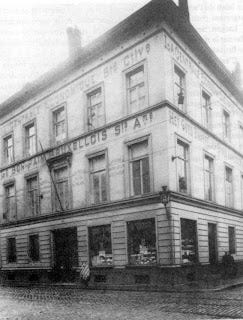 The Bon Pain (Good Bread) co-op in Brussels, a Cardijn co-op
Yesterday was a great day at the Melbourne Trades Hall where the Cardijn Community Australia organised its 'Economics for the 99%: Co-operatives in Victoria' conference.

There was a great list of speakers including Maryknoll co-operative pioneer 97 year old Des O'Connell, YCW Co-operative pioneer Bob Maybury, Race Mathews, David Griffiths and myself talking on historical co-operative intitiatives.

We were followed by Shelley Marshall from Monash Uni speaking of a co-operative initiative for home workers, David Kerin from the Earthworker co-operative and Cameron Neil from NetBalance speaking about current co-op initiatives. Very encouraging and indeed inspiring

It turned out to be an excellent morning facilitated by David Moloney, Antony McMullen and Kristen Hobby with some further possibilities for action in the future.

For the record, here is my talk which focused on 'Cardijn and the co-operative movement'. It was an interesting exercise preparing it.

I found much of Cardijn's material on his own co-operative experience in his archives in Brussels. What an experience it was in the early days - battling corruption and incompetence in some existing co-operative initiatives in Brussels. But by the 1920s, he was in clear water, working to found some new co-operatives.

Some of the savings co-ops developed later into a bank which sadly was recently taken over by a commercial bank as part of the devastating de-mutualisation trend that has swept the world over the last 30 years.

It was also striking to notice how important co-operatives were in Cardijn's strategy for social change. In effect, the strategy he developed rested on two main pillars, namely co-operatives and trade unions. Although it was obvious from the history of the YCW that co-ops were important to Cardijn I never realised how important they were to him.

It is also striking that Pope John XXIII's encyclical Mater et Magistra has a strong emphasis on co-operatives - you could almost called it the 'Co-operative Encyclical'.

I was also proud to speak at the Trades Hall, the venue of so many great labour identities of the past, including Tom Mann, the British trade unionist who was also cited by Cardijn, and who, with Ben Tillett, developed the concept of a 'Co-operative Commonwealth'.

A great event and as Race Mathews mentioned, perhaps the time has come again for co-operatives, particularly worker co-operatives on the Mondragon model.