Discover more from Cardijn Research
My research notes about the life and work of Joseph Cardijn and his network
Cardijn and Dorothy Day speaking live in Australia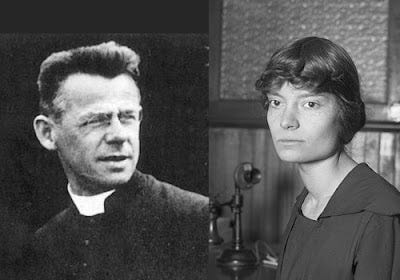 In a neat coincidence, two live recordings of JOC founder, Joseph Cardijn, and Catholic Worker founder, Dorothy Day, speaking in Australia during their visits to Australia in 1966 and 1970 respectively have just been (separately) posted online.
Cardijn, 83,who had recently become a cardinal, was making his second and last visit to Australia. In Melbourne, he met John Finlayson, an apprentice moulder from Highett YCW, who had begun to organise the young workers in his factory. John shared his memories of Cardijn's visit here.
From Melbourne, Cardijn travelled to Ballarat where he addressed a Christian Social Week event hosted by John Molony, then the YCW diocesan chaplain there and later a well-known professor of history at the Australian National University in Canberra.
It was Molony who recorded Cardijn's speech, later donating the audiotape to the National Library of Australia, which has now digitised and published it online. As far as I am aware, it is the only existing recording of Cardijn speaking English, adding to its historical significance.
In his inimitable Flemish accent, Cardijn's speech offers a genuine tour-de-force of his life and work in a talk that ranges from the development of the YCW, the value of work, the vital link between work and family life, the problems of unemployment and world development to the significance of the recently completed "pastoral" Second Vatican Council.
Particularly interesting is his description of the origins of the JOC in the parish of Laeken after meeting young worker in a local street. Learning that the teenager worked with over 400 other young boy and girl workers, Cardijn invited him to the parish to "smoke cigarettes" and discuss what he could do about the problems they faced. From that seed, there developed a movement that existed in 140 countries by the time of his 1966 visit to Australia.
As always, Cardijn refused to countenance any division or gap between "religion and life." "Without work, there is no family, no Church, no Mass," he said, insisting on linking "the spiritual and social doctrine of the Church."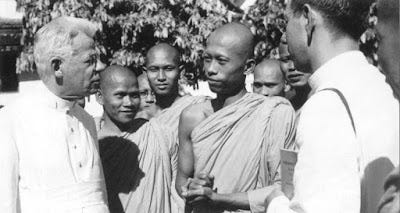 Cardijn meets Buddhist leaders in Thailand


Working with people of other faith
Cardijn's visit to Australia also followed an extensive tour of Asia, which had clearly had a great impact on him. In Bangkok, he met the "patriarch of the (35 million) Buddhists of Thailand," who told him: "We must collaborate together more and more, we must help each other more and more."
And Cardijn did not hesitate to take up this theme, telling his audience that "we must be united even if we are not Catholics or Christians."
"We must all help each other because we all have a divine origin and all have a divine destiny and we all have here on earth a divine mission," he added, offering a theological basis of his own for the need for inter-religious cooperation.
"And so will know each other better, we will become more and more friends with each other, we will have more confidence in each other and the, alone will we have peace - not by violence not by killing each other, not by destroying the houses of each other but but by loving each other, helping each other and by work," Cardijn insisted.
I don't know what impact this had on his Australian listeners, nevertheless, it was a significant statement just as Australian was ramping up its troop numbers in Vietnam.
Meanwhile, YCW leaders and chaplains in Asia certainly got the message. Over the next two decades, many Asian YCW movements made enormous efforts to reach to young workers of other faiths, even at the cost of opposition from their own Catholic leaders and bishops.
Dorothy Day at the Public Lecture Theatre
Four years later in 1970, it was Dorothy Day's turn to visit Australia. Val Noone and Mary Doyle have just published a new book recalling the visit. See purchase details here.
It turns out that Val also recorded Dorothy's speech at the Public Lecture Theatre at Melbourne University and has published it online here.
As Cardijn had done, Day recounted much of her personal story as well as that of the development of the Catholic Worker movement in another tour-de-force.
Totally different in style from Cardijn, Day was also a very engaging speaker. It is a genuine pleasure, not to mention challenging, to listen to her with her commitment to voluntary poverty and peace that she learned from her French-born co-founder, Peter (Pierre) Maurin.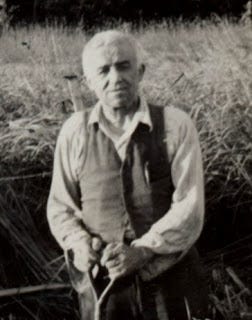 Peter Maurin / Department of Special Collections and University Archives, Marquette University Libraries/Photo by Mary Humphrey
"In the Catholic Church you don't need any money, you just start," Maurin told her when Dorothy asked where they would find the money to start a newspaper.
"If you wish to reach the man on the street, you go to the man on the street," he told Day, explaining that the paper would be sold on the streets.
"The works of mercy are the opposite of the works of war" was another commitment that Day shared with if not learned from Maurin.
The Sillon influence
Day also highlighted the influence on Maurin of Marc Sangnier and the Sillon movement. In fact, Maurin's involvement with the Sillon is well-documented. Often, however, the reference is negative.
Maurin's Wikipedia entry notes that he "became discouraged by the Sillonist shift from personalist action towards political action." Similarly, Jim Forest records in the Catholic Worker biography that "in 1908, disenchanted with the movement's increasingly political character, Maurin resigned from Le Sillon."
In her Melbourne talk, Day offers a much more positive perspective on this Sillon influence.
The Sillon was a group that "did very much the same kind of work that we are doing," she observes.
She also recalls reading Pope John's letter to the widow of Sillon founder, Marc Sangnier, testifying to the latter's "great influence on his thinking as a young man."
"It made me very happy to see this letter because this was the movement in France that more or less  influenced (Peter Maurin's) thinking," Day rejoices.
Actually, having visited several Catholic Worker houses in the US, I have long been convinced that the Sillon influence was very strong and positive. And it's great to find Dorothy Day confirming this in her own words during her visit to Australia.
As different as Cardijn and Day were and as different as the JOC is from the Catholic Worker, they both share a common heritage and source in the Sillon of Marc Sangnier.
Stefan Gigacz
SOURCES AND REFERENCES
Cardinal Joseph Cardijn speaks at Catholic Social Week in Ballarat in 1966 in the John Molony collection (National Library of Australia)
John Finlayson (History and Memories of the Cardijn Movements in Australia Conference 2013)
Dorothy Day speaks in Melbourne (Dally Messenger)
Val Noone, Dorothy Day in Australia, 132 pages, 40 images. Published by Mary Doyle & Val Noone, PO Box 51, Fitzroy, VIC 3065. Order form
Dorothy Day, Wikipedia
Peter Maurin, Wikipedia
Jim Forest, Biography of Peter Maurin (Catholic Worker)
Marc Hirsch Ellis, Prophet in the 20th century (Marquette University)
Stefan Gigacz, Marc Sangnier -70 years (Cardijn Research)
Stefan Gigacz, The Sillon and the YCW (Le.Sillon.net)
Archbishop Angelo Roncalli (Pope John XXIII), Letter to Mme Sangnier (Le.Sillon.net)