Discover more from Cardijn Research
My research notes about the life and work of Joseph Cardijn and his network
Cardijn and Marx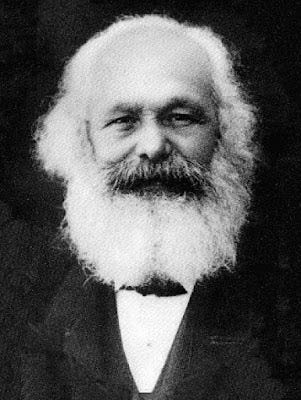 Marx in 1882 a year before his death and the year Cardijn was born
Today marks the 200th anniversary of the birth of Karl Marx on 5 May 1818. So it's interesting to reflect on what Cardijn, who read Das Kapital while a political prisoner during World War I thought of him.

In fact, Cardijn was born in 1882 just one year before Marx's death in 1883 and 64 years after his birth.

"If Marx had been born 32 years later and I had been born 32 years sooner" -- which would have made them contemporaries -- "I would have recruited him as my first jocist," Cardijn once told Belgian priest, Basil Maes.

So, it's pretty clear that Cardijn was impressed by the German philosopher. Indeed, the late François Houtart, who was himself a Marxist, told me that he believed Cardijn was also a Marxist. I now wish I'd asked François to explain more fully why he thought so!

In any event, as we have seen before on these pages, Cardijn was greatly influenced by many "socialists" of his time, including the English "Christian socialists" such as Ben Tillett whom he met in London in 1911.

Later, during World War II, there was also a rapprochement between many communists and jocists in Belgium and France who had been imprisoned together under the Nazi occupation of those countries. Houtart, who had been involved in the Belgian resistance during the war, may well have been influenced by these events as were many other YCW leaders and worker priests of that period.

Yet, there's no doubt that Cardijn was very critical of "socialism" and "communism" in the forms these existed during the period from the 1920s onward. Moreover, "socialist" and "communist" groups ofen opposed and combated the work of the emerging JOC in Belgium, France and many other countries.

Nor did Cardijn spare Marx in his criticisms. Here is the earliest reference that I have been able to find where Cardijn explicitly mentions Marx in a 1934 talk entitled "Travailleurs chrétiens et socialisme" (Christian workers and socialism):

Mais, comme dans l'Évangile, le démon est venu pendant la nuit semer l'ivraie et la zizanie sur le terrain ouvrier — ce sont les intellectuels et non des membres de la classe ouvrière qui sont venus la détourner de son but. En Allemagne, un Lassalle, un Marx ; en France, un Jaurès, chez nous Vandervelde — dont aucun, mes amis, n'appartient à la classe ouvrière — sont venus y semer la lutte des classes et gaspiller la somme énorme de souffrances qu'elle avait amassée pour se relever.

Translation:

But, as in the Gospel, the devil came during the night to sow darnel and discord in worker soil -- it was intellectuals and not members of the working class who came to turn it away from its objective. In Germany, a Lassalle, a Marx, in France, a Jaurès, or Vandervelde here -- of which not one, my friends, belonged to the working class -- came to sow class struggle and waste the enormous sum of suffering that the working class had expended to raise itself up.

Addressing the Canadian JOC in 1947, he also said:
"Carl Marx lançait cet appel, il y a un siècle : « Prolétaires de tous les pays du monde, unissez-vous ! » A notre tour nous disons : « Jeunes travailleurs d'Amérique, d'Asie, d'Europe, d'Océanie, unissez-vous dans le Christ ! » Nous serons tous unis dans le grand Corps Mystique du Christ."

Translation:
A century ago Karl Marx launched his appeal saying: 'Proletarians of the whole world, unite!' In our turn, we say: 'Young workers of America, Asia, Europe and Oceania, unite in Christ!' We will all be united in the great Mystical Body of Christ.
Nevertheless, Cardijn also recognised that Marx was right on signfiicant points. In 1947 he wrote:

La religion serait l'opium du peuple. Marx aurait raison si l'Eglise disait à la masse ouvrière : « Vous serez heureux après la mort ! » Que Votre nom soit sanctifié, que Votre règne arrive, que Votre Volonté soit faite sur la terre comme au ciel. Sur la terre !... Dès l'instant de leur incarnation, dès leur vie terrestre, qui a une portée d'éternité, qui est la préparation de toute l'éternité, qui est l'éternité en gestation, qui, dès ici-bas, établit le règne de Dieu dans la foi, pour pouvoir l'épanouir un jour dans la vision béatifique.

English translation:

"Religion is said to be the opium of the people. Marx would have been correct if the Church said to the working class 'You will be happy after you die.' Hallowed be thy name, may your kingdom come, may your will be done on earth as it is in heaven. On Earth! From the moment of their incarnation, in their earthly life, which has an eternal dimension, which is preparation for the whole of eternity, which is eternity in gestation, which from here now establishes the reign of God in faith, to be able the beatific vision to flourish one day."

One year later in 1948 at the beginning of the Cold War with the Soviet Union, when fears of communist domination of the world were at their peak, Cardijn delivered his famous series of lectures on "The Hour of the Working Class," which was probably his most developed reflection on communism and socialism.

Interestingly, he only mentioned Marx twice in these four lectures.

"And it was only about 1840 - a hundred years ago-when the workers' movement already existed, that Marx and Engels tried to dominate it," Cardijn noted, playing down their contribution.

"For the false doctrine of liberalism, they tried to substitute another false doctrine -- materialism, class warfare, the dictatorship of the proletariat," he continued even more critically.
Nevertheless, he recognised "the element of truth" in their thinking.

"I have read many books on Communism, and many refutations of Communism; and all these books do quite clearly refute the errors of Communism-materialism, class warfare, dictatorship," he stated.
But they overlook the element of truth in Communism from which it draws its strength; that Marx and Communism give a mission to the working class.
It teaches the working class that it has a divine mission on earth, a redemptive, a messianic mission. That is why they cry out: 'Workers of the world unite! You have a divine mission. You are the redeemers of the world. You, the working class, you must redeem the world'."
And this is no doubt the key both to Cardijn's appreciation of Marx and his response. Although Marx and communism recognised the "mission" of the working class, Cardijn wished to tell the workers that they had an even greater mission not only to save the world but "to redeem it."
Cardijn spoke again about Marx two years later in his talk, "The hour of the working class in the world revolution", for the YCW International Congress in 1950. Here too he emphasised the principle of "workers solidarity," for which he gave much credit to Marx. He wrote:

"At the beginning of the period of intense industrialisation (1825-40), the workers formed a disordered class, forced to accept the fact meted out to them. They themselves were exploited by the inexorable law of economic liberalism, and they suffered the consequences, which left them only the right not to die of hunger.

"But gradually, under the Influence of leaders, and the spread of ideas, the workers reacted. A united drive gathered them more and more into homogeneous groups, into a class which they all experienced the same conditions of life and work, were struggling against against the same injustices, seeking the same liberation, sharing the same aspirations. This drive very soon showed itself in various ways: strikes, demands, manifestos, riots..…

"Workers solidarity became the great principle of defence. As the conditions of life and work became increasingly similar, not only in the one profession or the one country, but all over the world, this solidarity, this movement for liberation became universal, like the working class itself. And it was Karl Marx who sounded the rallying call: 'Workers of the world, unite!'"

He also warned that 
"Many were and are still afraid of the workers problem, of the movement born of the workers aspirations; they see only the danger of the teaching and lines of action which have been the outstanding features of the course taken by the workers! Marxism, socialism, Communism."
"A defensive instinct has taken rise among them," he lamented, "shutting out from view the basis of the lawful aspirations of the workers and preventing the giving of just satisfaction thereto in a total advance of the workers.

"Has your country got workers organisations: Trades union, co-operatives, benefit societies, etc.? Are these organisations one or many? Are these Christian, Marxist? What is their present position are they free, autonomous, or under patronage? (whose?) What influence to they exert? What have they been able to achieve?"

Finally, in the Foreword to Laymen into Action published during Vatican II, he summarised his own answer to the "Marxist dialectic," namely his Christian "Three Truths" dialectic, which he originally presented in its classical form at the First International Congress of the YCW in 1935.
This is what he wrote in 1963:

"I have often repeated that this is the whole dialectic of Christianity, which is in reality the reply to the Marxist dialectic. The thesis of this dialectic is that every man born into the world has a divine destiny and mission; he is God's apostle among his fellow-men. This fundamental truth has inspired thousands of laymen to apostolic action; it has charged their lives with truly religious meaning and sent them out to the ends of the earth. It has given birth to a whole spiritual conception of life, inspired by faith in God as creator and redeemer, which draws all men to participate in the one and only apostolate—that of Christ.

"The thesis is inseparable from its historical antithesis, which is man's act of refusal to God's plan of love. This refusal is made up of ignorance, indifference and an accumulation of opposition, struggles, difficulties and obstacles which stand in the way of the realization of the divine plan and play an important part in the history of humanity.

"This is why God's plan of love can only be fulfilled if the Christian dialectic develops towards its end in a continually new synthesis, always better adapted to its purpose, always spreading and expanding, until at last it is universal: the movement of the lay apostolate, willed by God, lived by the example of Christ, guided and animated by the Church, and spread among all men to the ends of the earth and the consummation of the world."
Indeed, Cardijn's Three Truths dialectic would also later be adopted in the structuring of Gaudium et Spes.
It's clear from the above that Cardijn thought deeply about Marx's contribution. And he borrowed certain key ideas from Marx, including that of the mission of the working class and the need for a dialectical approach to transforming reality.
But as was so often the case with Cardijn, he did not stop there. Perhaps there's a parallel in the way Cardijn transformed Marx's thought with the way Thomas Aquinas borrowed heavily from the Greek philosopher and social scientist, Aristotle, in developing his own Christian philosophy.
Even though he missed out on the opportunity to work personally with Marx, Cardijn did succeed in adding a new dimension to his work.