Discover more from Cardijn Research
My research notes about the life and work of Joseph Cardijn and his network
Cardijn, Camara and the Pact of the Catacombs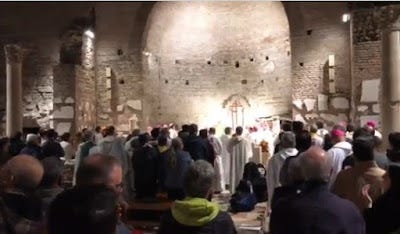 As the Synod for the Pan-Amazon region reaches its conclusion in Rome, around 150 participants have met in the Domitilla Catacombs to commit themselves to a new updated "Pact of the Catacombs" modelled on the original, which was adopted by 40 mostly jocist bishops at the end of the Second Vatican Council.

In this context, it's worth recalling the origins of the 1965 pact, which developed from a proposal by Brazilian Archbishop Helder Camara, who was one of the leading lights of the "Jesus Christ and the Church of the Poor" group of Vatican II bishops, which had worked consistently over the course of the Council to ensure that it would make a commitment to the poor, to social justice and to the lay apostolate.

Significantly, many of the leaders and members of the "Church of the Poor" group as it became known were "jocist bishops" who had personal experience as chaplains of the JOC and other Specialised Catholic Action movements.

Thus, as the fourth and final session of Vatican II began, Camara wanted to ensure that the Council's commitments to the poor would not be in vain.

He therefore developed a proposal for two concelebrated masses to "reach out to the people", one to be consecrated to "workers" and the other to the "poor":

(The first was to be) a concelebration in Cardijn's cardinal's church involving twenty bishops from around the world (the difficulty will be to select them). All others will also be invited. A Mass specially dedicated to workers. Delegations from neighbouring countries will come. Workers from Rome will come. In the midst of the Mass, we will take a solemn oath, more concrete and binding than that of Cardijn. The minimum that we will promise will be to renounce our purple habits and the title of Excellency... After the mass, we will have coffee in confraternity with the working class.

Another concelebration (was be held) at St Mary's at Trastevere, one of the poorest neighbourhoods in Rome... Twenty bishops from the whole world (again, the difficulty will be to choose them), perhaps around Cardinal Lercaro or Patriarch Maximos IV, who is the protector of the Group of the Poor, which is a little suspect in the eyes of the Holy Office.

We will invite poor people from the neighbourhood... 

Camara wrote to Cardijn in relation to the Worker Mass on 17 September 1965.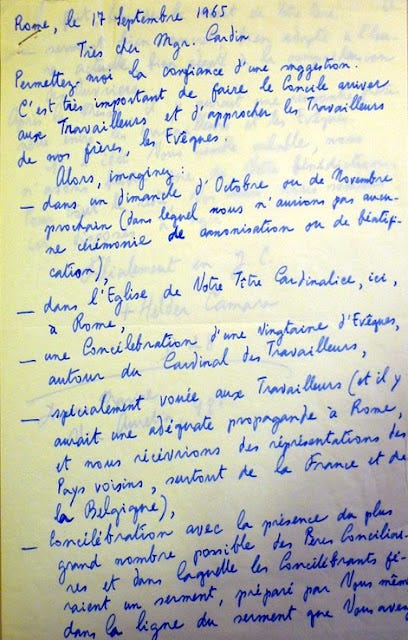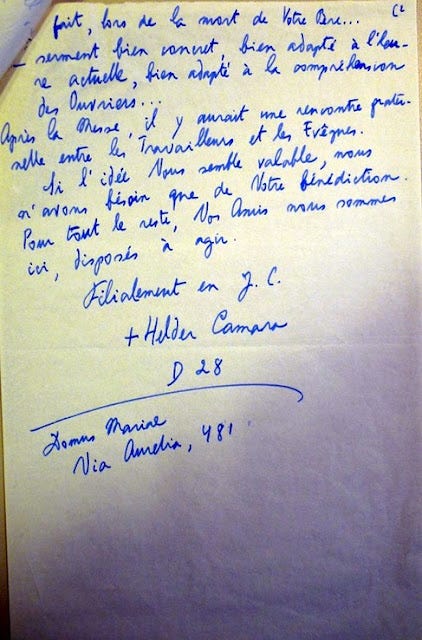 Read the letter here in French and English translation:

http://testimonies.josephcardijn.com/1965---camara---proposal

As is well known, in 1903 Cardijn had made a personal consecration of his life to the working class at the deathbed of his father, Henri, who was dying prematurely from overwork and industrial disease. Typically, however, he felt somewhat reluctant to have himself taken as a model for the "solemn oath" proposed by Camara and he conveyed this to the latter.

The eventual outcome was that the two proposed masses went ahead in slightly amended form.

On 16 November, Bishop Charles-Marie Himmer, a committed Cardijn disciple and former jocist, who led the Group of the Poor, presided over a special mass at the Domitilla Catacombs, with forty participants, many of them also former jocist and other SCA chaplains.

Here they signed the Pact of the Catacombs, adapting Cardijn's vow to devote his life to the working class by committing themselves to evangelical poverty:

We will try to live according to the ordinary manner of our people in all that concerns housing, food, means of transport, and related matters.

We renounce forever the appearance and the substance of wealth…

We will not possess in our own names any properties or other goods, nor will we have bank accounts or the like…

As far as possible we will entrust the financial and material running of our diocese to a commission of competent lay persons…

Accordingly, we will make an effort to "review our lives" with them; we will seek collaborators in ministry so that we can be animators according to the Spirit rather than dominators according to the world…

The second mass with Cardijn himself took place the next evening – 17 November, the eve of the promulgation of Apostolicam Actuositatem – at his titular church of St Michael Archangel in Rome's working class Pietralata district.

In another statement, the participants witnessed to the value of their experiences as jocist chaplains discovering "the extent to which lay people are keen to understand their own proper role in the world as sons and daughters of the Church" and their capacities for "apostolic responsibilities":

Our hope is that all our brothers in the episcopate become increasingly conscious of the possibilities of the laity, and particularly the worker laity, hope of the Church at the heart of the world today.

"This in particular," the bishops said, "is the experience, unceasingly renewed across the continents, of an authentic JOC."  It was also an eloquent testimony to the efficacy of the JOC's incarnational approach to bringing the Good News to the poor.

Read the Pietralata Message here:

French (Original)

English (Translation)

The Pact of the Catacombs remained long-forgotten or unknown in many of the parts and it is only under Pope Francis that interest has grown to the point that it has a website of its own:

www.pactofthecatacombs.com

The second "worker" mass organised by Camara and celebrated by Cardijn has remained in even greater obscurity.

The new updated "Pact of the Catacombs for the Common Home" adopted by the Amazonian Synod bishops also includes a commitment to Mother Earth.

Perhaps it's also time to prepare a new and necessary counterpart based on a commitment to the role of the laity drawing on the one made at Pietralata with Cardijn in 1965.

REFERENCE

Stefan Gigacz, Chapter 10, The Leaven in the Council: Joseph Cardijn and the Jocist Network at Vatican II.

The jocist bishops who signed the Pact of the Catacombs (Cardijn Research)

Pact of the Catacombs for the Common Home (English text)

New Pact of the Catacombs for Our Common Home (Cardijn.info)

Stefan Gigacz