Discover more from Cardijn Research
My research notes about the life and work of Joseph Cardijn and his network
Cardijn anniversaries 2017: Updated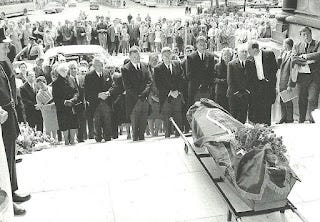 Cardijn's funeral 1967
This year is the 50th anniversary of the death of Joseph Cardijn on 24 July 1967. It is also the centenary of his imprisonment by the German occupiers during World War I, an imprisonment that I suspect could just as easily have been his execution for his activities against the occupation.
And it's also the 60th anniversary of the First International Council and Pilgrimage of the YCW to Rome in 1957.
In fact, however, once you start thinking about it, there are heaps of Cardijn-related anniversaries to commemorate and celebrate, as indeed there are each year.
In any case, as a kind of aide mémoire, here are a few that I have been able to compile for each decade from 1917.
No doubt there are many more that could be added. All the same, it's already an impressive list of people and events.

1897

26 June: Birth of Fr Louis-Joseph Lebret, a Dominican priest, who founded the Jeunesse Maritime Chrétienne -JMC), a specialised movement for young maritime workers, based on the model of the JOC.

http://priests.josephcardijn.com/lebret-louis-joseph
1917

Cardijn imprisoned for protesting the German occupation of Belgium
http://www.josephcardijn.com/chapter-3---laeken

9 January: Birth of August Vanistendael was a Belgian KAJ leader, later an international trade union leader, and also a lay auditor at Vatican II. 
http://pioneers.josephcardijn.com/august-vanistendael


13 May: Birth of Thérèse Cornille, who began work at the age of eleven, joined the JOCF in France, and later founded a series of houses for young working girls in difficulty.

http://pioneers.josephcardijn.com/therese-cornille

15 November: Birth of Archbishop Eugene D'Souza, promoter of the YCW in India; died 18 March 2003.

3 September: Birth of Cardinal Paul Zoungrana, JOC and LOC chaplain in Burkina Faso (formerly Upper Volta); died 4 June 2000.

17 December: Birth of Cardinal Joseph Malula, JOC chaplain in Democratic Republic of Congo; died 14 June 1989.
1927

1927: Official foundation of the French JOC

12 March: Birth of Fr Rutilio Grande, the martyred Jesuit priest, who used the Cardijn method with community groups in El Salvador, whose example inspired Archbishop Oscar Romero.

27 October: Execution of Blessed Miguel Pro SJ, who had attended the first JOC National Congress in Belgium in 1925.

http://cardijnresearch.blogspot.com/2017/03/rutilio-grande-cardijn-priest-who.html
http://priests.josephcardijn.com/blessed-miguel-pro


29 October: Death of Victoire Cappe, trade unionist and collaborator with Cardijn in founding the first jocist teams at Laeken in 1912. 

1937
February: The first YCW group forms in England which includes Patrick Keegan, later president of the IYCW.


17 July: 80,000 young workers at Parc des Princes to celebrate 10th anniversary of French JOC.
1957

25 August: Mass at St Peter's Square for the International Pilgrimage of the YCW followed by first IYCW World Council.
http://www.josephcardijn.com/chapter-11---towards-the-international-ycw
1967

24 July: Death of Joseph Cardijn, Leuven
http://www.josephcardijn.com/chapter-2

28 July: Death of Fr Frank Lombard, founding chaplain of the Australian YCW
http://priests.josephcardijn.com/frank-lombard
1992 (25th anniversary)
16 January: Singapore YCW chaplain, Fr Joseph Ho Chin Hian.
http://priests.josephcardijn.com/ho-joseph-chin-hian
31 December: Death of Melbourne YCW chaplain and editor of jocist publications, Mgr John F. Kelly
http://priests.josephcardijn.com/kelly-john-f

1997


18 May: Death of former IYCW Asia Pacific and Australian YCW chaplain Hugh O'Sullivan.