Discover more from Cardijn Research
My research notes about the life and work of Joseph Cardijn and his network
Cardijn on mercy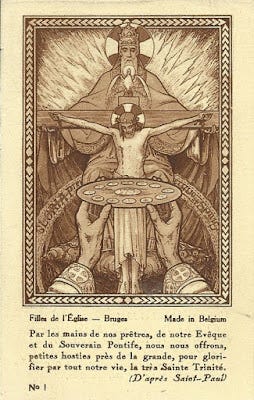 Pope Francis has made mercy a major theme of his pontificate. Which raises the question: What did Cardijn have to say about the subject.

As it turns out, he had a lot to say about "the sacrament of penitence and mercy". Unfortunately, little of this has been translated into English - to date!

In 1934, the Belgian JOC devoted a whole campaign to the theme of "Penitence".

http://www.josephcardijn.fr/1934---npj-iii-3---le-programme-de-la-deuxieme-periode

"Nothing quenches the soul like the enlightened and faithful practice of sacramental confession," Cardijn wrote in his notes for that campaign.

In fact, according to Cardijn, "the whole economy of salvation exists in function of human weakness and sin."
Thus, "the whole of Redemption is a divine expiation that obtains for the sinner the grace of penitence and gains for him the relief of mercy."
"The Lamb of God who bears the sins of the world has superabundantly merited the whole of pardon and the whole of conversion. Divine mercy provokes and validates human penitence," Cardijn wrote.

I've translated some of Cardijn's article here:

http://www.josephcardijn.com/1934---penitence-and-mercy

The YCW Prayer


Interestingly, the original French version of the YCW Prayer also mentions mercy.
Original version


« Seigneur, Jésus, je vous offre toute ma journée, mon travail, mes joies, mes luttes et mes peines. » Accordez-moi comme à tous mes frères de travail de penser comme Vous, de travailler avec Vous, de vivre en vous.

Donnez-moi de Vous aimer de tout mon cœur et de Vous servir, de toutes mes forces.

Que Votre règne arrive à l'usine, à l'atelier, au bureau, à la caserne et dans nos maisons.

Que les âmes des ouvriers qui, aujourd'hui, vont se trouver dans le danger, demeurent dans votre grâce.


Et que, par la miséricorde de Dieu, les ouvriers morts au champ d'honneur du travail reposent en paix. »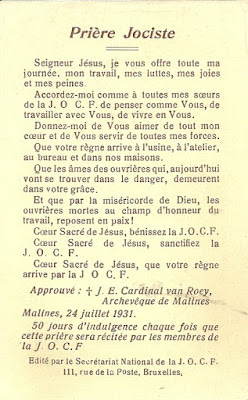 The Australian version of this prayer read as follows:

Lord Jesus,

A Worker like me,

HELP me and all my fellow-workers to think like You, to work with You, to pray through You, to live in You, to give to You all my strength and all my time.

MAY Your Kingdom come in all our factories, workshops and offices, and in all our homes.

BE everywhere better known, better loved, better served.

DELIVER us forever from injustice and hatred, from evil and sin.

MAY our souls remain in Your grace to-day, and may the soul of every worker who died on labour's battlefield rest in peace! Amen.

A literal translation of the last phrase, however, should read:
"And may, through God's mercy, the workers on labour's battlefield in peace".
Moreover, from the time of his arrival in the parish of Laeken, Cardijn clearly made the sacrament of reconciliation a major feature of his ministry. 
Cardijn explained this many years later:

When they came to me to Confession, I said, have you been there, and there, and there? I did not speak only of the Mass and Communion and purity. One would think there were no other sins but not coming to Mass, to Communion, and being impure, three sins. The great sin today is the abandonment of the young workers; if they are fallen in impurity, well, we will help them.

How? When they are with others, helping to save them, they have no time for impurity; they have other ideas and pre-occupations. We must give to working youth the preoccupation of others.

http://www.josephcardijn.com/quaerite-primum
In 1953, he wrote that opportunities for reconciliation should be given at each retreat or day of recollection:
http://www.josephcardijn.com/1953---retreats-and-days-of-recollection
Similarly, in 1959, he confirmed that this sacramental role was a key aspect of the role of the chaplain:
French

Cette connaissance doit grandir sans cesse, elle doit être entretenue et augmentée par tous les moyens possibles ; ceux-ci vont du simple salut en rue, aux services rendus, aux contacts, aux visites, aux encouragements, jusqu'aux conversations les plus personnelles et éventuellement à la confession et à la direction spirituelle.

English
This understanding must continue to increase without cease. It needs to be maintained and augmented by all means possible. These range from a simple greeting in the street, to services rendered, to contacts, visits, encouragements, and even the most personal conversations, and eventually confession and spiritual direction.
http://www.josephcardijn.fr/l-aumonier-local-dans-la-joc
There's no doubt then that Cardijn's emphasis on reconciliation has some striking parallels with that of Pope Francis.