Discover more from Cardijn Research
My research notes about the life and work of Joseph Cardijn and his network
Cardijn 'pre-conciliar': Suenens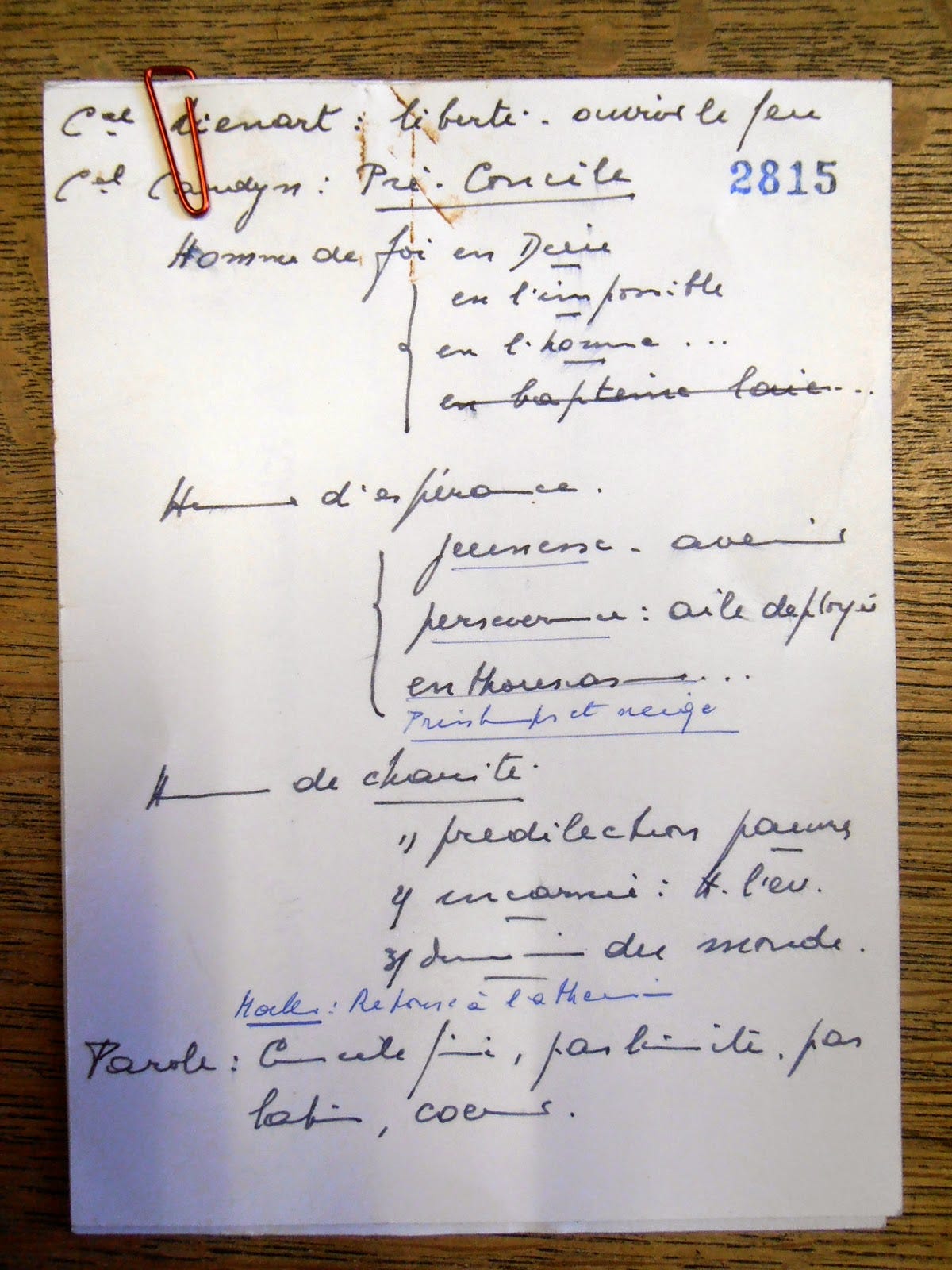 Suenens Archives, Archdiocese of Malines-Brussels
If there were any doubt as to how Cardinal Suenens perceived Cardijn, here is a file card with Suenen's notes for a talk that he was giving on Vatican II and on Cardijn's role at the Council.

As we can see, Suenens opens by seeming to contrast the "prec-conciliar" Cardijn with the dynamic figure of Cardinal Liénart of Lille, whose intervention during on the first meeting day of the Council changed the course of Vatican II

Cardinal Liénart: liberté, ouvrir le feu            - Cardinal Liénart: freedom, opens fire
Cardinal Cardyn: Pré-Concile                         - Cardinal Cardijn: Pre-Council

Homme de foi en Dieu                                         - Man of faith in God
           en l'impossible                                           - in the impossible
           en l'homme                                                - in man
           en baptême laïc                                          - in lay baptism

Homme d'espérance                                             - A man of hope
            jeunesse                                                    - youth
            persévérance: aile déployée                        - perseverance: deployed wing (unsure of meaning)
            enthousiasme                                              - enthusiasm
            Printemps et neige                                       - Spring and snow

Homme de charité                                                  - A man of charity
            1) Prédilection pauvres                               - Predilection for the poor
            2) incarnée: ?? (text unclear)                       - incarnated
            3) dimension du monde                               - world dimension

Moeller: Réponse à l'athéïsme                                 - Moeller: Answer to atheism

Parole: Concile fini, pas limite, pas latin, coeur          - Speech: Council over, over the limit, no Latin, heart

Unfortunately, it's not clear to whom Suenens was speaking but it was evidently not long after Cardijn's death in 1967, less than two years after the close of Vatican II.

However, it is significant that Suenens opens his remarks with a reference to Cardinal Achille Liénart, the bishop of Lille, France, whose intervention on the first meeting day of the Council led to the overturning of the control of the Council by the Roman Curia, giving the bishops the freedom to make the Council what it became.

Liénart, of course, had been one of Cardijn's staunchest allies, right from the very beginning of the JOC in France, and indeed Liénart became of its first chaplains. He unfailingly supported Cardijn over many decades right up and including at Vatican II itself.

And then, the killer phrase: Cardijn, "Pré-Concile" whereby Suenens labels Cardijn, not as a man of the Council, nor even as a precursor to the Council, but as "pre-conciliar".

In other words, for Suenens, Cardijn was a great man in his time, and that time had passed. As evidence he offers the fact that Cardijn's "speech" (in fact there were three oral and two written interventions) came during the Fourth Session when the Council was all but "ended" (fini). It went over the time limit, and was apparently delivered in poor Latin. The implication being that it was of little consequence. At least, it was full of "heart"! Faint praise if ever there was.

For Suenens, Cardijn was a main of faith, a man of hope, a man of hope, even an answer to atheism (citing Charles Moeller, a Louvain expert at Vatican II), but above all a "pre-conciliar" man.

In the enthusiasm of the immediate aftermath of the Council, it's hard to imagine a bigger put-down.

So not only did Suenens endeavour to block Cardijn during the Council and to combat his ideas and methods, but he later sought to downplay Cardijn's impact on the Council.

Why is it important what Suenens thought? Because it's Suenens' understanding of Cardijn which has prevailed almost ever since, and which helps explain the obscurity into which Cardijn has fallen in the "post-Conciliar" Church.

And if you read the Alberigo-Komonchak five volume History of Vatican II, it's clear that the authors share Suenens' understanding of Cardijn as a pre-conciliar personality, who thus barely figures in the history of the Council, except for a few footnotes, or at best as the "aged Cardinal Cardijn" trotted out by Paul VI to boost the progressive numbers at the Fourth Session.

Still, in spite of everything, Suenens did have a (grudging?) respect for Cardijn.

On another card, he cites a great Cardijn quote:

"Les besoins sont grands dans le monde, mais les possibilités sont plus grandes encore."

"The needs of the world are great, but the possibilities are even greater."

And another that I can't completely make out:

"Si on savait le rayonnement de notre .... (?) Maître dans le monde, comment (?) on tiendrait à son unité."

Here's the photo below. Please let me know if you are able to decipher it better.