Discover more from Cardijn Research
My research notes about the life and work of Joseph Cardijn and his network
Cardijn, real estate entrepreneur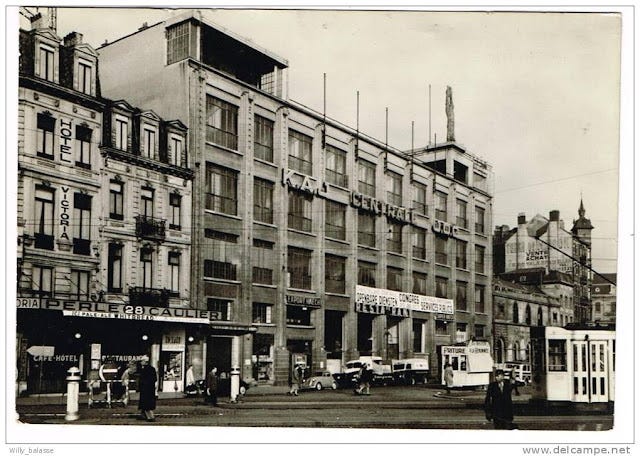 The famous Centrale Jociste, 78 Bd Poincaré, Brussels
Another little recognised aspect of Cardijn's life is the fact that he was an excellent real estate entrepreneur, who bought and developed many buildings for the various projects and organisations that he worked, particularly the JOC.

The first building Cardijn purchased at 9-11 Place Fontainas, Brussels, was for the Centrale Chrétienne du Travail in early 1919. It was acquired in the name of the Centrale Economique, a buying cooperative established by the Christian trade unions.

According to a contemporaneous report, it was bought for 580,000 francs, financed by "a mortgage for a sum of 650,000 francs, payable by annuity over 30 years at an interest rate of 5%".

As always, Cardijn describes the purchase in highly colourful terms:

Par un coup presque miraculeux nous parvînmes à acheter une maison sous séquestre place Fontainas et à y installer la Centre Chrétienne du Travail avec toutes les organisations ouvrières, et même à acheter une Coopérative: "Le Bon Pain Bruxellois".

Translation:

By an almost miraculous stroke, we managed to purchase a sequestrated house in Place Fontainas and to establish the Christian Centre for Labour there with all the worker organisations, and even to purchase a Cooperative, "Le Bon Pain Bruxellois" (The Good Brussels Bread).

Source: http://www.josephcardijn.fr/debuts

It seems that the purchase was not a success, however, as they still lacked the money needed to fit out the building and they were forced to sell it. I don't know the later history of the building but, interestingly, today it still remains a trade union building, albeit ironically for the FGTB, the socialist trade union federation, which was the long-standing rival of the Christian trade unions.

Cardijn, however, was undaunted by these difficulties, leading to what he later described as "the second spectacular relocation of the post-war period" when the Christian worker organisations moved into another building that had been occupied by the German Gesellenverein organisation during the war at 19 Rue Plétinckx, which is still occupied by the Christian trade unions (CSC) today.

This building also became the first headquarters of the JOC until "the lack of space in the attics of Rue Plétinckx forced us to move the national and international offices and to look for a building where the Secretariat could establish its services and lodge its fulltime workers".

La Maison jociste - 90 Rue des Palais

Concerning these events, Cardijn later wrote:

Quand la Providence nous eut donné l'argent nécessaire pour acheter la maison de la rue des Palais et la transformer en Secrétariat Jociste, je pus demander d'être déchargé de la Direction des Oeuvres Sociales de Bruxelles et de me consacrer exclusivement à la JOC nationale et internationale, j'avais 46 ans.

Translation:
When Providence finally provided us with the money necessary to purchase the house at Rue des Palais and to transform it into the Jocist Secretariat, I was able to be discharged from the Direction of Social Works in Brussels and to consecrate myself exclusively to the national and international JOC. I was 46 years old.

Here Providence took the form of a generous donation from an aged geology professor at the University of Louvain, Canon Henry de Dorlodot, well known for his work defending the compatibility of  Darwinism and Catholicism.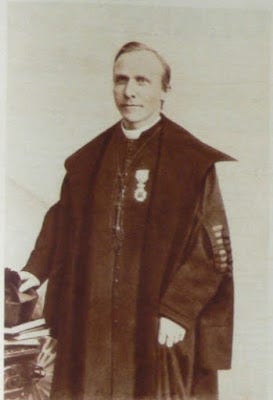 Canon Henry de Dorlodot
Cardijn recalled de Dorlodot's contribution to the JOC:

Tous les journaux rapporteront les titres scientifiques du grand savant qu'était le chanoine de Dorlodot : docteur en théologie et en philosophie, docteur en sciences naturelles, membre de l'Académie royale de Belgique, membre du Conseil géologique de Belgique, professeur de géologie à l'Université catholique de Louvain, fondateur du Musée géologique des bassins houillère belges, etc...

Ce que la presse ne relatera probablement pas, et ce que tous les Jocistes doivent savoir, c'est que ce vieillard de 74 ans, portant un nom illustre, était le plus grand ami de la J. O. C.

Quand le secrétariat général était encore logé sous les combles de la rue Pletinckx, il voulut gravir la centaine de marches qui conduit au quatrième étage, pour visiter notre installation. Et c'est avec la plus grande générosité qu'il nous aida à acheter la « Maison Jociste » qui nous abrite actuellement.
Translation

The newspapers will all report the scientific achievements of Canon de Dorlodot, the great scientist: doctor of theology and of philosophy, and in natural sciences, member of the Royal Academy of Belgium, member of the Geological Council of Belgium, professor of geology at the Catholic University of Louvain, founder of the Geological Museum of the Belgian Coal Mining Basins, etc..

What the press will probably not report, however, but which all jocists should know is that this old man of seventy-four with a famous name was the greatest friend of the JOC.

When the general secretariat was still housed in the attics of Rue Plétinckx, he would climb the one hundred steps that led to the fourth floor to visit our office. And it was with the greatest generosity that he helped us to purchase the "Maison Jociste" that currently houses us.

Albert Robaux also recalled the gratitude of the JOC to de Dorlodot:

Au départ de la J.O.C., il y avait le chanoine de Dorlodot... Au départ du chanoine vers le Royaume de la Justice Parfaite, de la liberté, de la vie éternelle et de l'Amour sans limite, en ce pluvieux janvier 1929, si nous n'étions que quelques étudiants de (...) l'Université de Louvain autour du Professeur Félix Kaisin, de Floreffe, lui aussi, il y avait en revanche, autour du futur cardinal Cardijn, tous les comitards de la J.O.C. : Fernand Tonnet, Degives, Meert etc. avec leur drapeau... Et nous apprenions qu'au départ de la Jeunesse Ouvrière Chrétienne, il y avait ce riche au cœur généreux, ce fils de la lumière, qui voulait transmettre aux enfants de Wallonie et du monde les enseignements que nos pères nous ont appris, pour que nous les transmettions aux générations.

"Que ta main droite ignore ce que fait ta main gauche, afin que ton aumône soit dans le secret." Mais il est important de savoir que. en permettant à la J.O.C. d'acheter son immeuble de la rue des Palais à Bruxelles, le chanoine de Dorlodot avait permis à la J.O.C. de s'étendre dans le monde entier. »

Translation:

At the beginning of the JOC, there was Canon de Dorlodot... At the departure of the Canon to the Kingdom of Perfect Justice, liberty and eternal life and Love without limit, in that rainy Jannuary 1929, while there were a few students from... the University of Louvain gathered with Professor Felix Kaisin, and also de Floreffe, there were also gathered with the future Cardinal Cardijn all the committee members of the JOC, Fernand Tonnet, Degives, Meert, etc. with their flag... And we learned that at the beginning of the Young Christian Workers, there was a rich and generous heart, this  son of light, who wished to transmit to the children of Wallonia and to the world the teaching that our fathers had given us in order that we transmit them to the following generations.

"Let your right hand not know what the left hand is doing in order that your alms will be given in secret." But it is important to know that, by enabling the JOC to purchase its building at Rue des Palais in Brussels, Canon de Dorlodot enabled the JOC to extend throughout the whole world.

Nevertheless, it took more than money to develop the centre. And this work was done by Cardijn and the JOC leaders who apparently did it all themselves.

"L'installation est faite en un tour de main par tous ces gaillards - the installation was done in a flash by all those fellows," wrote Marguerite Fiévez and Jacques Meert, who was one of them.

La Centrale Jociste - 70 Boulevard Poincaré

This experience served the movement well but the building itself did not meet the growing requirements of the rapidly expanding JOC leading Cardijn and the movement leaders to search for something larger and better situated.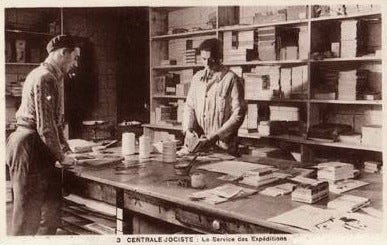 Mailing centre at the Centrale Jociste
Cardijn often told the story in his inimitable style including this 1962 interview with BRTN television.

I was leaving for Portugal to speak to bishops and priests about specialised Catholic Action for young workers when on the way to the Gare du Midi station I saw this large textile factory that had been totally burnt down and that was being refurbished. Following my presentation in Portugal, I went to Fatima where I said Mass at the place where the Holy Virgin appeared. I said to her! "Virgin Mary, you need to give me this building".
As soon as I got back, someone phoned me saying that I had to go directly to see a rich family near the Porte de Namur concerning the building on Avenue Poincaré. I said that the building had been given for sale to the DUPONT notaries who had already received an offer of fifteen million (francs), a sum that was impossible for me to pay.
"Go and see the people and ask them for the house," I was told. I put on my hat and I went to see them. The people welcomed me very kindly, it was an old man, an old woman and their son aged around forty.
Sitting in their living room I told them that I had come about the big building on Avenue Poincaré. And they responded that I should go and see their notary at Rue Fossé-aux-Loups. I reacted saying that I had not come to buy it but to receive it and as usual I started to explain the needs of the hundreds of young workers in the Brussels region who arrived day after day in the city without knowing where to go, abandoned and left to themselves.
The people listened to me apparently quite moved and they said to me: "Go and see your notary".
The next day after having celebrated Mass in our little chapel, I received another telephone call telling me to come back to see the family. So I went and they ushered me into the living room where the same people whom I had met on my previous visit said to me: "Canon, here are the keys to the building. You are now the owner of it."
Even though I was expecting something, I was very moved. 
Later I had many problems with the tax department and the notary. That is why we created a non-profit association (to manage it) but the department continued to demand 700,000 francs. I did not have a cent so I could not pay. 
I had to deal with three successive ministers of finance until minister MARCEL told me: "We need to put an end to this. This building is at the service of the young workers. We throw in the towel."
Since then, it has  been the central office of the JOC not only for Belgium but for the young workers of the whole world.

Marguerite Fiévez and Jacques Meert cite another longer version of this story in their biography of Cardijn here, which adds that the building was donated by the Le Hardy de Beaulieu family (the name is mistranslated in the Cardijn biography). Clearly, there is a lot more to this story than Cardijn lets on.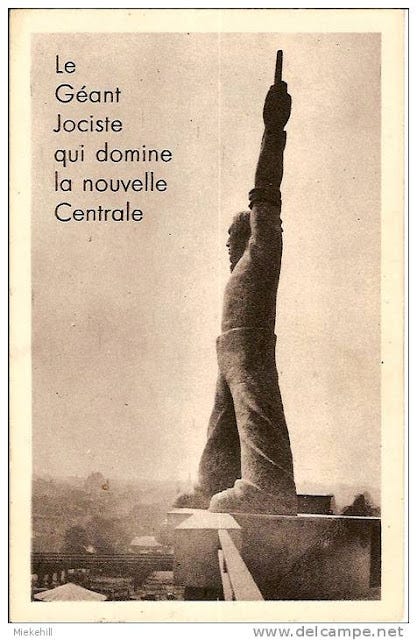 The statue of a young worker that once topped the Centrale Jociste
Nevertheless, despite the donation of the building there was still an enormous sum of money still required to transform the gutted building into the Art Deco-styled headquarters of the movement.
Here is a news item from September 1934 in which Cardijn launches an appeal (selling commemorative flowers) to raise the necessary funds to renovate the building which was huge. After transformation it had 250 lodging rooms for young workers and a restaurant, as well as meeting rooms, administrative space, a chapel and everything else the movement required.
It is evident from this that as well as providing accommodation for the young workers, the Centrale was conceived as an income generation project to resource the JOC. Indeed, the building was ideally located for this purpose, right near the Gare du Midi station.
Unfortunately, the station was destroyed by bombing during World War II. After the war, it was then rebuilt a little further away from Boulevard Poincaré, meaning that the restaurant lost much of its passing trade.
Nevertheless, the Centrale continued to operate throughout Cardijn's life, providing for the needs of the movement.
Sadly, it was sold around 1970 after the maintenance costs became too great. However, the memory of the Jocist Centrale lived on. When I later worked for the International YCW, I remember at least one visitor coming into the by now relatively small office in a side street disappointed not to find himself at the old Jociste Centrale.
Conclusion
These buildings were just the most well-known of Cardijn's real estate projects. There was also a training centre at Dworp, south of Brussels, as well as a vacation centre among others.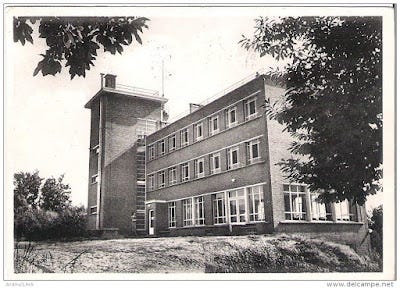 Training Centre, Dworp
Looking back, what is striking is how important such projects were Cardijn's endeavours to properly resource the movement.
Such projects were also imitated on a (smaller) scale by other JOC movements around the world.
As well as a remarkable fundraiser, it is equally clear that Cardijn was a very smart business operator with a keen eye for real estate and the wherewithal to operate them as successful, yes profitable, social enterprises.
Moreover, each project follows a similar pattern that we can still learn from:
1. A daring property purchase financed by donation and fundraising
2. Renovation and transformation, often with assistance from movement members
3. Operation as a sustainable social enterprise that provided services to young workers as well as the financial and physical resources necessary for the movement.