Discover more from Cardijn Research
My research notes about the life and work of Joseph Cardijn and his network
Cardijn @ Vatican II: A new blog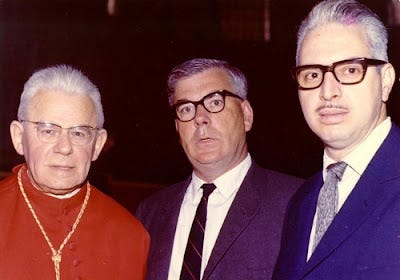 Sixty years ago today on Monday 14 November 1960, Pope John XXIII launched the Central Commission and the 10 specialised preparatory commissions that were to work for the next two years to prepare the Second Vatican Council.
Two months earlier, he had appointed Cardijn to the Pontifical Commission on Lay Apostolate. Now Cardijn came to Rome (yet again!) to begin his own work with that Commission. As always, Cardijn regarded the preparation as the most important phase of any event and this was certainly no exception.
Despite having turned 78 just one day before and despite a punishing travel schedule, including a long, recently concluded trip to Africa, he was about to embark on what he almost certainly would have considered as potentially the most important opportunity of his life - the opportunity to introduce his conception of lay apostolate and lay apostolate formation into the deliberations and decisions of an Ecumenical Council of the whole Church that Pope John XXIII himself had announced would be a "pastoral" council.
35 years of advocacy
By this time, Cardijn already had 35 years of contacts, friends, colleagues and experience in advocating for his views in Rome and at the Holy See.
This had begun with his visit in March 1925 to Pope Pius XI that both saved his movement, the Jeunesse Ouvrière Chrétienne (JOC) or Young Christian Workers (YCW) from condemnation by Cardinal Désiré Mercier of Malines-Brussels and launched what Yves Congar later compared to the partnership between Pope Innocent III and St Francis of Assisi.
Just six years later, Pius XI would make specific reference to the work of the JOC in his landmark 1931 social encyclical, Quadragesimo Anno. Another four years later in 1935, the pontiff would recognise the JOC as an "authentic" form of Catholic Action in its own right (and without reference to earlier forms of Catholic Action, e.g. the hierarchically-dominated Italian model of Catholic Action).
Cardijn evidently had no fear or hesitation in advocating for his positions before the Church's highest authorities. Indeed, he had built close working relations with Pius XI, then Pius XII and now with John XXIII, whom he had already lobbied to publish an encyclical to mark the 70th anniversary of Rerum Novarum, which was due in May 1961.
Clearly, at what he surely knew would be his final years, he was not going to diminish his efforts to influence the course of the Church's history.
It helped significantly that by this time he was a world figure, perhaps the first truly global Catholic personality, who had travelled not only all over Europe, but to every continent since 1946.
It helped too that the JOC had only recently in August 1957 held its first international council and hosted a pilgrimage to Rome of 32,000 young workers from all over the world. Over 100 bishops had an event that with hindsight can be viewed as one of if not the main precursor of the World Youth Days launched in 1985 by Pope John Paul II.
The JOC itself as well as the other "Specialised Catholic Action" movements that it had spawned was reaching the zenith of its worldwide influence with movements nearly 90 countries.
Moreover, the JOC Internationale (International YCW) itself for the first time now had a fully functioning international secretariat in Brussels.
The stage was clearly set for Cardijn to make an impact at the forthcoming Vatican II, much of which I have already documented in fairly abbreviated form in my PhD thesis (and forthcoming book) "The Leaven in the Council: Joseph Cardijn and the Jocist Network at Vatican II."
Cardijn @ Vatican II
Much more remains to be written about this, however. In order to share my ongoing research I've taken inspiration from the Catholic News Service "Vatican II: 50 Years Ago Today" blog that from 2012-15 retraced the course of the Council day by day over the course of its four sessions from 1962-65.
In this case, my new blog "Cardijn @ Vatican II" seeks to follow the work of Cardijn and the "Jocist network" of bishops, priests and lay people, who contributed to the achievements of the Council.
I have already compiled a series of posts providing background to Pope John XXIII's election, the calling of the Council and its early "antepreparatory" steps as well as Cardijn's early response to these events.
Now I'm launching the blog publicly to coincide with the 60th anniversary of the first meeting of the Preparatory Commission on Lay Apostolate (PCLA).
As we will see over the coming weeks and months Cardijn (and his colleagues) made a herculean effort to influence the course of Vatican II.
Let's accompany them on that journey, beginning today.
Stefan Gigacz
LINKS
LATEST POSTS
Italian domination of the sub-commissions (Cardijn @ Vatican II)
More bad news (Cardijn @ Vatican II): The organisation of the Prep Comm on Lay Apostolate into three sub-commissions frustrates Cardijn.
The PCLA starts work (Cardijn @ Vatican II): It's only the first day of the Vatican II Prep Com on lay apostolate and Cardijn's hopes are already shattered!