Discover more from Cardijn Research
My research notes about the life and work of Joseph Cardijn and his network
Cardijn's astonishing last letter to Paul VI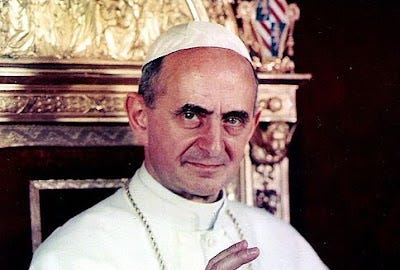 On 25 June 1967, four weeks before his death, Cardinal Joseph Cardijn, founder of the International Young Christian Workers (IYCW) movement, still famous for his "see-judge-act" method, wrote his last letter to his old friend Pope Paul VI.

Like a very loving son, who can always share his heart's most secret wish with his Father, I come to you in a spirit of absolute confidence.

Your poor son is lying in bed, sick, and he is unable to go to see his Father in Rome at the coming Consistory. And so this letter will attempt to express this very intimate wish.

"I want to ask the Holy Father to proclaim at the end of the Consistory ceremonies on Thursday evening that He has taken a personal decision that will astonish the world just as his pilgrimage to Fatima did," Cardijn wrote.

 And this is the request:

 That the Holy Father will preside Himself, next Sunday 2 July, at the Eucharistic Celebration that will close the celebration of the 40th anniversary of the French JOC.

 Incredibly, Cardijn is asking Pope Paul to join him in Paris in nine days time to concelebrate mass in a major Paris stadium.

Well, no surprise that Cardinal Dell'Acqua from the Secretariat of State, replied in a 2 July telegram saying that it was "impossible" for the pope to get there.

"Holy Father thanks for the filial invitation. Impossible to implement. Renew dear founder Young Christian Workers wishes prompt recovery health and "large" apostolic benediction. Cardinal Dellacqua."

Nor did Cardijn make it to Paris on that occasion as he never left his sick bed until his death on 24 July.

But who else but Cardijn would even dream of asking the Pope to come and celebrate Mass in Paris in a week's time?

Was he already starting to get delirious on his death bed? Who knows?

In any event, his letter certainly tells us a lot about Cardijn himself and his intimate friendship with Pope Paul, whom he had known since the 1940s and probably even earlier.

And yet why couldn't the Pope have gone? Perhaps he had a scheduling clash. More likely though, it was just unthinkable for the Pope to fly to Paris at such short notice. Protocol arrangements to be made, etc..

None of which concerned Cardijn, of course, whose sole thought was for the young workers.

"Very Holy Father", his letter continued, "the French JOC has a very great place at the heart of the International YCW and thus your gesture will create enthusiasm in the whole world YCW movement.

"Jocists in every country will feel encouraged in the immense and heroic work that they have undertaken to forge and cement a closer and increasingly strong union between the young workers of the world at a decisive historic moment when young people of the worker world could decide not only the salvation of their brothers and sisters at work but Peace among all the peoples of the Earth."

As Cardijn concluded:

"Until my last breath I wish to work for the salvation of young workers of the working class of the whole world."

What a guy!