Discover more from Cardijn Research
My research notes about the life and work of Joseph Cardijn and his network
Cardijn's student movement: La Jeunesse Sociale Catholique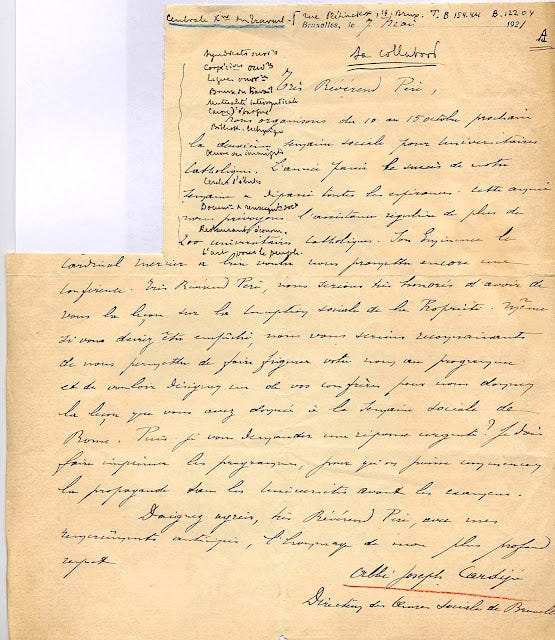 I've mentioned before that in 1919 Cardjn launched a student movement, La Jeunesse Sociale Catholique or Catholic Social Youth, in parallel with La Jeunesse Syndicaliste or Young Trade Unionists, which became the YCW.
For Cardijn, the very existence of a movement for young workers implied the need for ean essential and indispensable complement, namely the apostolic and missionary mission proper to young intellectuals, young academics" enabling "organised and methodical collaboration... to resolve not only the problem of a Christian social system but the very problem of working youth."
Indeed, he noted that he had begun to foster this collaboration from 1912 when he first began working in the parish of Our Lady at Laeken.
Sadly, not much information appears to be available about the JSC (or at least no-one seems to have researched it).
So I was very grateful to Jean Tonglet of the ATD-Quart Monde movement for sending me a copy of a 1921 letter from Cardijn to his former spiritual director, the Belgian Jesuit canonist and sociologist, Arthur Vermeesch that he had discovered in the hard disk archives of another ATD collaborator, the late Belgian Jesuit, Marc Leclerc.
J.M. Upton has more details of the life and work of Arthur Vermeesch, including his commitment to social justice, in this article:
https://www.encyclopedia.com/religion/encyclopedias-almanacs-transcripts-and-maps/vermeersch-arthur
Cardijn was writing to Vermeesch to request him to as a keynote speaker for the Social Week to be held at Louvain (now Leuven) in October 1921. The topic? "The Social Conception of Property."
I don't have a copy of Vermeesch's reply to Cardijn but what appear to be his handwritten notes on the latter's letter indicate the  range of his interest in the topic. 
He lists "worker unions, worker cooperatives, worker leagues, labour exchanges, inter-union mutuals, savings banks, the work of immigrants, study circles, social information documentation, low-cost restaurants and art for the people."
Quite an amazing list really!
What is also very interesting is the draft program that Cardijn attached to his letter, which clearly foreshadows the see-judge-act with its LePlaysian Facts-Principles-Solutions format:
See: Future trends in legislation and social theories
Judge (Catholic Principles): The social conception of property and work
Act:  Worker education, fighting disease, promoting democracy, further enquiries...
Observe also the extremely impressive speakers list includes:
- Georges Legrand, a Louvain jurist;
- Maurice Defourny, a Louvain philosopher;
- Henri De Man, a Belgian socialist politician;
- Cardinal Desiré-Joseph Mercier, speaking on "Responsibility and Social Initiative among Young People," no doubt an astute choice to keep the cardinal onside;
- Cyril Van Overbergh, a sociologist as well as a future senator and government minister;
- Ceslas Georges Rutten, a Dominican disciple of Le Play as well as Cardijn's boss as director of social work for the Archdiocese of Malines (as it was then);
- Frans Brusselmans, another Louvain jurist and politician connected to the rural movement, the Boerenbond;
- Madeleine De Roo, a close collaborator of Cardijn in the launch of study circles for young female workers at Laeken and thus a pioneer of the JOC;
- Louis Delvaux, a future judge of the European Court of Justice;
-  Jean Desgranges, Sillonist and democratic priest from Limoges, France;
- Juliette Verhaegen Carton de Wiart, social activist close to Marc Sangnier and the Sillon, and spouse of the future prime minister, Henri Carton de Wiart;
- Jacques Leclercq (spelled Leclerc), who became a very well known Louvain sociologist and moral philosopher.
All in all, an amazing speaker list put together by Cardijn and his student colleagues. Note also the Sillonist connection with Jean Desgranges and Mme Carton de Wiart as well as the Le Playsian link via Fr Rutten and probably also Fr Vermeesch.
A great illustration of the kind of work organised by the Jeunesse Sociale Catholique.
Stefan Gigacz
REFERENCE
English Translation
Joseph Cardijn  - Arthur Vermeesch 07 05 1921 (Joseph Cardijn Digital Library)
Original French
Joseph Cardijn  - Arthur Vermeesch 07 05 1921 (Joseph Cardijn Digital Library)