Discover more from Cardijn Research
My research notes about the life and work of Joseph Cardijn and his network
Cardijn's Vatican II vision of lay apostolate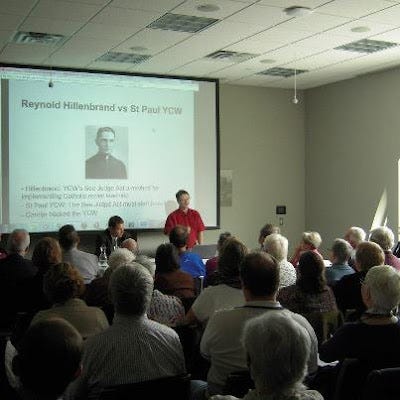 Photo: Massimo Fagioli
An excellent weekend in St Paul Minnesota on 20-22 September for the University of St Thomas  (UST) conference on Teaching and Understanding the Council after 50 years.

I was pleased to have the opportunity to present a paper on Lay people transforming their lives and the world: Cardijn's vision of the lay apostolate.

Here also is the presentation version which is slightly different and adapted to the local audience:

http://www.stefangigacz.com/cardijn-s-vatican-ii-vision-of-lay-apostolate-2

St Paul Minnesota was a great YCW city back in the 1960s and, as I mentioned in my talk, local issues even had echoes in the halls of Vatican II owing to a conflict over the nature of the YCW's enquiry method.

According to Mary Irene Zotti's history of the US YCW, A Time of Awakening, Tom Trost, a YCW leader from St Paul, attacked the movement's "rigid" social enquiry program during  the National Council of 1961 (Zotti 229-233).

"The movement is becoming an educational movement," Trost complained, meaning that the US movement was more intent on carrying out a thematic program than in responding to needs based on the lived experience of the YCW members.

National leaders Mike Coleman, also from St Paul, and Nancy Lee Conrad, who participated in the IYCW World Council in Rio de Janeiro in 1961, agreed with these criticisms, which were reinforced by their international experience.

This led to a major conflict between the US YCW leaders and national chaplain Fr Reynold Hillenbrand. Cardijn backed the position of the YCW leaders but also considered the situation of the US YCW as "hopeless" given the position of Fr Hillenbrand.

Two years later at Vatican II, Cardijn was objecting in the Pontifical Commission on Lay Apostolate to the way in which the draft decree on the lay apostolate presented the See Judge Act method, which according to Cardijn also misunderstood its nature.

I think there's little doubt that Cardijn must have had in mind the US experience in taking that position.

Sadly, there were few at the event who still had memories of the St Paul or US YCW. One who did, however, was keynote speaker and liturgy expert, Fr Michael Joncas, who told me he remembered his first parish priest, Fr Blaine Barr, as a great proponent of the "observe, judge, act" method that he had learnt while studying in Rome.

I googled Fr Barr and found this history of the St Joseph parish in New Hope Minnesota which records his work as follows:

Father Barr brought St. Joseph's into an awakening of social justice and service. Father Barr was one of the driving forces behind the establishment of PRISM (People Responding in Social Ministry). Father Barr had divided the parish into eight neighborhood groups, and it was his hope that these groups would help build small, friendly Christian communities and form the base to future ministries.



Sounds like a true Cardijn follower, and here is his grave:

http://www.findagrave.com/cgi-bin/fg.cgi?page=gr&GRid=81128954

And here's the story of another exYCW from St Paul, Marie Braun, from Women against Military Madness, who is still involved in the Peace Movement:

http://www.womenspress.com/main.asp?SectionID=1&SubSectionID=1&ArticleID=3145&TM=75590.7

Seems to be a great YCW history up there in St Paul! Wish I had had more time to spend there!

Meanwhile, UST have started to post videos of the keynote talks on YouTube:

Fr John O'Malley:





Sr Maureen Sullivan OP gave an excellent talk on Gaudium et Spes, emphasising its "inductive" approach which of course comes from Cardijn: