Discover more from Cardijn Research
My research notes about the life and work of Joseph Cardijn and his network
Cardinal Edward Cassidy and the IYCW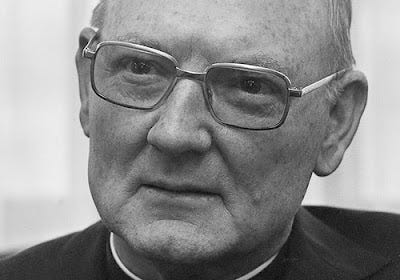 I don't remember when I first heard of Cardinal Edward Idris Cassidy, the Australian-born Vatican diplomat, who died earlier this month on 10 April 2021. In any case, it was long before Pope John Paul II appointed him as his Substitute at the Holy See in March 1988.
Even so, it came as a shock when in June 1989, Archbishop Cassidy (as he was then) signed the official letter on behalf the Holy See in June 1989 withdrawing recognition of the International YCW as an International Catholic Organisation. 
Only a fortnight earlier, I had been elected as treasurer of the IYCW, a post that I would take up in January 1990. So not only was the Holy See decision a major loss for the movement but, with an Australian archbishop involved, it also felt like an almost personal blow.
The impact of the decision
I happened to be in Portland, Oregon in the US, where we had hopes of starting the YCW, when I learned of the Holy See letter in a phone call from the IYCW International Secretariat in Brussels.
As a result, the first thing that I had to do was visit the director of young adult ministry in the Portland Archdiocese to try and explain the situation. As it turned out, he was very gracious and understanding and it was not because of the letter that we did not succeed in starting (or restarting) the YCW there.
Elsewhere, however, the impact was much greater. In Fiji, for example,  the YCW movement had gone through a crisis and ceased to exist by the mid 1980s. Thus, in early 1989, I also visited the Fijian capital Suva to look at how we could relaunch the movement there.
It wasn't hard to find a group of young people interested in the YCW. Leaders of a parish youth group in Suva, who were looking for direction, literally rejoiced when I gave them a copy of an Australian YCW book, Starting the YCW in the 1980s. 
And when I visited Archbishop Petera Mataca, he also welcomed and encouraged this initiative. I promised him that I would come back the following year to see how the movement was developing.
In November 1990, I did return, this time accompanied Fr Hugh O'Sullivan, the Australian YCW chaplain, who was soon to take up his appointment as chaplain for the IYCW in Asia-Pacific and who had actually written the Starting the YCW manual.
Upon arrival at Nadi Airport, Hugh telephoned ahead to the vicar-general in Suva to make further arrangements. He got off the phone somewhat disturbed, telling me that our visit to Fiji was not welcome. "No, not possible," I told Hugh, "the archbishop had specifically encouraged me to go ahead."
But when we got to Suva it was evident that we had indeed become persona non grata as far as the archdiocese was concerned. The archbishop refused to meet us with us, his secretary simply passing on the message that the YCW did not fit into the "pastoral plan" of the diocese. After the encouragement I had received in 1989, I could not believe it.
Fortunately, Hugh did manage to meet the young woman who was the leader of the embryonic YCW group we had launched the previous year. Since I was already working for the IYCW, I stayed away in order not to create difficulties for her. As Hugh later reported to me, she burst into tears upon meeting him, devastated by what had happened and the fact that her group had been banned from having any contact with the International YCW.
Who knows what became of those young people and that group or whether a new YCW movement may have developed there? In those pre-internet days, we had no way of following up and nor did we wish to add to the difficulties.
The fact remains that 30 years later, there is still no YCW in Fiji or indeed the whole Pacific region.
The IYCW World Council in Adelaide
It was also at this time that we were planning for the IYCW International Council, which was to be held in Adelaide in November 1991. So were quite concerned about the possible attitude of the Australian bishops, particularly after several negative experiences during the 1980s (as well as earlier).
In fact, we would never have succeeded in holding the Council in Adelaide if Archbishop Len Faulkner, himself a former diocesan YCW chaplain, had not given us his full backing, even despite his own reservations about certain decisions the IYCW had taken in the past. What's more he had given up one of his best priests, Hugh O'Sullivan, to become IYCW Asia-Pacific chaplain.
It was a huge commitment and I've often wondered whether, given Cardinal Cassidy's involvement, Archbishop Len felt a particular responsibility as an Australian to support the IYCW at that time.
The Vatican
In early 1992, a few months after the Adelaide World Council, the newly elected members of the IYCW International Secretariat, Moses Cloete, president, Gilberto Ferreira Da Costa, secretary-general, and me (continuing as treasurer) made a special trip to Rome to try and re-launch a process of dialogue.
To this end, we had contacted the various Vatican bodies, including the then Pontifical Council for the Laity (PCL), the Pontifical Council for Culture and the Pontifical Council for Interreligious Dialogue.
Unsurprisingly, our meeting with the staff of the PCL did not go well although we did have a short, more cordial interview with Cardinal Eduardo Pironio, the PCL president.
As for the Pontifical Council for Culture, when I phoned to confirm our meeting, I was stunned to be told that it was no longer "opportune." I tried to insist only to be cut off by the Vatican official concerned.
The only dicastery that welcomed us was the Pontifical Council for Interreligious Dialogue, where Bishop (now Cardinal) Michael Fitzgerald was the secretary. (Perhaps it made sense from the Vatican perspective, since we were no longer regarded as Catholic!)
A meeting with Cardinal Cassidy
Meanwhile, I had also taken the opportunity to write to Cassidy, now a cardinal, hoping - no doubt naively - that, as a fellow Australian, he might at least begin to understand things from our perspective. But when I called his office, I was asked to come alone for an unofficial meeting, i.e. without my colleagues, who despite quite reasonably feeling somewhat miffed if not offended, generously agreed that I should go ahead alone.
Upon arrival, Cardinal Cassidy's secretary, who happened to be Belgian, greeted me warmly so I was a little taken aback by the icy welcome I received from the cardinal. Nevertheless, he did listen and over the course of our discussion the atmosphere slowly thawed as I shared some of my YCW experience. Unfortunately, I don't remember any more than that. Still, at the end of the day, it was clear that nothing was going to change from the point of view of the Holy See.
Since then, I've often wondered whether things might have turned out differently if Cassidy had had previous experience of the YCW. However, he was originally from Sydney, where the YCW had been banned for 30 years by the long serving conservative Cardinal Norman Gilroy, who was archbishop from 1940-71. Did this have any influence on the situation? We'll never know.
I don't know if it was a factor but it probably didn't help either that another Australian, Rosemary Goldie, who had played a pioneering role at the Pontifical Council for the Laity, had also had, let's say, a difficult relationship with the YCW, including both Cardijn and Marguerite Fiévez.
At the end of the day, however, even though Cardinal Cassidy had signed off on the Vatican decision, it was the outcome of a long series events that were also part of the same context that had led to the difficulties of so many "liberation theologians" of that era.
Postscript
Three or four years later, after I had finished with the IYCW, I had another opportunity to meet Cardinal Cassidy when he came to Louvain-la-Neuve, Belgium for a conference on ecumenism. I made a point of attending his talk and saying g'day to him afterwards.
Naturally, he remembered our previous meeting and this time he was naturally much more relaxed. We talked for a few minutes but of course there was no possibility of broaching the issue of the IYCW. And that was my last contact with him.
So here we are today 32 years after the Vatican letter. Under Pope Francis, most if not all of those liberation theologians who had come under scrutiny are now back in favour. Yet even though there's no one left in the IYCW from that period of controversy, the Vatican has never revised its position.
Perhaps now, with a better view of events from on high, Cardinal Cassidy may finally be in a position to intervene on the movement's behalf.
REFERENCES
Edward Idris Cardinal Cassidy (Catholic Hierarchy)
Stefan Gigacz, The Pontifical Council for the Laity de-recognises the IYCW (Cardijn Research)
Archbishop Petero Mataca (Catholic Hierarchy)
Michael Louis Cardinal Fitzgerald, M. Afr. (Catholic Hierarchy)
Norman Thomas Cardinal Gilroy (Catholic Hierarchy)
CASSIDY Card. Edward Idris (Vatican Press Office)
Church mourns death of Australian Cardinal Edward Cassidy (Australian Catholic Bishops Conference Media Blog)
PHOTO