Discover more from Cardijn Research
My research notes about the life and work of Joseph Cardijn and his network
Cardinal Stefan Wyszynski - A founding JOC chaplain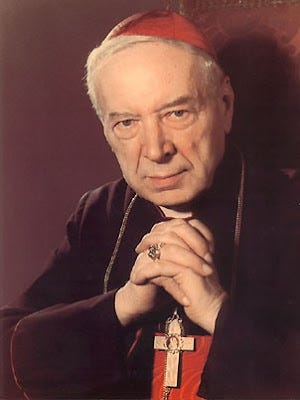 Back when I was a young fulltime worker for the YCW in Melbourne in the late 1970s, I was looking for writings about the theology of work. The only thing I found was an English translation of a little book by a Polish cardinal, Stefan Wyszynski, who died 40 years ago today on 28 May 1981.
The original title of the 1960 English edition was simply "Work." (A more recent edition or translation is called "All you who labour: Work and the Sanctification of Daily Life.") And I wondered: Did Wyszynski know Cardijn? Did he know the JOC/YCW?
At that time, Poland was still a communist state and there was no YCW there that I knew of, although later I learned that a number of efforts had been made to launch it during the 1970s.
Today I learned that young Father Stefan Wyszynski was indeed a Cardijn priest.
He first encountered the JOC and Cardijn while studying in Rome in 1929-30, which coincided with the first jocist pilgrimage to Rome in September 1929. He also made study trips to observe the development of Catholic social thought in some European countries: Austria, Italy, France, Belgium, the Netherlands and Germany.
After he returned to his home diocese of Wloclawek, in 1932, he founded the Katolickie Stowarzyszenie Mlodziezy Robotniczej - the Young Catholic Workers Association, which followed the principles and methods of Cardijn's JOC!
In fact, the JOC had barely reached beyond Belgium, France and other francophone countries by 1930. This makes the Polish JOC one of the earliest in the world.
It appears that Fr Wyszynski again heard Cardijn speak at the Pax Romana Congress in Bled, Yugoslavia in 1938 where the JOC founder was the keynote speaker. Indeed, Wyszynski later published a report of the conference in which he cited Cardijn.
In light of this, it is also easy to discern a Cardijn influence in the very title of Wyszynski's book on "Work and the sanctification of daily life."
How well did Wyszynski, who is expected to be beatified on 12 September this year, know Cardijn? Hard to say. Interestingly, though, they both addressed Vatican II on the issue of religious freedom on the same day, i.e. 20 September 1965.
Well, there's obviously much more to investigate on this issue. But it also sheds a certain light on the interest in Cardijn and the JOC that another young Polish priest, Karol Wojtyla, the future Pope John Paul II, would also later show.
Stefan Gigacz
PS Thanks to Julia Maria Koszewska, who kindly helped locate and translate some of these references.
REFERENCES
Stefan Cardinal Wyszynski (Catholic Hierarchy)
Stefan Wyszyński (Wikipedia)
Stefan Wyszyński (Wikipedia Polish)
Declaration on Religious Freedom Gaining Support (Vatican II: 50 years ago today)
S. Wyszynski. Sprawy pasterskie i religijno-społeczne. Poznanie społeczno-katolickie: poznanie i wykonanie uchwał Synodu Plenarnego szczytnym posłannictwem polskiego katolicyzmu. Wolność w życiu społecznym. Kongres Pax Romana w Bled.
Konkurs na katolicką "Historię katolika", "Historię chłopów w Polsce". "Ateneum Kapłańskie" 24:1938 z. 1 s. 292.
Małgorzata Laskowska, Troska o uniwersytet w artykułach Ks. Stefana Wyszyńskiego z lat1924-1946 (Perspektiva, Legnickie Studia, Teologiczno-Historyczne, Rok IX, 2010 Nr 1 (16) )
Jerzy Turowicz, Sytuacja i rola młodego pokolenia we współczesnym społeczeństwie według Stefana Kardynała Wyszyńskiego (Roczniki Nauk Spolecznych Tom 10 (1982) )
Zespół Placówek Oświatowych Im. Kardynała Stefana WyszyńskiegoW Kadzidle
Stefan Gigacz, Marx, Houtart, Wojtyla and the "See" in Gaudium et Spes (Cardijn Research)
Stefan Gigacz, Karol Wojtyla channels Cardijn (Cardijn Research)