Discover more from Cardijn Research
My research notes about the life and work of Joseph Cardijn and his network
Congar and Cardijn: A long collaboration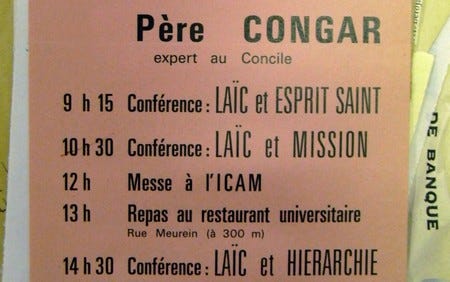 As he noted in his Vatican II Journal, the late French theologian Yves Congar worked closely with Cardijn to assist the latter in the drafting of his speeches to Vatican II.

Indeed, Cardijn flew to Geneva for a weekend of work in August 1965 where he, Congar and another Dominican, Fr Henri Féret, worked on Cardijn's planned speeches.

However, it was not the first time, Congar had worked with Cardijn. In 1949, Congar together with his Dominican colleague Marie-Dominique Chenu and other theologians and philosophers had joined Cardijn for a study week dealing with contentious issues facing the IYCW at that time.

Moreover, Congar had already known the YCW from the early 1930s when he was stationed at the Dominican study centre, Le Saulchoir, which at that time was located in Tournai, Belgium.

As Congar noted in a book of interviews published in 1975, he took part in a series of retreat weekends for YCW teams from the Tournai region as well as from Lille across the border in France during those years.

He also commented that those early contacts with the YCW and with Cardijn were "decisive" for his orientation as a priest and theologian.

And so last week I went to the Saulchoir now in Paris to investigate Congar's links with Cardijn and the lay movements.

Very interesting and even quite moving to have Congar's whole life and work laid out before in the boxes of his archives - suddenly I could see how everything fitted together over the course of his life: a trip to Paris when he was a boy, the spiritual journal of his mother, photos from his days at the Carmes seminary in Paris before he entered the Dominicans, the growing calls on his services as a speaker as he became better known, the voluminous correspondence unleashed by the publication of "Chrétiens Désunis", his days in Colditz prison... Better than reading any biography!

But I did not find any further correspondence between the two (beyond what I had already seen in the Cardijn Archives in Brussels) although it was very clear that in the period from around 1950 until the Council, Congar was in close contact with leaders from many of the leading lay movements, including Pax Romana, the Christian Worker movement and others.

I was also hoping to find some correspondence with Fr Robert Kothen, Cardijn's adjoint as international chaplain during the 1930s, and whom Congar clearly well (as attested in his interview). Sadly, nothing there.

Later after explaining the challenges of tracing Cardijn's influence on Vatican II, my former canon law professor, Fr Jean-Paul Durand OP, made the astute comment that "men of action" often leave few traces in their archives unlike "men of reflection" whose work by its nature is often in written form.

This is also true of Congar's "action" too which appears to be much less well documented than his "reflexion" or theological work.

However, I did find one photo of Congar with some YCW leaders dated 1934. Sadly it's a little bit blurred - I couldn't get my camera's autofocus to adjust properly.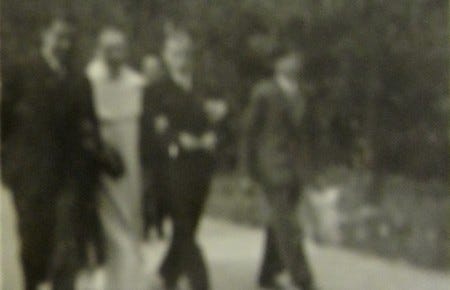 With Congar are JOC (YCW) leaders Léon Debruyne, Gérard (surname not indicated) and Albert Léman (behind).