Discover more from Cardijn Research
My research notes about the life and work of Joseph Cardijn and his network
Deja vu of the doctrinal-inductive clash at Vatican II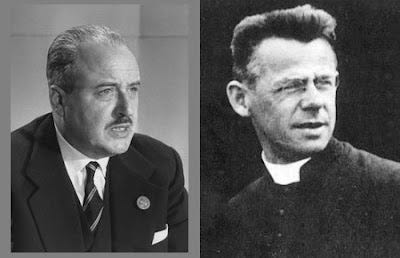 Here is a nice bit of context for the doctrinal vs inductive, Suenens vs Cardijn clash in the drafting of Gaudium et Spes document of Vatican II.

Bernard Minvielle's outstanding thesis on the first two world congresses of the lay apostolate sets out what happened in the organisation of the first Congress in 1951.

"The discussion took as its starting point the revised draft program following Italian proposals, then quickly hit a question of method. Was it necessary to begin with doctrine or from the situation of the world in which the Church was inserted? This second updating and inductive approach had the favour of Cardijn and it rallied support from a good number. At the same time, several persons expressed their desire for a doctrinal clarification. The debates revealed more about the variety of experiences and conjunctures experienced by each one than profound disagreements. For this reason and in order to simplify the program, it was decided to give a larger place to workshops. The doctrinal workshops were correspondingly shortened as required. The need for good preparation by the delegations in their respective organisations or countries was emphasised. Thus the idea emerged of a defining a second unifying axis around which one would articulate the various subjects.

"A fourteen member commission was designated to this end, the second day of the meeting. It soon presented the fruit of its work, namely a plan in seven themes: the problem of the world today, the doctrinal foundations, the formation of the lay person for the apostolate, the elements of a new Christian social order, the international organisations, the presence of Catholics at the international level, and the modern methods of  influencing public opinion. The program was established which took up more or less the projects drafted previously but taking account of the aspiration to begin from the situation of the world."

Bernard Minvielle, L'apostolat des laïcs à la veille du Concile (1949-1959) Histoire des Congrès mondiaux de 1951 et 1957, 2001, Editions Universitaires Fribourg Suisse, 498p. (My translation).

Well, that was 1951 and what happened in the Vatican II Commission on Schema XVII/XII, which eventually became Gaudium et Spes, was pretty much a replay of that battle - but among the bishops rather than the laity.

I guess Cardijn won much more easily in 1951 because it was mostly lay people involved who understood what it was to be involved in those issues whereas when theologians and bishops traditionally by their training tend to want to view everything through a theological or "doctrinal" filter.

In any event, it clear how this much earlier battle laid the groundwork for Gaudium et Spes.

A lot more great stuff in Minvielle's book on the importance of the partnership that developed between Cardijn and Vittorino Veronese, COPECIAL president and vice-president of the ICMICA side of Pax Romana, a great partnership that was a key driver of the process that engendered Gaudium et Spes.