Discover more from Cardijn Research
My research notes about the life and work of Joseph Cardijn and his network
Facts, principles, solutions: Victoire Cappe 1911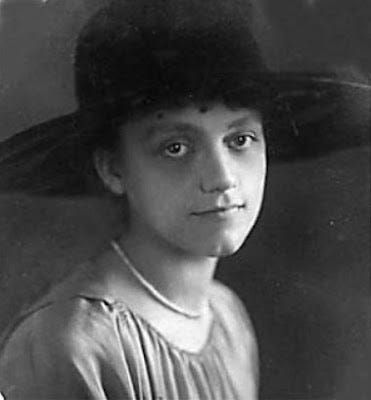 Even before she met Cardijn, Victoire Cappe had started to make a name for herself as an emerging trade union leader.

Born in 1886, four years after Cardijn, she was only twenty when she founded Le Syndicat de l'Aiguille at Liege in 1907 under the influence of a local priest, Abbé Paisse. See my article here.
Fr Paisse taught her the methods of Le Sillon, the movement for democracy founded in France by Marc Sangnier. He also introduced her to the work of Marie-Louise Rochebillard, who had started women's trades unions at Lyon in France.
In 1909, she came to the fore with a speech on the Formation professionnelle et sociale des femmes at the Congrès de Malines, a major Catholic event in 1909.
It was there that she attracted the notice of Archbishop Désiré Mercier who took her under his wing somewhat and arranged for her to follow some studies at Louvain.
In 1911, she launched a magazine L'Aiguille and in 1912 she published her book La Femme Belge of which she dedicated a signed copy to Archbishop Mercier (that I am proud to now have in my own personal library).
As well as her Formation professionnelle speech, the book also contains a number of other articles written by Cappe and other "Christian feminists" of that period such as Maria Baers, Louise Van den Plas and others.

Victoire Cappe's articles evidence her sillonnist formation at several junctures. She cites Jean Lerolle, the Sillon and ACJF leader while Paule Nolet de Brauwere quotes Abbé Eugene Beaupin's book Les Cercles d'études de jeunes filles and Louise Van den Plas refers to the work of the female Sillon leader Mme J. Brunhes on consumer cooperatives (Ligue d'acheteurs).

In her article on Women's study circles, Cappe also writes:

La femme est en partie responsable des déchéances et des injustices qui se manifestent dans la société à certaines époques. De tout temps elle a eu une belle et grande mission d'éducatrice et elle ne peut défaillir à cette mission sous peine de voir la société porter les tristes conséquences de cet abandon. Or actuellement, pour exercer une action vraiment bonne et efficace, il faut à la femme certaines connaissances qui autrefois étaient peut-être superflues, mais qui de nos jours sont indispensables à la femme, consciente de sa dignité et de sa responsabilité. Nous pensons que c'est le rôle des cercles d'études de les lui faire acquérir.
Translation:

The women is partly responsible for her degradation and for the injustices that appear in society at certain times. She has always had a beautiful and great mission of educator and she must not fail at this mission or else society will suffer the consequences of this abandonment. However, at present, in order to really implement a truly good and effective action, certain know how is necessary for the woman that in the past may have been perhaps superfluous but which is now indispensable for women conscious of their dignity and responsibility. We believe that it is the role of study circles to help her acquire this (know how).

This seems to be a clear reference to the Sillon definition of democracy as the maximising of consciousness and responsibility with study circles the means for raising that consciousness and sense of responsibility.

Even more intriguing is Cappe's organisation of her 1911 article Le salaire féminin into three sections:

Les faits, les principes, les remèdes i.e. The fact, the principles, the remedies (solutions). This is evidently the method that Cardijn would soon make famous as the see, judge, act method.

Now Cappe's article was based on a speech she made on 24 April 1911 at the Semaine Social féminine (Women's Social Week) in Brussels. Note the April 1911 date, i.e. six months before the publication of Cardijn's article on Worker organisations in England that he later said had led to his making contact with Victoire Cappe.

So it is clear that Cappe did not learn her method from Cardijn. In effect, it is the Sillon method of democratic education, I believe.

However, this affinity of method as well as concern for young women workers helps illustrate why Cardijn was interested to partner with her in organising the young women workers in the parish of Laeken to which he was named a few months later at Easter 1912.

Tragically, Victoire Cappe died in 1927 aged only 41 after a long period of ill health, moving Cardijn to write:

"Ceux qui ont vécu les années héroïques des débuts du mouvement social féminin chrétien reconnaîtront sans hésitation que ce mouvement n'aurait pas existé sans cette pionnière de l'apostolat auprès des ouvrières".
Translation:
"Those who experienced the heroic years of the beginnings of the Christian social feminine movement will unhesitatingly recognise that this movement would not have existed without this pioneer of the apostolate among women workers."