Discover more from Cardijn Research
My research notes about the life and work of Joseph Cardijn and his network
Found! Cardijn's "lost" See Judge Act article of 1914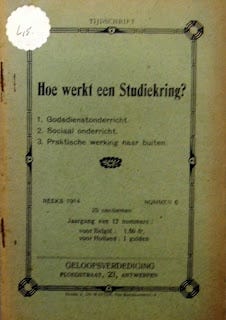 According to Lucie Bragard, Marguerite Fiévez and Jacques Meert, Cardijn claimed to have written a first draft of his famous See Judge Act method in a "now lost" 1914 article in Dutch entitled "Hoe kan een studiekring werken naar buiten?", which means roughly "How does a study circle function or work?"

Here is what they wrote in 1990 in La Jeunesse Ouvrière Chrétienne, Wallonie, 1912-1957, Tome 1, p. 38:

Dans une modeste brochure, aujourd'hui introuvable, Cardijn avait ébauché en 1914 la première expression écrite de la recherche qui, selon lui, a donné naissance à cette méthode. Elle s'intitule: Hoe kan een studiekring werken naar buiten?

Translation:

In a modest brochure, now lost, Cardijn had drafted in 1914 the first written expression of the research, which, according to him, had given rise to this method (See Judge Act). It is entitled: Hoe kan een studiekring werken naar buiten?

For years now, I wondered about the content of that pioneering article. What did he write? How did he explain the SJA? Would a copy of the article one day be discovered?

To the last question, I am pleased to answer that yes, I have found it!

And as is often the case with such things, I found it in plain sight - catalogued on the web, in fact, in the Belgian online university and academic library catalogue Libis.

And here is the listing:

http://opac.libis.be/F/AFMJPH4E7BS282BD6SEH37BQQQ783AI8GGQ2FH3S9M5VD6DLM5-13198?func=full-set-set&set_number=042092&set_entry=000001&format

There are even two copies of it at KADOC, the Catholic Documentation Centre and at the KUL Central Library both in Leuven.

And here it is now online with a Google translation into English:

http://www.josephcardijn.com/1914---how-does-a-study-circle-work

Or a Google translation into French:

http://www.josephcardijn.fr/1914---comment-fonctionne-un-cercle-d-etude

Well, I have to say it does feel nice to "rediscover" a lost Cardijn document, even if it has been in plain sight for quite a while! That's the power of the web and an online library catalogue which did not exist when Lucie, Marguerite and Jacques wrote that the article was lost.

But what does the article say about See Judge Act or Zien - Oordolen - Handelen as it is expressed in Dutch?

The answer is that the trilogy "Zien - Oordolen - Handelen" does not appear!

Indeed, the word "zien" only appears once although the past tense "bezien" also appears twice.

Nor is there is any mention of "oordolen" nor of "handelen".

Check it here:

https://docs.google.com/a/josephcardijn.fr/document/edit?hgd=1&id=1YsS0bCpEBevM5yflu9y1RQcR4z9J1WrAdGP4J8XVrkk

And if you speak or read Dutch, please let me know if I have missed anything, e.g. other Dutch words that would mean or refer to what is now known as the "Zien - Oordolen - Handelen".

On the other hand, the article does offer a very interesting description of the active method of work that Cardijn wanted his study circles to adopt.

That's already interesting and significant itself.

But it also shows that Cardijn had not formulated the expression "See Judge Act" at that time.

Actually, for a long time, I had already suspected that if I ever did find the lost 1914 article, it would not use the term See Judge Act. Why?

Simply because the term does not even appear in the original Manuel de la JOC published in 1925. Given its later fame and ubiquity, it is almost inconceivable that Cardijn would not have used the term in that manual if it already existed.

So when did the term See Judge Act first emerge?

The earliest reference that I have been able to find (so far!) is in his 1930 pamphlet "La JOC et la détresse intellectuelle et morale de jeunes travailleurs" ("The YCW and the intellectual and moral distress of young workers"). Unfortunately, to my knowledge, no English translation of this important document exists (yet).

But here is what Cardijn writes:

Mais la méthode jociste apprend aux jeunes travailleurs surtout à poser des actes, à prendre une attitude, à tenir une conduite conforme à leurs convictions morales et religieuses.

Apprendre à agir, après avoir appris à voir et à juger, tel est le but toujours visé par toute enquête, par toute discussion et par toute conversation jociste ; apprendre à agir individuellement, à agir collectivement ; à comprendre la fécondité de cette action concertée, organisée, soutenue par des services et par tout un mouvement, pour transformer le milieu du travail, pour frapper l'opinion publique et pour reconquérir la classe ouvrière.
Translation:

But the jocist method teaches young workers above all to do acts, to adopt an attitude, to hold to conduct in conformity with their moral and religious convictions.

To learn to act, after having learnt to see and to judge, this the goal always aimed at in every jocist enquiry, in every discussion and in every conversation; to learn to act individually, to act collectively; to understand the fertility of such concerted, organised action, supported by services and by a whole movement, in order to transform the working environment, to impact public opinion and to re-conquer the working class.

Now we are getting very close to the See - Judge - Act formulation!

What's more it is probably highly significant that by this time Cardijn is already in contact with the Dominican convent Le Saulchoir, now in Paris but then located at Kain la Tombe, on the outskirts of Tournai in Belgium.

That's where Fr AD Sertillanges was living and teaching, along with his then young colleagues, Frs MD Chenu, Fr Yves Congar and Fr Henri Féret, who would all play a huge role at Vatican II.

And as mentioned in a previous post, it was Fr Sertillanges who presented St Thomas Aquinas' theory of prudence as a three step process of seek, judge and act.

The upshot of all this is that, even if the method existed well before that date (as it did), the term See Judge Act seems to have emerged around 1930, only a little more than thirty years before it would be canonised by Pope John XXIII in Mater et Magistra and in the documents of Vatican II.