Discover more from Cardijn Research
My research notes about the life and work of Joseph Cardijn and his network
French influence in Latin America and on Vatican II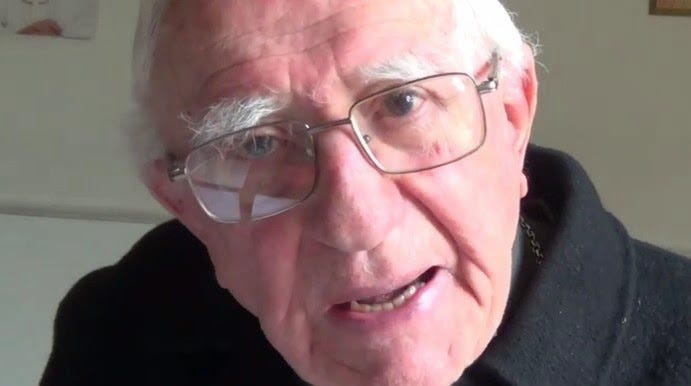 Last week I met and interviewed 99 year old Chilean Archbishop Bernardino Piñera, who interpreted for Cardijn during the latter's first trip to Chile in 1946 before later becoming national chaplain to the JOC. This he was able to do because he was born in Paris in 1915 and in fact lived there with his family for the first twenty years of his life before returning to Chile, where he first studied medicine before turning to the priesthood.
But what brought his family to France? According to Archbishop Bernardino, his father, who had made a small fortune in business, decided to move his family to France in 1913 in order "to understand and study French literature, about which he was already passionate". 
"Every morning he went to the Latin quarter in Paris visiting the great publishing houses and bookshops such as Hachette, Gallimard or Plon-Nourit..."
(Cf. Alvaro Gongora and Marcela Aguilar, Un obispo en tiempos de cambio, Conversaciuones con monseñor Bernardino Piñera).
(Reviewed here: http://www.americalatina.va/content/americalatina/es/publicaciones/otras-publicaciones/conversaciones-con-monsenor-bernardino-pinera.html)
To say the least, it was quite a decision for a man to make, even if he was well off, to move his young family across the Ocean from Latin America to France simply to indulge his love of French literature.
It turns out, however, that young Mr Piñera was not alone. Indeed, he belonged to a whole generation that was passionate about French literature, culture and ideas.
Writing in 1924, the Argentinian literary historian Alberto Zum Felde helps explain this influence.
Latin America's two main influences were Spain and France. We carry Spain's influence in our blood; it has been there since the saga of the conquest, nurtured by the ancestral conditioning of our colonial phase and maintained beyond our political emancipation from the motherland through the living, permanent link of our language. Each and every one of our biological elements is Spanish; our Spanishness is one of our defining features. We are Spanish by origin, by our inheritance of certain traits and tendencies, by education, and by the language that we learned—in short, we are Spaniards in America.
We would be indistinguishable from Spaniards in Spain if it weren't for France's intellectual influence—which we'd known since before our independence—that challenged the ideas we had inherited. What we learned from France helped us cease to be Spaniards and made us very different from our colonizers. Our wars of independence were sparked, to a considerable degree, by French influence in the Americas. The revolutionary ideology of [Jean-Jacques] Rousseau and the Encyclopedia was a major factor in the unraveling of colonial society. The fiery rhetoric of the Convention1 was on every statesman's lips, from [Simon] Bolivar in the tropics, to [MarceloT. de] Alvearand [Bernardo] Monteagudo in the [Rio de la] Plata region.
The essays, proclamations, and allegations of generals and pamphleteers were riddled with Gallicisms. As French ideas "corrupted" the Spanish spirit of Latin American Criollos, the Spanish language was also corrupted by French literary influences; Bolivar's writings were translated into French, and [Mariano] Moreno adopted a distinctly French tone. Not long afterward, while we were still conducting politics in our barbarous, indigenous way. Romanticism arrived on our shores—imported from France by [Viscount] Chateaubriand and [Alphonse de] Lamartine in their armored galleons—and liberated American literature from the dry Spanish classicism that we had learned in the cloisters of colonial universities.
Absent that extremely powerful French influence, colonial countries in the Americas would have endured as independent extensions of Spain. It was that influence, however, that "differentiated" Latin America from Spain and prompted our desire to be released from the colonial grip of the mother country.
France, therefore, is Latin America's spiritual mother, just as Spain is its mother in the physical sense. Our flesh is Spanish but our intellect is French. Spain gave us our essential character while France filled our heads with new ideas, and our two parents were always at odds with each other. We inherited all our organic, atavistic, subconscious attributes from Spain; but our acquired, cultivated, rational qualities are French. Just as people struggle to find a balance between their organic impulses and their rational tendencies, Latin America became a battleground between French culture and the traits we inherited from Spain.
(Source: Alberto Zum Felde, The beginnings of an American culture, in Resisting Categories: Latin American And/or Latino? edited by Mari Carmen Ramirez, Tomas Ybarra-Frausto, Hector Olea, Melina Kervandjian)
This French influence is visible not just in the life and thought of Archbishop Piñera but also and particularly with many other Latin American bishops who played a significant role at Vatican II.
The writings of Bishop Manuel Larrain of Talca, who played a great role both at the Council and in the foundation and direction of the Latin American Bishops Conference (CELAM) are full of reference to French writers such as Cardinal Suhard, Chenu, Maritain and others.
Similarly, with his great Brazilian friend and colleague, Bishop (later Archbishop) Helder Camara.
While all this may seem obvious at one level, this history does help explain how many Latin American bishops came to side with and become an integral, even a decisive part of the so-called "progressive" majority at Vatican II.
The contrast between the conciliar role of these Latin American bishops and many of their Spanish counterparts is striking.