Discover more from Cardijn Research
My research notes about the life and work of Joseph Cardijn and his network
Henry du Roure, role model for the early YCW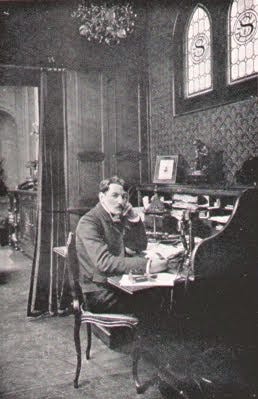 It's one hundred years today since the combat death near Flirey in north-eastern France of Henry du Roure, the former secretary-general of the Sillon movement, journalist, novelist and lawyer, who later became a role model, if not the role model, for Fernand Tonnet and other early YCW fulltime organisers.

Born at Versailles, France, on 29 August 1883, Henry du Roure came into contact with the Sillon in Paris in around 1900 when he was still aged 17.

"Are you Catholic? With your whole soul? Will you give your life for the Cause?" Marc Sangnier asked him, as he did to many other early Sillon leaders.

"Es-tu catholique? Avec tout ton âme? Donnes-tu ta vie à la Cause?"

And here is Henry's answer, written in his own private spiritual diary and later published after his death in 1914:

Je suis du Sillon et Marc est mon ami. A l'un et à l'autre j'ai donné ma vie et c'est pour mieux vous la donner, ô Jésus ! Ce que vous voulez, je le veux, et par-dessus tout. Mais ce que vous voulez de nous n'est-ce pas que nous soyons, humbles mais obstinés, les porteurs de votre vérité divine auprès de ce peuple de France égaré loin de vous ? Ne faut-il pas, pour qu'il vous revienne, lui découvrir qu'il ne peut sans vous, réaliser ses vœux les plus profonds de justice, de fraternité et de bonheur ? N'avez-vous pas visiblement choisi, pour cette mission, l'apôtre qui nous entraîne à l'action et dont la voix, lorsqu'elle parle de vous, fait tressaillir les foules d'un désir généreux plus fort que leurs convoitises, et mon cœur d'un appétit de plus en plus fervent de votre règne ? Apprenez-moi, ô mon Dieu, à faire servir chaque minute de mes journées à la Cause que vous m'avez permis de connaître et d'aimer. Faites que je vous offre mes joies comme mes peines et jusqu'aux travaux qui, malgré moi, me distrairont d'elle.

Translation

I belong to the Sillon and Marc is my friend. To one and the other I have given my life and this in order to better give myself to you, O Jesus! What you want, I want, and above everything else. But isn't what you want from us to be humble but obstinate carriers of your divine truth to the people of France who have strayed far from you? Isn't it necessary, in order to bring them back to you, to discover that, without you, they cannot achieve their deepest desires fro justice, fraternity and happiness? Have you not visibly chosen for this mission, the apostle who leads us into action and whose voice, when it speaks of you, makes the crowds shiver with a generous desire that is stronger than their longings, and my heart with an increasingly fervent appetite for your reign? Teach me, O my God, to devote each minute of my days to the Cause that you have permitted me to know and to love. Help me offer my joys as well as my pains including the works, which in spite of myself, distract me from me the Cause.

By 1905, Henry had become secretary-general of the Sillon as it grew in influence across France. While Marc Sangnier played the role of inspirational leader, I think there's little doubt that Henry du Roure's organisational and journalistic skills played a huge role in the development of the movement that was to become the prototype of Cardijn's YCW.

In the midst of the burgeoning activity of the Sillon, Henry managed not only to complete his undergraduate law studies but also to complete a doctorate in law on the regulation of workshops and labour contracts.

When war with Germany broke out in August 1914, Sergeant Henry du Roure was among the first to enlist.

Only six weeks later on 21 September he was killed, when after being wounded, he ordered his men to retreat, sacrificing himself in an attempt to delay the attacking German troops. Read the details here (French).

His superior officer, in a letter to du Roure's father, described his role thus:

Je ne vous apprends rien, Monsieur, en vous disant qu'Henry du Roure était un saint ; c'est la plus grande consolation que vous puissiez avoir à son sujet.. Constamment sur la brèche, il se dévouait pour tous ; toujours le premier à marcher, il entraînait les autres de la voix et de l'exemple. Aux heures de lassitude et de découragement, j'ai été souvent heureux de pouvoir causer avec lui. Il m'a toujours donné du cœur et remonté le moral. Nous parlions souvent ensemble du bon Dieu et du Roure était très édifiant. J'ai conservé de lui un impérissable souvenir.

Translation

I am not telling you anything new, Sir, in saying that Henry du Roure was a saint. This is the greatest consolation that you can have. Constantly in the breach, he was devoted to all; always the first to march, he led the others by voice and by example. In times of lassitude and discouragement, I was often happy to talk to discuss with him. He always gave heart and lifted morale. We often spoke together of God and du Roure was very edifying. I will guard an imperishable memory of him.

Another soldier who knew him, Father Béchaux, a Dominican priest, also wrote to Henry's father saying that "he fulfilled his duty like a priesthood".
Henry du Roure was also certainly an inspiration for Cardijn, who I think probably knew him personally or at least met him, e.g. during Cardijn's 1907 participation in a meeting of the Sillon during the 1907 Social Week in Amiens.

In 1921, when Sillon founder Marc Sangnier visited Brussels at the invitation of the Christian trade unions, Cardijn delivered an emotional speech of welcome in which he quoted du Roure:

Et s'il est un mot que nous osons faire nôtre, c'est celui que prononça en une occasion mémorable votre admirable et saint compagnon d'armes, Henry du Roure, qu'en un ami sûr, nous chérissons et nous pleurons : Il faudrait, avait-il dit un jour, nous mettre à genoux pour dire les choses que nous avons aimées.

Translation:

And if there is a phrase that we would like to make our own, it's that spoken on a memorable occasion by your admirable and holy companion in arms Henry du Roure, who as a faithful friend, we cherish and mourn. "We need to bend down on our knees", he said, "to speak of the things that we have loved."

They were the words that Henry du Roure had written in his diary following the letter from Pope Pius X to the French bishops on 25 August 1910 asking the Sillon leaders to resign from their posts, which they did.
Referring to that letter, Henry wrote;
Si le Vatican brise la Démocratie [le journal quotidien publié par le Sillon], alors c'est bien la fin, pour longtemps... Attendons sans nous énerver. Il est aussi impossible de prévoir ce qui arrivera que de dire ce qui serait le plus avantageux à l'Eglise, à notre pays et à nous-mêmes. Cette pensée me donne beaucoup de calme, bien que tout ceci comporte de grands déchirements et de durables tristesses... L'amertume serait bien pire s'il s'agissait d'humaines ambitions. Mais, si l'on veut le bien de l'Eglise, il faut le vouloir comme elle le veut.

Translation:
If the Vatican smashes Democracy [the daily newspaper published by the Sillon], then it's truly the end for a long time to come... Let us wait without getting upset. It is as impossible to predict what will happen as to say that it will be the most advantageous to the Church, to our country and to ourselves. This thought helps to calm me, even though it involves great wrenching and lasting sadnesses.. Bitterness would be even worse if it involved human ambitions. However, if we want the good of the Church, we have to love her as she wishes to be loved.
Published in 1917, Leonard Constant's biography of Henry du Roure recorded all these incidents. As it turned out, the Vatican did not seek to close down their newspaper, Democracy and it continued until the outbreak of the war. A few years later in 1920, du Roure's diary was also published, and clearly read by Cardijn, Tonnet and no doubt by other leaders of the embryonic YCW.
It's also possible that YCW co-founder Fernand Tonnet knew Henry du Roure, and in any event, Tonnet clearly revered him.
A century later, the life of Henry du Roure still speaks powerfully of the incredible faith and dynamism that the Sillon transmitted to the nascent YCW.

A few links:

www.henryduroure.com

www.sillon.net

http://www.sillon.net/the-sillon-and-the-ycw

http://www.josephcardijn.fr/welcome-to-marc-sangnier

www.fernandtonnet.com

(Updated 21 September 2014)