Discover more from Cardijn Research
My research notes about the life and work of Joseph Cardijn and his network
Identifying Council participants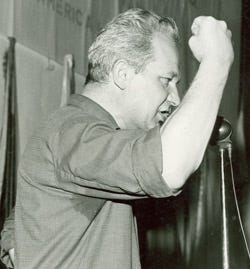 Auguste Vanistendael
Marguerite Fievez and Jacques Meert report that there were 22 former national YCW chaplains among the 2500 odd bishops of Vatican II.

But who were they?

Short answer is that I don't know and neither Jacques nor Marguerite are still here to help us.

Moreover, who were the YCW leaders who were among the lay auditors at the Council?

As we have previously mentioned Pat Keegan was first. Two others were another former IYCW President Bartolo Perez and Auguste Vanistendael, a Belgian ex YCW, who later became prominent as a trade union leader, secretary general of CIDSE as well as president of Caritas Belgium and also a government minister.

In an effort to start documenting these various people, I have started a couple of lists of Vatican II participants.

The first list is for Lay Auditors.

The second is for members of the famous "Church of the Poor" group at the Council in which Bishop Helder Camara played a key role.

Please let me know of any additions, errors, corrections etc. to these lists.