Discover more from Cardijn Research
My research notes about the life and work of Joseph Cardijn and his network
Influences on John Courtney Murray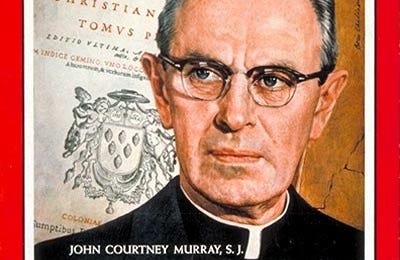 I have often wondered about the possible influence of Cardijn on the American Jesuit Fr John Courtney Murray, who was perhaps most well-known for his role in the drafting of the Vatican II Declaration on Religious Freedom, Dignitatis Humanae.

Another Jesuit, Fr Joseph Komonchak confirms a general influence:

"John Courtney Murray did doctoral studies in theology in Rome between 1935 and 1957," Fr Komonchak writes.

"These were not quiet years in Europe. The Depression had not yet eased; two wars had shattered whatever feeble hopes had been placed in the League of Nations as an instrument for international community; democracy seemed to be in retreat before the triple totalitarian threat of Fascism, Nazism and Bolshevism...

"They were also years of considerable movementwithin the Catholic Church. A great pope, Pius XI, had set out a grand vision for the restoration of western civilization to its Christian roots ('The Peace of Christ in the Reign of Christ') and encouraged a new instrument for Christian action to that purpose: 'Catholic Action.'

"A remarkable group of Catholic thinkers were attempting to respond to the Pope's call and to meet the general crisis at once by a renewed contact with the sources of the faith and by a rethinking of the relations between Church and world in both their theoretical and practical aspects. One has only to mention the names of some of the men who between 1925 and 1940 began the series of breakthroughs that would make the Second Vatican Council possible: Teilhard de Chardin, Christopher Dawson, Jacques Maritain, Henri de Lubac, M.-D. Chenu, Yves Congar, Joseph Cardijn.

"There is considerable evidence not only that Murray returned from Europe with an acute sense of historical crisis but also that he was inspired by Pius XI's doctrinal and practical project and illumined by the work of most of the Catholic thinkers mentioned above. The first evidence is found in several sets of lectures and essays Murray delivered in the first half of the 1940s," Fr Komonchak says in his article John Courtney Murray and the Redemption of History at p. 62 in John Courtney Murray and the Growth of Tradition (J. Leon Hooper, Todd David Whitmore).

Note also Fr Komonchak's inclusion of Cardijn among those whose breakthroughs made Vatican II possible.

Coming  back to Murray, Kevin Ahern has also informed me that Murray was heavily involved in the Pax Romana IMCS movement during the 1940s.

His complete works are also now available online at the Woodstock Theological Center Library.