Discover more from Cardijn Research
My research notes about the life and work of Joseph Cardijn and his network
Jocist theologians Palémon Glorieux and Pierre Tiberghien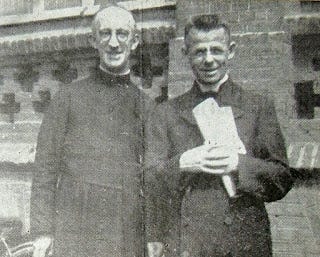 Palémon Glorieux (l) with Cardijn (Glorieux Archives, Université catholique de Lille)
In 2017, the JOC in Lille in northern France celebrated the 90th anniversary of its foundation in 1927, which makes it one of the oldest movements in the world.
We marked the occasion with a conference at the University of Lille with the theme "Il y a 90 ans la Jeunesse Ouvrière Chrétienne naissait à Lille" (The Young Christian Workers movement in Lille started 90 years ago).
The proceedings of the conference have now been published in a special edition of the Revue du Nord and can be purchased for a modest 18 euros:
https://revue-du-nord.univ-lille3.fr/index.php/hors-serie-histoire-n38/
My presentation at the event was entitled "Deux théologiens de la Jeunesse Ouvrière Chrétienne lilloise: Pierre Tiberghien et Palémon Glorieux" (Two jocist theologians from Lille: Pierre Tiberghien and Palémon Glorieux).
I don't know if any theologian of the 20th century fully grasped Cardijn. Palémon Glorieux, rector of the Catholic University of Lille, was one of those who came closest, in my view. And it is clear and quite moving to discern in Glorieux's archives the esteem that he had for Cardijn. You can even see this in the above photo of them which probably dates from the 1930s.
(Incidentally, two other theologians whose views were close to those of Cardijn - again in my view -were the Dominican MD Chenu and the Flemish bishop of Bruges, Emile-Joseph De Smedt.)
At Vatican II, Glorieux acted as the personal theologian for Cardinal Achille Liénart, the great "red cardinal" of Lille. I suspect that Glorieux (like Cardijn) also had a much greater influence at the Council than he has so far been credited with.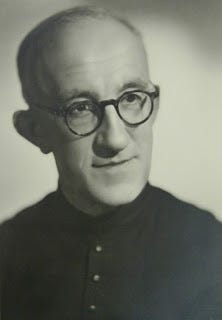 Palémon Glorieux (Université catholique de Lille)
Glorieux's older colleague, Pierre Tiberghien, was also a Cardijn disciple - indeed a kind of convert to the jocist method - but without ever fully grasping Cardijn's conception of lay apostolate. He nevertheless has the distinction of having coined or inspired one of Cardijn's most iconic phrases: "Don't take the fish out of water but change or purify the water in which the fish swim." In other words, it's necessary to change the environment or milieu in which young workers live rather than try to take them away from it.
Lille Diocesan Archives
Read more about these two men in either the French or English version of my conference paper.
Here is a summary of the French version:
Deux théologiens de la Jeunesse Ouvrière Chrétienne lilloise: Pierre Tiberghien et Palémon Glorieux
A Lille, deux théologiens de premier plan, Pierre Tiberghien et Palémon Glorieux, ont grandement contribué au développement de la JOC.
Cet article débute par un survol de l'apport de quelques pionniers et précurseurs du XIXe siècle, Lamennais, Ozanam, Gratry et Ollé-Laprune, ainsi que de celui du mouvement du Sillon de Marc Sangnier, dont les réalisations ont ouvert la voie à l'émergence de la JOC.
Dans une deuxième partie, il montre comment, après quelques premières hésitations, Tiberghien, séduit en particulier par le concept de spécialisation par «milieux» de la JOC, a facilité la transition du Sillon et de son mouvement rival, l'ACJF, vers la JOC.
En troisième partie, il souligne le rôle du professeur de théologie, Palémon Glorieux qui a fondé la première équipe de JOCF en France. Celui-ci a écrit pour les aumôniers jocistes de nombreux articles compilés dans toute une série de livres publiés dans de nombreuses langues et éditions successives. Travaillant en étroite collaboration avec le cardinal Achille Liénart, il a contribué à promouvoir nombre d'idées et de méthodes du mouvement au Concile de Vatican II.
https://repository.divinity.edu.au/3868/
And here is the English version:
Two jocist theologians from Lille: Pierre Tiberghien and Palémon Glorieux
Pierre Tiberghien and Palémon Glorieux were prominent Lille theologians who both contributed greatly to the development of the JOC. This article examines their contribution in three parts. It begins with an overview of the 19th century pioneers and precursors, including Lamennais, Ozanam, Gratry and Ollé-Laprune as well as Marc Sangnier's Le Sillon movement, whose achievements set the stage for the emergence of the JOC.
Secondly, it shows how, after initial hesitations, Tiberghien, who was particularly impressed by the JOC's concept of specialisation by "milieu," aided the transition from the Sillon and its rival movement, the ACJF, towards the JOC.
Thirdly, it highlights the role of theology professor, Palémon Glorieux, who founded the first JOCF team in France. He also wrote many articles for JOC chaplains, which were compiled into a series of books published in several editions and languages. Working closely with Cardinal Achille Liénart, he helped promote many of these ideas and methods at the Second Vatican Council.
https://repository.divinity.edu.au/3880/