Discover more from Cardijn Research
My research notes about the life and work of Joseph Cardijn and his network
Karol Wojtyla channels Cardijn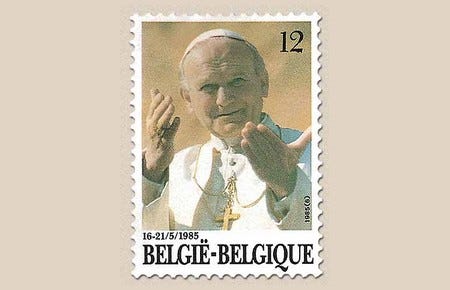 In his book 'Sources of renewal' on how to implement Vatican II, young Polish Bishop Karol Wojtyla only cites by name one Council participant besides Popes John XXIII and Paul VI.

First published in Polish in 1972, Sources of Renewal is a remarkable 437 page study of the Vatican II documents. And the book was republished and translated into many languages when Bishop Wojytla became Pope John Paul II in 1978.

In the book, Wojtyla pretty much lets the Council documents speak for themselves but framing them in terms of two major themes, namely "The formation of consciousness" and "The formation of attitudes", including participation, responsibility, ecumenical, apostolic and community.

He does not cite any of the great theologians who took part in or influenced the Council such as Congar, Chenu or John Courtney Murray, nor does he make mention of bishops and cardinals like Lienart, Suenens, Camara or other well known Council figures.

He only cites a few of the famous historical theologians and fathers of the Church such as Ambrose, Augustine, Cyprian, John Damascene - not even St Thomas Aquinas gets a mention by name!

But then on page 362, citing Paragraph 29 of Apostolicam Actuositatem, the Decree on the Lay Apostolate, Wojytla writes:

"These words sum up the modern idea of the lay apostolate (voir, juger, agir) associated first and foremost with the Jeunesse Ouvrière Chrétienne (JOC) under the guidance of the famous Fr J. Cardijn, who was raised to the Cardinalate during the period of the Council."

Yes, Cardijn is the only Council participant besides John XIII and Paul VI cited by young Bishop Wojtyla!

I think that is a pretty amazing fact by itself. It's also interesting and significant to note that Wojtyla starts off his section on the formation of consciousness by highlighting the need to start with reality. In fact, you can even read the three chapters he writes on the formation of consciousness as a kind of see, judge, act, although I am not sure if that simply is a reading back on my part.

In any event, it is clear that Cardijn did have a major influence on Pope John Paul II.

Young Fr Wojtyla visited the International Secretariat of the IYCW in around 1947 - I have seen his name in the visitor's book. On that visit to Belgium, another young priest or seminarian Francois Houtart took him on a tour of the Church's activities with workers including young workers.

This was during the period when Wojtyla was studying in Rome where he stayed at the Pontifical Belgian College, where Cardijn also visited and probably stayed on his visits to the Vatican.

Later as pope he would also visit the tomb of Cardijn while on visit to Belgium in May 1985, which was in the midst of the first United Nations International Year of Youth.

1985 was also the year of the first World Youth Day and I have often wondered what influence the IYCW Pilgrimage and General Assembly on 25 August 1957 may have had on Cardijn.

In any case, it's very clear that Karol Wojtyla thought Cardijn's spirituality and methodology had a big role to play in the implementation of Vatican II!

And it certainly reinforces my argument as to the importance of Cardijn's role at the Council itself.