Discover more from Cardijn Research
My research notes about the life and work of Joseph Cardijn and his network
The Lamennais brothers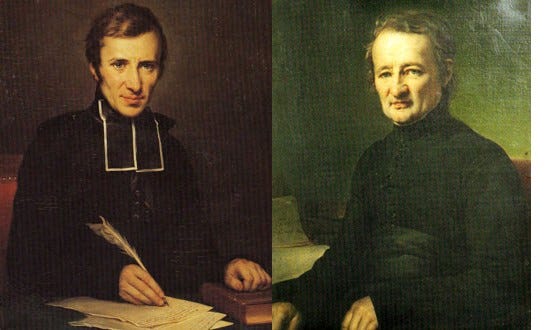 Félicité de Lamennais and Jean-Marie de Lamennais
Back online again today after two weeks on the road to the USA to take part in a Vatican II conference organised by Walsh University at North Canton, Ohio.

It was an excellent conference with over 50 academic papers presented.

And the first thing that struck me on arrival on campus was the building "Lamennais Hall" named not for Félicité Robert de Lamennais, who was such an inspiration for Cardijn, but for his brother Jean-Marie Robert de Lamennais, who founded the Brothers of Christian Instruction congregation to educate the French working class of the 19th century.

I had not realised that Walsh was founded in the alfalfa fields of outback Ohio in 1962 by the brothers of Jean-Marie de Lamennais! In any case, I felt it augured well for the conference.

Peter Steinfels, the former YCS member, who later wrote for the New York Times as religion correspondent and now directs a centre at Fordham University in New York, was the keynote speaker with a wide-ranging talk highlighting the breadth of changes that were inspired by Vatican II.

Another speaker, indeed a peritus at Vatican II, was Fr Robert Pelton CSC from Notre Dame University, who was an adviser at the Council to Archbishop Leon-Joseph Suenens, the archbishop of Mechelen-Brussels.

I knew that Suenens and Cardijn were not personally close and indeed were in conflict over the definition of Catholic Action. So I asked Fr Pelton for his understanding of the issue. He told me that he saw the falling out as mainly due to Suenens loyalty to the Legion of Mary in which he had a deep involvement.

When I asked him how an American got to be expert assisting a Belgian bishop, Fr Pelton told me that he had met Suenens when the latter came to visit Notre Dame representing Pope John XXIII to present his encyclical Pacem in Terris (I hope that I have recorded that correctly).

Turns out that Fr Pelton also belonged to a YCW team at Notre Dame. In fact, Notre Dame was a great centre for the specialised Catholic Action movements during the 1940s and 1950s with the likes of the famous Fr Louis Putz and Fr Theodore Hesburgh at the helm.

In fact, it was interesting to note at the conference that there was a fair background understanding or memory of the Cardijn movements among the academics present. This despite the fact that the YCW has not existed in the USA since the 1960s except for sporadic extension efforts, especially during the 1990s.

Well, I will come back to all this in future posts but first up I just wanted to pay homage to the two Lamennais brothers. In my own presentation I referred to the famous "Féli" as he was known whose vision of freedom did indeed inspire Cardijn when he began to read his works aged fourteen at the minor seminary.