Discover more from Cardijn Research
My research notes about the life and work of Joseph Cardijn and his network
Lamennais, Cardijn and the two Cardinal Micara's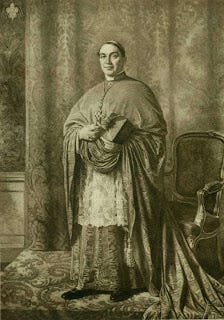 Mgr Clemente Micara, Nuncio to Belgium and Luxembourg
When the emerging YCW movement was under attack in 1925, with Mechelen-Brussels Cardinal Mercier threatening to close it down, Cardijn decided to launch an appeal to Rome, to the pope himself. But he needed an introduction to see Pope Pius XI.

Generously, Cardinal Mercier gave him one and Cardijn received another introduction from the Vatican Nuncio, Mgr (later Cardinal) Clemente Micara (1879 - 1965).

Concerning Micara's role in the affair, Cardijn later wrote:

Providence saved me in the most natural way in the world. I wanted to speak to the Holy Father. I was the friend of Micara [Mgr, later Cardinal, Micara was at that time Nuncio in Brussels] who gave me a letter of introduction. I went to see his Eminence [Cardinal Mercier] who also gave me one: it was the Holy Year, I wanted to speak to the Holy Father of the problem of working youth and of the working class.

Marguerite Fiévez and Jacques Meert also refer to Micara's role as follows:
At the Vatican Cardijn was like a man in a dream. We may know later the part played in this memorable event, by men like Micara the Nuncio in Brussels and Mgr Vanneufville and Father Vermeersch in Rome.

After serving as nuncio in Czechoslovakia, Micara had been posted to Belgium and Luxembourg in 1923, and remained in that post until 1946, although he resided in Rome from 1940-44, the period of Nazi Occupation.

In 1946, Pope Pius XII made him a cardinal and he took up various posts in the Vatican.
He attended the first three sessions of Vatican II, where he also played an active role, no doubt still supporting Cardijn.

Significantly, it also turns out that Cardinal Clemente Micara had a family relative who had also been a cardinal, Cardinal Ludovico Micara (1775 - 1847).
The earlier Micara had also been an official in the Roman Curia. Later he became Minister General of the Capuchin Order to which he belonged. Reflecting the Capuchin Franciscan spirituality, he retained a strong commitment to the poor his whole life.
According to the historian, Georges Hourdin, Cardinal Ludovico Micara, who also belonged to the Congregation for the Index, also supported the famous French priest Félicité de Lamennais in his battle with the Roman hierarchy.

Hourdin writes in his biography Lamennais, Prophète et combattant de la liberté (p. 411) that Ludovico Micara was a friend of Lamennais. Along with several other theologians, they backed Lamennais' arguments. Sadly, it seems that this had the effect of creating illusions in the mind of Lamennais that his writings would be approved by Rome.

It seems, however, that Cardinal Micara later became disillusioned himself with Lamennais' Paroles d'un croyant (Words of a believer) which, according to Lacordaire, Micara described as 'la plus vaste immoralité possible' (the greatest possible immorality).
Lamennais, of course, finished by being excommunicated. Nevertheless, his powerful writings in favour of the poor and oppressed had a profound influence, including on Cardijn himself, who began to read Lamennais from the age of fourteen in the minor seminary.
Young Mgr Clemente Micara must have known this story of Lamennais' relationship with his predecessor and relative, Ludovico Micara. And given his friendship with Cardijn, I think he would also have understood the importance of Lamennais for Cardijn.
In any case, the historical parallel is striking between the intermediary role played by Micara the Elder for Félicité de Lamennais, and by Micara the Younger for Cardijn, the Lamennais of the 20th century.