Discover more from Cardijn Research
My research notes about the life and work of Joseph Cardijn and his network
Look - decide - act with Mary and Pope Francis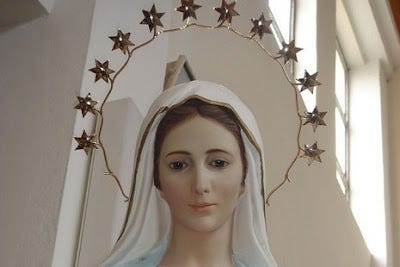 Addressing volunteers at World Youth Day 2016 in Krakow, Poland, Pope Francis has re-packaged Cardijn's see-judge-act in the form of listen-decide-act.

"In the Gospel mystery of the Visitation (cf. Lk 1:39-45)," the pope says, "we can see an icon of all Christian volunteer work. I would take three attitudes shown by Mary and leave them to you as an aid to interpreting the experience of these days and an inspiration for your future commitment to service. These three attitudes are listening, deciding and acting.

"First, listening. Mary sets out after hearing the word of the angel: "Your relative Elizabeth in her old age has also conceived a son…" (Lk 1:36). Mary knows how to listen to God. It is not simply about hearing, but about listening attentively and receptively, and being ready to help. Think of how many times we come before the Lord or other people, but fail to really listen. Mary also listens to events, to things that happen in life. She is attentive to practical realities; she does not stop at the surface, but seeks to grasp their meaning. Mary knew that Elizabeth, now elderly, was expecting a child. She saw in this the hand of God, a sign of his mercy. The same thing also happens in our own lives. The Lord stands at the door and knocks in any number of ways; he posts signs along our path and he calls us to read them in the light of the Gospel.

"The second attitude we see in Mary is deciding. Mary listens and reflects, but she also knows how to take a step forward: she is decisive. This was the case with the fundamental decision of her life: "Here am I, the servant of the Lord; let it be with me according to your word" (Lk 1:38). So too, at the wedding feast of Cana, when Mary sees the problem, she decides to speak to Jesus and ask him to do something: "They have no wine" (Jn 2:3). In life, it is often hard to make decisions. We tend to postpone them, even allowing others decide in our place, or else we let ourselves be dragged along by the course of events and to follow the "trend" of the moment. At times, we know well what we have to do, but we lack the courage to do it, since we think it is too difficult to go against the grain… Mary is not afraid to go against the grain. With a steadfast heart she listens and decides, accepting the risks, never on her own, but with God!

"Finally, acting. Mary set out on her journey and "went with haste…" (Lk 1:39). Despite the hardships and the criticisms she may have heard, she didn't hesitate or delay, but "went with haste", because she had the strength of God's Word within her. Her way of acting was full of charity, full of love: this is the mark of God. Mary went to Elizabeth not to have other people praise her, but to be helpful, useful, in her service. And in setting out from her home, from herself, with love, she brought along the most precious thing she possessed: Jesus, the Son of God, the Lord. Elizabeth realizes this immediately: "Why has this happened to me, that the mother of my Lord comes to me?" (Lk 1:43). The Holy Spirit awakens faith and joy within her: "For as soon as I heard the sound of your greeting, the child in my womb leaped for joy" (Lk 1:44)."
Actually, it's far from the first time Pope Francis has done such a thing.
His 2015 encyclical Laudato Si was structured around the classical see-judge-act.
His 2016 apostolic exhortation Amoris Laetitia is also based on the Cardijn method. In this case, however, it opens with a first chapter, In the light of the Word, that is a Gospel reflection that recalls the way in which classical JOC meetings began with a discussion on a Gospel text.
Then follows a see-judge-act on family issues. Chapter Two continues with an examination of the situation of families in the world. Chapter Three, Looking to Jesus: The vocation of the family begins the judge section. Chapters Four and Five continue this looking at Love and marriage and Love made fruitful. Finally, Chapter Six forms the act section offering Some pastoral perspectives.
None of this is really new, except as striking evidence of the consistency and ease with which Pope Francis bases himself on the Cardijn method.