Discover more from Cardijn Research
My research notes about the life and work of Joseph Cardijn and his network
Louis-Joseph Lebret: Architect of Populorum Progressio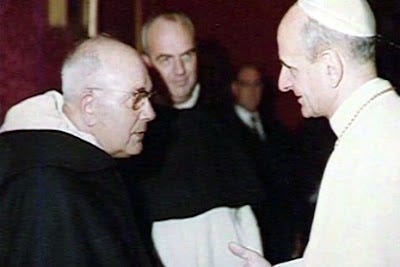 As we saw in my last post, Populorum Progressio was structured around a see, judge, act framework. This raises the question as to how the Cardijn method came to be used for the document, particularly since as we also noted, Cardijn was not personally involved in its drafting.

The answer becomes pretty clear when we consider the people principally involved in the drafting of the document, beginning with the French Dominican Louis-Joseph Lebret.

From Lamennais to Le Sillon

Born in 1897 in Minihic near the port city of Saint Malo, Lebret came from a family with a long association with the sea, including possible descent or relationship on his mother's side with the famous explorer, Jacques Cartier.

Perhaps even more significant was the fact that Saint Malo was also the home town of Félicité de Lamennais, whose vision of a Church committed to freedom, the people and particularly the poor, certainly had an influence on Lebret. It may even have been  a factor in his decision to join the Dominicans, the French branch of which had been re-founded during the 19th century by one of Lamennais' most important disciples, Henri Lacordaire.

Moreover, one of the greatest influences on Lebret as a young Dominican was AD Sertillanges, the Sillon chaplain and philosopher, who contributed so much to the development of the theory of the see, judge, act. In this light, it is no surprise to find that Lebret, like Cardijn, commonly uses the expression "conscious of their responsibilities" based on the Sillon definition of democracy.

Cardijn and the JOC

Although Lebret does not appear to have had a (close) personal relationship with Cardijn, he was certainly decisively influenced by the JOC. Lebret's biographer, Paul Houée, documents this influence in his book Louis-Joseph Lebret, Un éveilleur d'humanité.

It was at a JOC regional training session in Rennes in 1930 that Lebret, who came from the port region of Saint Malo, first systematically learned the methods of the movement. Almost immediately, he began to apply them in developing enquiries in studying the situation of port workers along the French Atlantic coast.

Soon after, together with another local Saint Malo priest, Canon Havard, he launched a new movement, la Jeunesse Maritime Chrétienne (JMC), as a specialised Catholic Action movement for young sailors and maritime workers. But the two men did not see eye to eye.

The battle between Havard, who was appointed chaplain-general, and Lebret, who was appointed as his assistant, is highly instructive.

As Paul Houée writes:

Mais tout oppose le puissant chanoine et le jeune dominicain. Le chanoine Havard recherche la transformation « par le haut », dans une démarche spiritualiste pour des élites, des « entraîneurs » : il organise des retraites, des pèlerinages, des conférences sur la pureté, la pitié, la Vierge à l'intention de futurs officiers amenés à s'engager dans des confréries ou par promesse scoute. Lebret au contraire préconise la transformation « par le bas », en s'adressant à l'ensemble des marins et en les ouvrant aux grands problèmes de leur milieu selon l'esprit jociste.

Le premier s'appuie sur les Œuvres de mer, les Abris du Marin, les cercles d'officiers pour affirmer la primauté du spirituel devant la menace marxiste et la dégradation morale. Le second bénéficie de la caution de plusieurs évêques de la région et de l'aide de l'Action Catholique, multiplie les groupes JMC au cours de ses tournées d'enquêtes et de conférences, les rapproche de plus en plus des services et des syndicats du Mouvement de Saint-Malo.
En 1935, la JMC intègre pleinement l'ACJF ; le chanoine Havard est remplacé par un jésuite. La JMC poursuit son expansion sur le littoral et dans les îles, adresse des pétitions au Ministère de la Marine Marchande et au BIT à Genève. Mais le mouvement souffre de la dispersion de ses membres, manque de cadres et de moyens appropriés.

Source: Houée: 27

Translation:

But everything opposed the powerful canon and the young Dominican. Canon Havard sought transformation "top down" via a spiritualist process for the elites, the "trainers," and he organised retreats, pilgrimages, conferences on purity, mercy, the Virgin for future officers encouraged to become involved in confreries or through the scout promise. On the other hand, Lebret sought transformation "bottom up" by addressing the ensemble of mariners and opening them up to the problems of their milieu based on the jocist spirit.

The first based himself on the Works of the Sea, Marine Shelters, and officers' circles in an effort to affirm the primacy of the spiritual against the marxist threat and moral degradation. The second, who had the support of several bishops in the region and the aid of Catholic Action, multiplied the number of JMC groups by means of his enquiries and conferences, bringing them closer and closer to the services and unions of the Saint Malo Movement [another social initiative of Lebret].

This battle between traditional "top down" and innovative (sillonist and jocist) "bottom up" approaches to social transformation would remain a constant in the life of Lebret right through to Vatican II.

Although the JMC did not last, Lebret's efforts to develop the movement illustrate the extent to which he was an apostle of the Cardijn approach.

As Houée also recounts, later in the 1930s and during World War II, Lebret continued to develop the extent and sophistication of his enquiries into the situation of coastal communities in France. Indeed, he developed a pioneering method of participatory research based precisely on the JOC method.

In 1941, this led to the establishment of Economie et humanisme a study centre that sought to organise and institutionalise the work that Lebret had started himself and with others including François Perroux, the Dominican worker priest, Jacques Loew, and of course involving a Marseille JOC chaplain, Fr Bouche.

Lebret and world development

After the war, like Cardijn, Lebret moved further afield, beginning a long series of intercontinental trips to Latin America, Africa and Asia, where he again adapted the jocist methods to the field of world development.

Lebret also sought to institutionalise this work with the establishment in 1958 of the International Institute for Research and Training, Education and Development (IRFED), now known as the International Center Development and Civilizations - Lebret - IRFED.

In Brazil, Lebret worked closely with Helder Camara and many of the specialised Catholic Action leaders of the 1950s. Later, in his preface to Marguerite Fiévez and Jacques Meert's biography of Cardijn, Camara would pose the question as to why the two men had met so infrequently.

According to Camara, who knew them both very well, "Lebret located himself more directly on the level of techniques, structures, and leaders" whereas "Cardijn emphasised the education and animation of people, particularly young people and workers."

Both, however, very clearly saw, says Camara, that:

"– the social struggle of our time has taken on planetary dimensions, the distance between the underdeveloped world and the developed world is greater each day

– more important than the confrontation between East and West [i.e. between communism and capitalism] is that between North and South, between rich and poor countries."

Source: Camara in Fiévez-Meert, Preface

Simply put, their outlook was very similar as were their methods.

Lebret at Vatican II

Giving his growing reputation, including among the jocist bishops, it is again no surprise to find Lebret's service being called upon at the Second Vatican Council.

Indeed, Lebret became involved prior to the First Session when Archbishop Emile Guerry of Cambrai, a pioneer chaplain of the JOC and specialised Catholic movements, asked him to draft a "message to the world" for the opening of the Council.

Although the Council ended up adopting a message based on another draft by Lebret's Dominican colleague, MD Chenu, the fact that he was asked illustrates the esteem with which Lebret was regarded by that time.

Nevertheless, although John XXIII had himself known and appreciated Lebret from his time as nuncio to Paris, it was only after Paul VI was elected as pope in June 1963 that the Dominican became fully involved in the Council.

Just prior to the Second Session of the Council on 25 September 1963, Lebret met with Paul VI, a longstanding admirer of his work, who asked him for a note to assist in the drafting of Schema XIII, the future Gaudium et Spes. With hindsight, we can see that it during this audience that the seed of the future encyclical Populorum Progressio was sown.

Moreover, it was no accident that Pope Paul met with and called on Lebret at a time when many bishops still wanted Schema XIII to adopt a top down, doctrinal approach to the problems of the world. Indeed, this audience took place within days of Cardinal Suenens meeting with theologians at Malines, Belgium, that had precisely this objective.

In this context, it is clear that at least one purpose of Lebret's audience was to gain Paul VI's support for the notion that the new schema would begin with the realities of the world rather than with an exposition of the doctrine of the Church.

The outcome was that Lebret was appointed as a peritus to work on Schema XIII in March 1964 (Houée 178), a role in which he would continue until the end of the Council and in which he played a particularly critical role during early 1965 in the drafting of the final version of Gaudium et Spes.

A diagnostic of the world situation and elements of response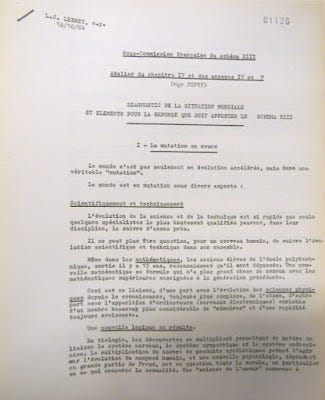 Meanwhile, in his capacity as peritus and at the request of Helder Camara, Lebret wrote another note for the Schema XIII drafting commission, completed in October 1964, comprising "a diagnostic of the world situation and elements of response" plus a definition of the "the signs of the times."

Significantly, this document was itself presented in the form of a see, judge, act as follows:

I - La mutation en cours

II – L'humanité ne sait pas comment dominer cette mutation

III – La purification et l'extension du concept de développement 
Translation:
I - Changes under way
II - Humankind does not know how to dominate these changes
III - Purification and extension of the concept of development

Indeed, many aspects of this extremely important document foreshadow the encyclical Gaudium et Spes, including the development of a civilisation based on universal solidarity, integral or complete development, etc.

Source: 

Archives Charles Moeller, Université catholique de Louvain, Document 01136.

"Diagnostic de la Situation Mondiale et elements pour la reponse que doit apporter le Schema XIII" by Lebret, 12 Oct. 1964. Annexe "Definition des Signes des Temps" 1964/1012.

Also in Marcos McGrath Archives, University of Notre Dame, South Bend, Indiana, USA.


The drafting of Populorum Progressio

Soon after, and no doubt on the basis of the above text, Pope Paul VI asked him to prepare an unnamed document that he refers to in his notes on 24 October 1964 as "un papier," which would become the first draft of the future encyclical Populorum Progressio.

(Source: Lydie Garreau, Louis-Joseph Lebret, Précurseur de Vatican II: 376)

Although the text of this "papier" is not available (except no doubt in the archives of Paul VI!), there is little doubt that it was based and probably a development of the "Diagnostic" that Lebret had already prepared for the Council.

Another meeting with Paul VI followed in February 1965, during which, according to Lebret's notes, the pope told him:

"Il ne sait pas encore s'il fera passer le document que j'ai fait sur le développement, avant ou après la quatrième session. Il y a du pour et du contre, et pourtant le temps presse."

Translation:

"He doesn't know yet if he will make use of the document that I wrote on development before or after the Fourth Session. There are reasons for and against, and yet time is short."

(Source: Garreau, 384)

In the end, Pope Paul did not wish to impose himself on the work of the Council, allowing it to complete its work, particularly on Gaudium et Spes, leaving the future encyclical for the post-conciliar period.

Unfortunately, Lebret was prescient in his comment that was particularly short for himself. He died on 20 June 1966, and was thus unable to take part in the final stages of the drafting of the encyclical.

The encyclical

While the whole encyclical published on 26 March 1967 clearly bears the stamp of Lebret, particularly with reference to "complete" or "integral" development, it also pays direct homage to him particularly in §14, where it says:

The development We speak of here cannot be restricted to economic growth alone. To be authentic, it must be well rounded; it must foster the development of each man and of the whole man. As an eminent specialist on this question has rightly said: "We cannot allow economics to be separated from human realities, nor development from the civilization in which it takes place. What counts for us is man – each individual man, each human group, and humanity as a whole.''

The quoted phrase was a direct citation from Lebret's 1961 book: Dynamique concrète du développement, Paris: Economie et Humanisme, Les editions ouvrierès (1961), 28.

Moreover, the reference to "the development of each man and of the whole man" is a classic Lebret phrase.

Also significant here is the reference to "each individual man, each human group and humanity as a whole." This is based on the sillonist and jocist method of successive radiating circles of influence in society, which was in turn based on Hippolyte Taine's theory of social influence.

It is yet another illustration of the extent to which Lebret had made his own the methods of the JOC.



Video in French on Lebret's work