Discover more from Cardijn Research
My research notes about the life and work of Joseph Cardijn and his network
Marx, Houtart, Wojtyla and the "See" in Gaudium et Spes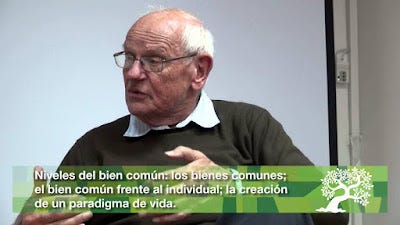 François Houtart - Common goods and common good - Creating a paradigm for life
Many people would be surprised to learn that the introductory section on The Human Condition in the World of Today to the Vatican II Pastoral Constitution, Gaudium et spes, was originally drafted by an avowed Marxist.

Indeed, François Houtart, the Belgian priest and sociologist, who died this month at the age of 92, was close to many leaders of the Latin American left, ranging from Cuba's Fidel Castro, to Hugo Chavez of Venezuela, the Nicaraguan Sandinista leaders, Rafael Correa of Ecuador, and the Colombian guerilla priest Camillo Torres.

Perhaps he was simply following in the footsteps of his grandfather, the Belgian prime minister, Henri Carton de Wiart, who had been elected to parliament as a (relatively) left-wing member of the Catholic Party in 1896.

Given this background, it may seem paradoxical to learn that Houtart was also friends for many years with the anti-communist Pope John Paul II. Their friendship began in 1947 when, as a seminarian, Houtart hosted the young Polish priest, Fr Karol Wojtyla, on his first trip to Belgium.

Wojtyla had come to study the situation of the workers and learn about the work of a dynamic new movement founded by Joseph Cardijn known as the Jeunesse Ouvrière Chrétienne (JOC) or Young Christian Workers (YCW). On the same trip, he also visited France to learn about the emerging worker priests movement, many of whom also had close links to the JOC.

Houtart continued to accompany Wojtyla on the latter's later summer vacation trips to Belgium, visiting coal mines, factories and trade unions and later visited him in his diocese in Poland.

As an aside, Brazilian Dominican Frei Betto also tells a great story of how on one trip to Belgium François helped Wojtyla get a new pair of shoes:

One night, Wojtyla returned to the house in heavy rain. His Polish shoes had been ruined by the water. François found a Belgian seminarian who, as he wore the same size as the Pole, could give him a new pair. Decades later, now a priest, the donor of the shoes wanted to be received by Pope John Paul II. The bureaucracy alleged lack of time. When he sent a note to the pope, reminding him about the shoes, the doors of the Vatican opened.

Neither Houtart nor Wojtyla could have then imagined that they would meet again in Rome between 1963 and 1965 to work together on the drafting of Schema 13, which was to be adopted by the Council as Gaudium et Spes.

Gaudium et Spes

In fact, both men took part in the Signs of the Times Sub-Commission, which was responsible for studying the situation of the world as the starting point for the document that would become Gaudium et spes.

As the secretary of the Sub-Commission, Houtart played a key role in the compilation of material for the group. He told me the story of his work for the Sub-Commission in an interview in 2014:


As he explains in the interview, Houtart drew inspiration for the drafting of the introduction from a small book that he had published in 1964 entitled L'Eglise et le monde (The Church and the world).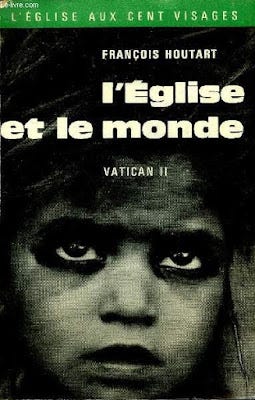 And here is the original text that he prepared that became the basis of discussion by the Sub-Commission:

http://testimonies.josephcardijn.com/1964---les-signes-des-temps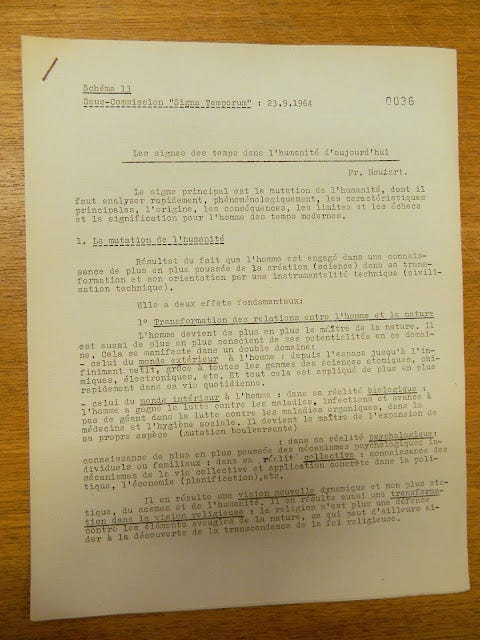 The original draft for the introduction to Gaudium et spes
As François notes, his draft introduction was not accepted without criticism. He reveals, for example, that French Archbishop Gabriel Garrone, who was a strong supporter of the JOC and Specialised Catholic Action, nevertheless found Houtart's text too "sociological" - a common complaint at the time and even until recently!

Interestingly, this was not the case with Archbishop Wojtyla of Krakow, as he had become by then. Wojtyla in fact appreciated Houtart's "beautiful book" and later explicitly praised Houtart's draft introduction as these letters illustrate.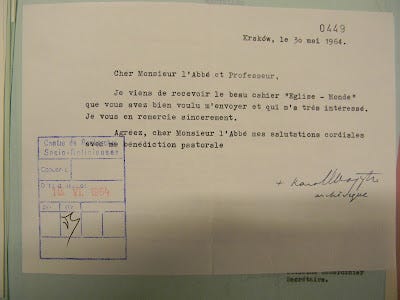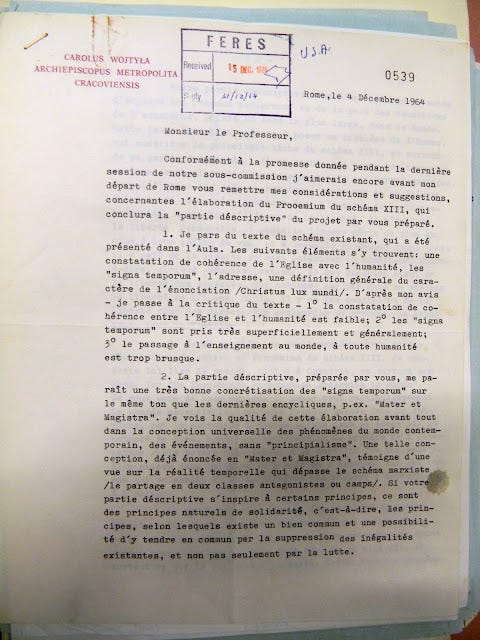 Here are Wojtyla's comments on Houtart's draft introduction:

Original

La partie déscriptive, préparée par vous, me paraît une très bonne concrétisation des "signa temporum" sur le même ton que les dernières encycliques, p.ex. "Mater et Magistra". Je vois la qualité de cette élaboration avant tout dans la conception universelle des phénomènes du monde contemporain, des événements, sans "principialisme". Une telle conception, déjà énoncée en "Mater et Magistra", témoigne d'une vue sur la réalité temporelle qui dépasse le schéma marxiste /le partage en deux classes antagonistes ou camps/. Si votre partie déscriptive s'inspire à certains principes, ce sont des principes naturels de solidarité, c'est-à-dire, les principes, selon lesquels existe un bien commun et une possibilité d'y tendre en commun par la suppression inégalités existantes, et non pas seulement par la lutte.

Translation

The descriptive part prepared by you seems to me to be a very good concretisation of the "signa temporum" along the same lines as the latest encyclicals, e.g. Mater et magistra. I see the quality of your drafting most of all in the universal conception of contemporary world phenomena without "principialism." Such a conception, already foreshadowed in Mater et Magistra witnesses to a view of temporal reality that goes beyond the Marxist scheme /based on a split between antagonist classes or camps/. While your descriptive part is based on certain principles, they are the natural principles of solidarity, i.e. the principles according to which there exists a common good and a possibility of working in common towards this by the suppression of existing inequalities, and not just by struggle.

If nothing else, it illustrates that Wojtyla was certainly not a conservative on social and economic issues. Yet he also makes it clear that he did not regard Houtart's draft as in any way Marxist. It is an intriguing comment. Does it imply that the two men discussed the issue of adopting a Marxist analysis? Sadly we don't know the answer although there is evidence that Wojtyla himself was criticised for developing a critique of capitalism that was said to be close to that of Marxism.

See these references to research by Jonathan Luxmoore on the early writings of Wojtyla;

http://cathnews.acu.edu.au/701/24.php

http://cjd.org/2007/04/01/how-an-unknown-text-could-throw-new-light-on-john-paul-iis-views-on-economics/

https://www.ncronline.org/news/people/debate-emerges-st-john-paul-iis-early-writings-social-ethics

According to Luxmoore, one of Wojtyla's earliest books on Catholic Social Ethics "shows he'd acquired by his early 30s a sophisticated knowledge of Marxism and an empathy with its critique of capitalist injustices." Indeed, the future pope rejected both "individualistic liberalism" and "socialist totalism."


"The Church is aware that the bourgeois mentality as a whole, with its materialist spirit, acutely contradicts the Gospel," Fr Wojtyla wrote in one section, according to Luxmoore. "From the Church's standpoint, it is a question of ensuring, by way of various economic-structural forms, just participation by all members of society, and especially people of work, in possessing sufficient amounts of assets and participating at least to some extent in productive goods."

In any case, this helps explain how both Houtart and Wojtyla were able to agree on the social analysis contained in the introduction to Gaudium et Spes.

Significant also is the Wojtyla's praise for Houtart's emphasis on "the common good," a concept that the latter continue to promote throughout his life and which has recently returned to the fore in Catholic social teaching as the basis of a concept of "global common good."


As for François Houtart's early draft, despite many changes and additions, a number of key elements of his original framework survived into the final version of Gaudium et Spes.

Sadly that conciliar cooperation between Houtart and Wojtyla did not last once the latter became pope. Indeed, the Church under Pope John Paul II came to oppose the work of many of those social action and theology of liberation pioneers, who had themselves been inspired by Houtart, not to mention Cardijn himself.