Discover more from Cardijn Research
My research notes about the life and work of Joseph Cardijn and his network
A new way to look at Vatican II - literally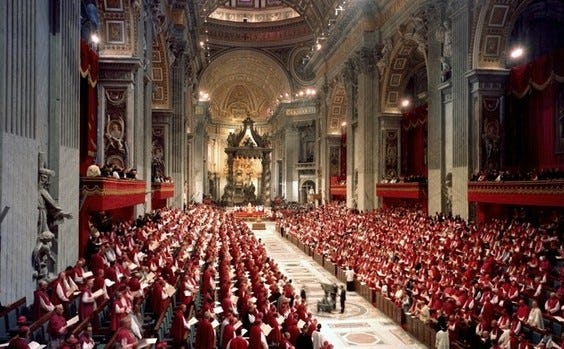 A session of Vatican II. Before he became a Cardijn became a cardinal he used to follow proceedings from one of those elevated boxes that he used to call the pigeon loft.
Reading all those Vatican II documents can be tedious not to say boring. So it was fun to discover a new much more visual way to get into the world of Vatican thanks to Pinterest.com, the popular new online photo pinboard for sharing images.

Check out the pins of Conciliara, a Pinterest member whose idea is to pin photos representing what happened exactly fifty years ago at the Council.

There's a pinboard for people involved in Vatican II, including pix of many people I have read a lot about but whose photos I have never seen!

There's a board for scenes from Vatican II.

The board with pix of the world at Vatican II is particularly interesting for understanding and feeling the world context at the time of the Council.

There's even a board for artifacts of Vatican II including a photo of a voting card used at Vatican II turned into postcard!

Cardijn's photo is not there yet of course but then again I have not pinned him to my own boards yet either.