Discover more from Cardijn Research
My research notes about the life and work of Joseph Cardijn and his network
Paolo Freire, the YCW and Cardijn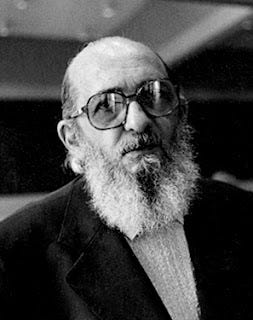 Paolo Freire (Photo: Slobodan Dimitrov CC 3.0 Wikipedia) 
I first read Paolo Freire's famous book Pedagogy of the Oppressed in about 1973 while studying law at Melbourne University. It was fantastic to read about his reflection/action praxis method of education and conscientisation.

Particularly interesting was his way of using literacy classes among the poor in Brazil for raising their awareness and getting them to read and discuss the reality of their daily lives and struggles.

Then in 1974 he visited Melbourne and even came to Melbourne Uni where I was able to sit in on a workshop with him. I even got to ask him a question: In Australia everyone can already read and write so how could we use his conscientisation methods in our context?

Well, all Paolo told me was that basically, we in Australia needed to figure that one out for ourselves!

I was a little disappointed even though I knew that what he said was true.

A few months later, I was invited to a youth meeting in my home parish of Sacred Heart, St Albans in Melbourne's west. I discovered that it was the YCW and that they had a method of "see-judge-act".

It sounded just like Paolo Freire so I dug out my copy of Pedagogy of the Oppressed and scanned all the footnotes for a reference to the YCW or Cardijn. Nothing! I could not believe there was no connection.

Years later, when I was working for the International YCW with Gilberto Ferreira from Brazil I asked him what he thought of Paolo Freire. Gilberto told me that one time the Brazil YCW wanted Paolo to come and give a talk to them. But Paolo's response was: "What am I going to tell you? Everything I know came from the YCW and Catholic Action."

So, finally, I had found the answer and it was true, there was a connection between Freire and the YCW!

But why did he not mention it in Pedagogy of the Oppressed? Still later, I discovered/realised that most of Freire's writings were never translated into English and that he does indeed make explicit reference to the "see-judge-act" in some of those writings.

Indeed, recently, I found reference to a doctoral thesis by Marcia Marie Druliner at Marquette University in which she makes the following findings:

Freire insists that theory and praxis cannot be separated. His Metodo Paulo Freire was a literacy program used to teach campesinos to read and write. Freire attributes the success of this method to his concept of conscientization, the word he employs to describe humanizing, problem-posing education versus dehumanizing, banking education.

Freire's ideas stem from the Young Christian Workers, and it was from Freire's pedagogy that the Movement for Basic Education developed. This Basic Education Movement, in turn, influenced the growth and development of Gutierrez's theology and the Basic Christian Communities that Gutierrez helped to found.

You can read and download (buy) her thesis here:

http://proquest.umi.com/pqdlink?Ver=1&Exp=04-17-2017&FMT=7&DID=746271961&RQT=309&cfc=1

Here's another reference recognising Freire's links with the SJA method:

http://www.metrostability.org/efiles/EDUCATION_FOR_LIBERATION.pdf

Interestinglhy, Malini Durbakhula and William Biernatzki was actually a Protestant, perhaps because he worked for the World Council of Churches:

http://cscc.scu.edu/trends/v14/V14_4.pdf

But I don't think that can be correct.

Roberta Clare says he was a Catholic:

Raised in a Roman Catholic home, Freire insisted that he never abandoned his faith despite the strong influence of Marxist philosophy in his writing. Rarely mentioned in biographies is his participation in Catholic action movements and the influence of Latin American liberation theologians in the development of his ideas.

In any case, it's great to see that there will be an important conference on Freire's legacy to be held in New Zealand in November.

Paolo Freire, The Global Legacy, Hamilton, New Zealand, 26-28 November 2012

More details about Freire at the Freire Institute:

http://www.freire.org

And for those interested in following this up, there is even an item on Freire and Cardijn in the Cardijn Archives in the Belgian National Archives.


Lastly, I did finally get to meet Paolo Freire a second time. It was in Geneva at the headquarters of the World Council of Churches in around 1992.

Someone from the WCC signalled that there were a couple of us there from YCW. He came out of his office with a big smile and gave us a wave. That's all the acknowledgment we needed.