Discover more from Cardijn Research
My research notes about the life and work of Joseph Cardijn and his network
Pepe & Amalia Palacio and Enrique Angelelli: Synodality in action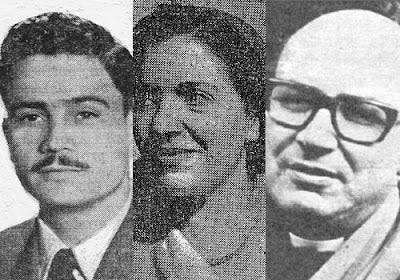 Pepe, Amalia and Enrique

Today, 11 December 2021, marks the 46th anniversary of the abduction by security forces of José Serapio "Pepe" Palacio, an Argentinian JOC leader, later a trade unionist and leader of the Workers Catholic Action (MOAC) movement and finally the first lay collaborator of the International YCW.
Two days later after being tortured, Pepe was killed on 13 December 1975. It would take another 25 years before his wife, Amalia, also a JOC leader, and their sons, would find out the details of what had happened to him.
The abduction took place just a few weeks after Pepe's return from Bogota, Colombia, where he had attended a Workers Meeting organised by the IYCW. And it seems likely that his abduction was linked to that event.
According to research by Pepe's son, José-Luis, he was abducted and killed as part of the US-backed Operation Condor, a campaign of political repression and state terrorism aimed at eliminating worker and community leaders in Latin America.
Pepe and Amalia Palacio
Born in 1923 in San Juan, Argentina, in 1944, he moved to the city of Cordoba, where he began work with his father and brothers.
It was here that he joined and helped establish the JOC in the Diocese of Cordoba, together with a local priest, Fr Enrique Angelelli.
No doubt it was here too that he met his future wife, Amalia Castaños, who was also a leader in the JOCF in the diocese. She and Pepe later had three sons together.
As a JOC leader, Pepe travelled to Europe in 1954 to take part in a meeting of the IYCW International Executive Committee. He also represented the IYCW at a UNESCO conference that year.
In 1957, he and Amalia both took part in the famous YCW pilgrimage to Rome. And in 1958, Pepe again represented the IYCW at a conference of the World Assembly of Youth in India.
After leaving the YCW, Pepe became active as a trade unionist and also in the Workers' Catholic Action Movement (MOAC). Later he was also a member of Latin American Secretariat of the World Movement of Christian Workers (WMCW) to which the MOAC belonged.
Amalia also continued to play a significant role as a community leader and within the Church. During the 1980s, she was appointed as a member of the Catholic Commission for Justice and Peace.
However, following Pepe's death, she had to raise the children alone. One of those who assisted her during this difficult time was Fr Lucio Gera, the JOC chaplain who became a pioneer of the "theology of the people" that has so influenced Pope Francis.
Enrique Angelelli
Meanwhile, on 12 December 1960, Enrique Angelelli, with whom Pepe and Amalia had worked in Cordoba, had been appointed by Pope John XXIII as auxiliary bishop of the Archdiocese of Córdoba.
I can't say for sure but I suspect that Cardijn had been looking at Fr Angelelli as a possible future chaplain for the YCW in Latin America or perhaps even internationally.
In any event, Cardijn and IYCW president sent him a letter congratulating him on his appointment.
"The Argentine JOC is losing one of its most ardent chaplains," Cardijn and Maione wrote,." but it is gaining .. a Bishop who has just joined those who have already  entered the ranks of the Hierarchy having previously been pioneers of the JOC in Argentina and in Latin America."
As bishop, Angelelli maintained his contacts with and support for workers in the diocese. As a result, he became involved in a series of trade union conflicts.
As a Council Father who attended three sessions of Vatican II, he also worked with other priests to renew the Church, leading to further resistance to his efforts.
In 1968, he was made bishop of La Rioja, a largely rural diocese, where he became known for his work with poor farmers.
This in turn led to further resistance to his efforts.
Thus, just eight months after the disappearance (and killing) of Pepe Palacio, Enrique Angelelli was also killed by the military on 5 August 1976. He thus became, I believe, the first Vatican II bishop to be martyred.
Legacy
United in life as pioneers of the JOC in Cordoba, Pepe Palacio and Enrique Angelelli were thus also united in their deaths as martyrs.
On 27 April 2019, Pope Francis beatified Enrique Angelelli and his murdered companions. Let us hope that one day the Church will also formally recognise the martyrdom of Pepe Palacio.
Already, however, we can appreciate the partnership of Amalia & Pepe Palacio with Enrique Angelelli as a model of what Pope Francis calls a "synodal" Church in which lay people and clergy "walk together."
Stefan Gigacz
REFERENCES
Pepe and Amalia Palacio (Joseph Cardijn Digital Library)
Pepe Palacio (Joseph Cardijn Digital Library)
Operation Condor (Wikipedia)
Enrique Angelelli (Joseph Cardijn Digital Library)
Enrique Angelelli (Catholic Hierarchy)
Cardijn and Romeo Maione - Enrique Angelelli 06 04 1961 (Joseph Cardijn Digital Library)
Stefan Gigacz, Enrique Angelelli and Pepe Palacio (Cardijn Research)
Stefan Gigacz, Enrique Angelelli, first martyr of Vatican II
Lucio Gera (Joseph Cardijn Digital Library)