Discover more from Cardijn Research
My research notes about the life and work of Joseph Cardijn and his network
Remembering Keir Hardie, the Scottish Christian socialist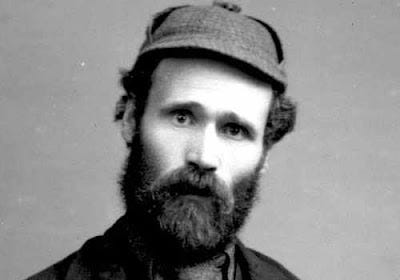 This weekend marks the centenary of the death of Keir Hardie, the Scottish union leader who co-founded the British Labour Party alongside Ramsay MacDonald and Arthur Henderson. Like Ben Tillett, he was one of the Christian Socialists of the early 20th century whose work was of such interest to Cardijn.
His life began in great poverty as the Skibbereen Eagle notes in a tribute:
He was born illegitimate on 15 August 1856, near Newhouse in Lanarkshire, the son of Mary Keir, a domestic servant, and William Aitken, a miner who wanted nothing to do with him. Soon Mary Keir married David Hardie, a ship's carpenter, and James Keir took his stepfather's name and became James Keir Hardie. 
he family had to move from place to place as his stepfather failed to find regular employment and their poverty forced young Hardie out to work at the age of eight – first as a message boy, then at a bakery, then heating rivets in a shipyard where the boy next to him fell off a scaffold and was killed. In desperation, his father returned to work at sea. His mother moved back to Lanarkshire and at the age of 10, Hardie went down the mines where he worked as a "trapper", operating the ventilation doors deep underground. "I am of the unfortunate class who never knew what it was to be a child," Hardie wrote. "For several years as a child I rarely saw daylight during the winter months. Down the pit by six in the morning and not leaving it again until half past five meant not seeing the sun."
Former British Prime Minister Gordon Brown, another Scot, also paid tribute to Hardie here.
The Spartacus Educational website characterises his beliefs as follows;
Although raised as an atheist, Hardie was converted to Christianity in 1897. A lay preacher for the Evangelical Union Church, Hardie was also active in the Temperance Society. Hardie considered himself to be a Christian Socialist: "I have said, both in writing and from the platform many times, that the impetus which drove me first into the Labour movement, and the inspiration which has carried me on in it, has been derived more from the teachings of Jesus of Nazareth than from all other sources combined." Hardie remained friends with atheists such as Eleanor Marx and Frederich Engels, the dominant influence on his political ideas were his religious beliefs.

As far as I know, there is no evidence that Cardijn met Hardie. But he was certainly familiar with his work and writings as this letter to him from another Christian socialist, the Congregationalist Minister Herbert Stead indicates: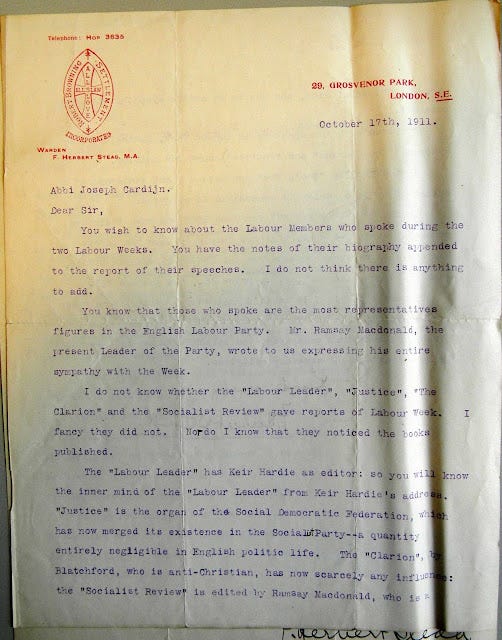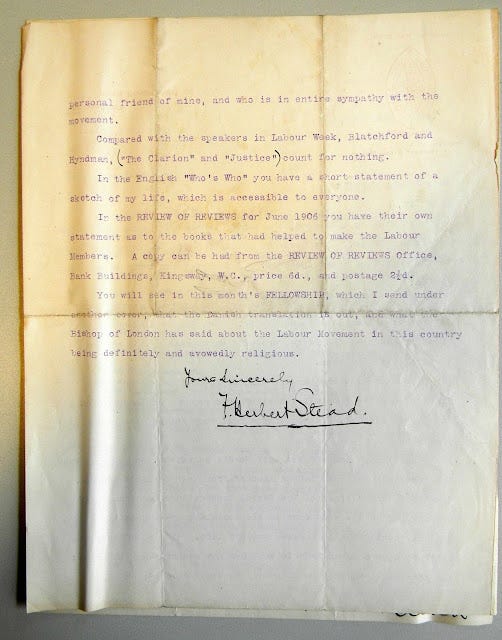 Cardijn Archives 103 (Click on photos for larger version)
When World War I broke out, Hardie maintained his pacifism, unlike many of his Labour colleagues including Tillett. He tried to organise a national strike against Britain's participation in the war, issuing a statement that argued:
The long-threatened European war is now upon us. You have never been consulted about this war. The workers of all countries must strain every nerve to prevent their Governments from committing them to war. Hold vast demonstrations against war, in London and in every industrial centre. There is no time to lose. Down with the rule of brute force! Down with war! Up with the peaceful rule of the people!
Perhaps as a result of the stress he was now under, Hardie suffered a stroke a few months later. His health broken, he died in poverty on 26 September 1915.
FURTHER READING
http://cardijnresearch.blogspot.com/2012/08/was-cardijn-christian-socialist.html
http://www.skibbereeneagle.ie/uncategorized/keir-hardie-the-man-who-broke-the-mould/
http://www.mirror.co.uk/news/uk-news/keir-hardie-drew-courage-hardship-6413925

http://spartacus-educational.com/PRhardie.htm