Discover more from Cardijn Research
My research notes about the life and work of Joseph Cardijn and his network
Remembering Paul Garcet (1901-1945)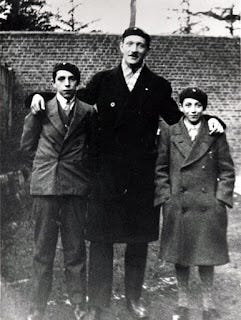 Today marks the 75th anniversary of the death in the Dachau Concentration Camp of JOC co-founder, Paul Garcet, on 23 January 1945.

He had already been in a series of prisons and camps since July 1943, beginning with the Saint Gilles Prison in Brussels, followed by the Esterwegen Camp, the Flossenburg Camp at Bayreuth and finally the sinister Dachau.

Nor was it in any way an antiseptic death. Although she spares us the worst details in her biography of Fernand Tonnet, Marguerite Fiévez nevertheless offers us the essentials:

Depuis le 15 de cet atroce mois de janvier 1945 — où la gelée, la faim et l'odieuse surpopulation du camp de Dachau exterminent plus d'hommes que les sévices des S. S. — Paul Garcet a visiblement épuisé ses meilleures énergies. Dans un suprême effort, il s'est traîné, ces derniers jours, soutenu par Tonnet et d'autres camarades, jusqu'à la place d'appel ; c'est l'inexorable condition que chaque détenu doit remplir, jusqu'à, son dernier souffle, pour obtenir sa ration alimentaire quotidienne.

Mais le 20 janvier, après les syncopes des journées précédentes, Paul ne parvient plus à quitter son infâme paillasse. La vie se refuse à lutter plus longtemps dans ce grand corps usé. Presque immédiatement, il entre dans un état voisin du coma.

C'est Fernand, maintenant, qui vient visiter son frère et lui apporter, mais en vain, les derniers témoignages d'affection. Il n'y a plus ni décor, ni charme — ni drame même— rien que deux hommes dont la vie a vibré pendant trente-deux années d'une semblable harmonie ; deux bagnards que les camps de concentration tuent sans pouvoir les avilir ; deux mourants aujourd'hui en tête-à-tête en d'ultimes contacts où les paroles ont perdu toute leur raison d'être et où le silence seul exprime le fond d'une exceptionnelle amitié chrétienne...

Hélas, déjà (Paul) n'avait plus connaissance. De longs moments, Fernand resta là, au bloc 29, immobile à côté de Garcet. Mais son propre affaiblissement ne lui permit pas de veiller son ami sans interruption.
Le 23 janvier, vers 4 heures de l'après-midi, M. l'abbé Fraysse, qui cherchait à repérer Tonnet, le trouva à la baraque n° 2, assis au second étage du châlit, en train de manger sa soupe...
Garcet était sans connaissance. L'abbé Fraysse traça sur lui les signes sacrés de l'Extrême Onction, puis de l'absolution générale. On ne pouvait songer à lui donner la Communion.
L'atmosphère physique et psychologique de la chambrée était irrespirable. Ils franchirent à nouveau le seuil.
« Nous causâmes encore une minute, continue le prêtre. Tonnet me faisait part de ses impressions sur Paul. Il était triste, accablé. Il fit un effort pour se ressaisir, me remercia encore et me fit promettre de revenir.
« Il me serra la main et retourna auprès de ses camarades qui l'attendaient pour manger. Je le vis se glisser sur le lit, prendre la gamelle de soupe que l'un d'eux lui tendait...
Le 23 dans la soirée, Fernand Tonnet se rendit à l'appel des détenus comme l'y obligeait l'horaire du camp.
Quelques instants après son retour, assis tristement auprès de Garcet qu'il ne quittait pas des yeux, il s'aperçut que le cœur de son ami avait cessé de battre.
Translation
Since the 15 of that atrocious month of January 1945 - when frost, hunger and the odious over-population of the Dachau Camp killed more men than the abuse of the SS - Paul Garcet had visibly exhausted his best energies. Making an ultimate effort and with the support of Tonnet and other comrades, he continued to drag himself to the roll call throughout those final days. Such was the inexorable requirement that each detainee was obliged to fulfil, right up to his final breath, in order to obtain his daily food ration.

However, by 20 January, after the events of the previous days, Paul was no longer able to rise from his disgusting mattress. In his terribly abused body, lit had become impossible to fight for life. Almost immediately, he fell into a state near a coma.

Fernand came to visit his friend to support him but these final testimonies of affection were in vain. There was no longer any decor or charm or even drama left - nothing more for the two men whose life had moved together in such harmony for 32 years. Now they were simply two more men being killed by the concentration camps but which had not succeeding in demeaning them; two dying men united in their final moments of contact with words no longer necessary and in which only silence could express the depth of their exceptional Christian friendship...

Alas, Paul was already unconscious. Fernand remained in Bloc 29 for long periods without moving from Garcet's side. But his own weakened state would not allow him to remain without interruption.

On 23 January, towards four in the afternoon, Fr Fraysse, who was looking for Tonnet, found him in Barracks No. 2, seated on the second level of the bunk drinking soup.
With Garcet already unconscious, Fr Fraysse made the signs of the cross over him and gave him Extreme Unction (the final rites) followed by general absolution. It was no longer possible to even think of Communion.
The physical and psychological atmosphere of the room had become unbreathable.
"We spoke for a few minutes more," the priest continued. "Tonnet shared his impressions of Paul with me. He was sad and overwhelmed. He made an effort to take hold of himself, thanked me again and made me promise to return."
"He grasped my hand before returning to his comrades, who were awaiting him in order to eat. I saw him slide onto the bed and take the bowl of soup that one of them was holding out for him..."
On the evening of the 23, Fernand Tonnet answered the roll call for the detainees as the camp timetable required.
A few minutes after his return, seated sadly at Garcet's side without lifting his eyes, he noted that the heart of his friend has stopped beating.
Perhaps it's best however to recall the way in which Paul lived out his final days before he came totally bedridden as recorded in this news article from late 1945:
At Dachau, Father Neybergh relates, (Paul) was on particularly friendly terms with a group of French Communists.
"How could anyone get angry with a man like that?" Father Neybergh heard a Belgian Communist say.
The first thing Paul Garcet always tried to find out about a new fellow prisoner was the name of his wife. He had an amazing memory for such details.
When he saw someone depressed and sad, he would say: "Don't be blue. Don't you want to see Elise again ? Elise wouldn't like to see you as you look now!" He also knew the wedding anniversaries of a large number of fellow prisoners and surprised them by his congratulations on that day.
He thought of everybody's family, above all, of course, of his own wife, Jeanne Partous, a former leader of the Jocist young women's movement, and their three children. He said his daily prayers with their picture in his hand.
His last words, before he died, were: "Go and tell her that I am offering my life for her and our children and for the happiness of their bodies and souls."
And this photo sent to me by Paul's daughter, Monique, is perhaps the one he held in those final days: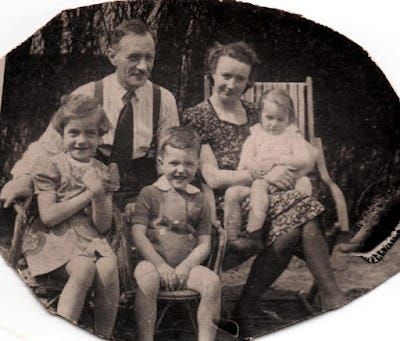 Paul with Jeanne and their three children, Monique, Pierre and Claire.
Photo taken in 1943 just weeks or months before his arrest.
Moved by the witness of Paul and Fernand, our parish priest, Fr Pierluigi, remembered them both at morning mass in Our Lady's parish, Rockingham, Western Australia, today:

"May their sacrifice lead to a revival of the YCW," he prayed, "and, if God so desires, in this area too."


Stefan Gigacz

READ MORE

Fernand Tonnet and Paul Garcet - 75 years (Cardijn Research)

http://paulgarcet.josephcardijn.com

www.fernandtonnet.com