Discover more from Cardijn Research
My research notes about the life and work of Joseph Cardijn and his network
RIP François Houtart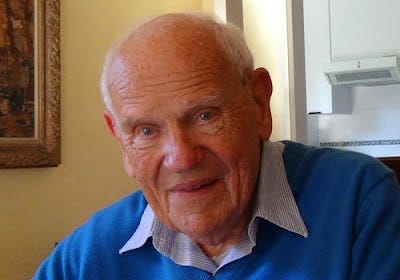 The web, particularly in Latin America, is overflowing with tributes to François Houtart, the Belgian priest, sociologist and former JOC chaplain who died in Quito, Ecuador on 7 June at the age of nearly 92.

It would take volumes to write a complete biography of François' extraordinary life. Fortunately, it seems that he recently completed his own memoirs and this will certainly be a must-read for anyone interested in sociology, world development, the JOC, the history of the Church, particularly in Latin America and the countries of the Global South, the World Social Forum.... the list goes on.

Here I will just share a few of my own personal experiences with him.

The first time I met him was when he came to speak at a meeting of the international team of the JOC Internationale in the early 1990s. It was on this occasion that he told us that Cardijn had wanted François to succeed him as international chaplain of the movement but that his bishop Cardinal Van Roey had refused to release him for this work.

During that time, François also collaborated with us in the development of an international survey as he had previously done in 1956 prior to the First World Council of the JOC Internationale in 1957.

But it was a few years later while studying in Belgium in the mid-1990s that I had the opportunity to get to know him personally while staying on campus at Louvain-la-Neuve in an apartment literally next door to Francois' own home.

This was located in the Centre Tricontinental (CETRI) that he had founded to promote research on world development issues, particularly concerning the three continents of the Global South, namely South America, Africa and Asia.

François used to say mass regularly in the chapel of the Benedictine Sisters whose convent was also located nearby. He clearly had a strong devotion to the Eucharist that I and many others found particularly moving, particularly given his open adhesion to Marxist thought.

Indeed, he told me that he believed that Cardijn was also a Marxist. Personally, I don't think Cardijn ever adopted Marxism as a system of thought - he didn't adopt anyone else's system of thought, not even that of St Thomas Aquinas. But it's also undoubtedly true that reading Marx's Kapital had a great influence on Cardijn. And I'm sure that Cardijn's influence was at least part of François' own discovery of Marxism.

François was always unfailingly generous with his time and availability. And I am sure that there are many students from around the world who could testify to the support he gave them, including the current president of Ecuador, Rafael Correa, who lived at CETRI during the early 1990s.




At Louvain la Neuve, Helen, my wife, and I would drop by for a coffee or invite him over for dinner. He never stayed for very long as he always had more work to do back at his austere office in CETRI.

Nevertheless, I always wished that I had tried to record some the many experiences that he shared from his truly extraordinary life. François was always deeply involved in so many incredible projects.

One Saturday afternoon, I casually dropped by at CETRI to find a meeting in full progress. It turned out to be a committee organising an Alternative Davos meeting in 1999, which became the forerunner of the World Social Forum launched in Porto Alegre, Brazil in 2001.

On another occasion while doing some research in the archives of the JOC Internationale, I was looking through the Livre d'Or (Golden Book) of visitors and stumbled across a visit to the old Centrale Jociste  in 1947 by François, who was still a seminarian, and a young Polish priest.

It was Karol Wojtyla, who was on his first visit to Belgium to study the situation of the workers and learn about the work of a dynamic new movement known as the Jeunesse Ouvrière Chrétienne (JOC) or Young Christian Workers (YCW)!

Fifteen years later, at Vatican II, he worked with Archbishop Wojtyla, as he had become, on the drafting of Gaudium et spes. Indeed, the future Pope John Paul II supported the efforts of François and others, particularly Latin American bishops such as Helder Camara and Manuel Larrain to introduce the see-judge-act method in the document.

Sadly, their relationship became more distant when the Vatican under John Paul II opposed many of the initiatives that Houtart and the JOC had promoted particularly in the field of liberation theology.

In any event, that was just one of François many, many friendships with people in the Church and in the world who had made a great impact.

Just to give one more example, it was while he was in Latin America in 1954 working for the JOC that François first met the Colombian priest, Camillo Torres, whom he brought back to Belgium to study sociology.

François told me that he was in Peru (if I remember correctly) when he got an urgent call to come back to Colombia to try to dissuade Camillo from his decision to join the guerrilla movement. But by the time François arrived back in Bogota, Torres had left for the jungle only a few hours earlier. Weeks later he was killed in a firefight.

Last year he recorded a video reflecting on this experience:


On another occasion, in 1997 while I was studying canon law, François came by to show me some papers concerning the case of a Sri Lankan priest, Fr Tissa Balasuriya, OMI, whose book Mary and Human Liberation had been condemned by the Vatican's Congregation for the Doctrine of the Faith (CDF).

Fr Tissa was complaining that he had not been afforded the opportunity to be heard by the CDF and had been asked to sign a personal declaration of faith, which he resisted doing as he felt that the CDF had misunderstood his work. I wrote about it at the time.

The good news was that in the end, Fr Tissa's excommunication was lifted and he was able to continue his work. But this was typical of the way in which François came to the aid of so many people.

It would be easy to multiply the stories of François Houtart's life, work and commitment to the poor and oppressed.

The last time I saw him was in 2014 when I recorded an interview with him on his experience at Vatican II. Later I will post some extracts.

For the moment, however, let me just finish by presenting a talk that he prepared last year for the World Council of the JOC International.

RIP, François, and thanks for your friendship.

PS: The Brazilian Dominican, Frei Betto, has written a beautiful tribute to François Houtart and his friend Miguel D'Escoto that has been published on the blog of Leonardo Boff here.

I have also posted a google translation into English here.



REFERENCES

http://priests.josephcardijn.com/houtart-francois

http://testimonies.josephcardijn.com/houtart-francois

https://en.wikipedia.org/wiki/Fran%C3%A7ois_Houtart

https://fr.wikipedia.org/wiki/Fran%C3%A7ois_Houtart


NEWS ARTICLES

https://www.rtbf.be/info/societe/detail_le-chanoine-houtart-est-decede-au-venezuela-a-l-age-de-92-ans?id=9626850
https://www.cath.ch/newsf/deces-chanoine-rouge-francois-houtart/
http://www.lalibre.be/actu/belgique/le-chanoine-francois-houtart-est-decede-a-92-ans-59370b14cd702b5fbf01cf25
https://www.rtbf.be/info/societe/detail_le-chanoine-houtart-est-decede-au-venezuela-a-l-age-de-92-ans?id=9626850
http://www.levif.be/actualite/belgique/le-grand-ecart-du-chanoine-houtart/article-normal-150855.html
https://www.kerknet.be/kerknet-redactie/nieuws/kanunnik-fran%C3%A7ois-houtart-quito-overleden
http://www.dewereldmorgen.be/artikel/2017/06/07/francois-houtart-een-paus-van-de-andersmondialiseringsbeweging-is-niet-meer
http://www.telesurtv.net/news/Fallece-reconocido-sociologo-y-academico-belga-Franois-Houtart-20170606-0070.html
http://www.telesurtv.net/english/news/Prominent-Belgian-Liberation-Theologist-Francois-Houtart-Dies--20170606-0020.html
http://www.eltelegrafo.com.ec/noticias/politica/2/francois-houtart-investigador-de-la-economia-popular-y-solidaria-fallecio-en-quito
https://www.terra.es/noticias/mundo/latinoamerica/muere-en-quito-el-teologo-belga-francois-houtart,17da51ff294da7c7125d3209a75748a5ruzygrh1.html
http://www.pane-rose.it/files/index.php?c3:o50097:e1
TRIBUTES
http://www.alainet.org/es/articulo/186215
https://www.webislam.com/articulos/113627-francois_houtart_la_emancipacion_de_los_pueblos_oprimidos_i.html
http://www.cadtm.org/Francois-Houtart-militant
http://www.redescristianas.net/francois-houtart-la-emancipacion-de-los-pueblos-oprimidosijuan-jose-tamayo/
https://leonardoboff.wordpress.com/2017/06/13/francois-houtart-e-miguel-descoto-servos-dos-oprimidos-frei-betto/
http://iglesiadescalza.blogspot.fr/2017/06/francois-houtart-and-miguel-descoto.html
http://www.globalresearch.ca/francois-houtart-has-passed-away/5593800
http://piensachile.com/2017/06/bien-comun-la-humanidad/
http://www.investigaction.net/francois-houtart-etait-mon-prix-nobel-de-la-paix-a-moi/
https://blogs.mediapart.fr/jean-marc-b/blog/070617/francois-houtart-un-militant-internationaliste-et-un-ami
https://www.rebelion.org/noticia.php?id=227706
https://www.tamilnet.com/art.html?catid=13&artid=38701
RESOURCES

http://www.dewereldmorgen.be/blog/lievendecauter/2014/04/22/proposal-for-a-universal-declaration-for-the-common-good-of-humanity