Discover more from Cardijn Research
My research notes about the life and work of Joseph Cardijn and his network
RIP Jean-Michel Cadiot, Sillonist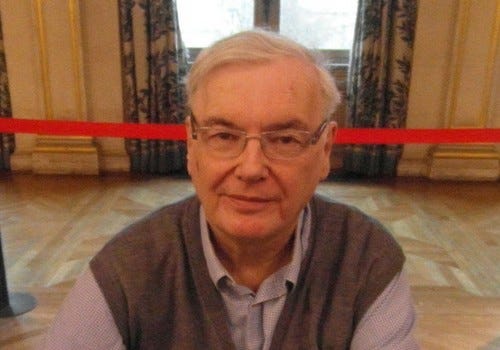 Jean-Michel Cadiot/Wikipedia
Just a brief note today to remember my French journalist friend, Jean-Michel Cadiot, who died in Paris yesterday following heart surgery. Condolences to his wife, Maryam, and son Pierre-Mani and all those who knew Jean-Michel as a friend, acquaintance or as one of the many whom he helped during his life.

Born on 23 December 1952, he was the son of Robert Cadiot and Odile Gay, who was the daughter of the Sillon leader and publisher, Francisque Gay.

Jean-Michel was particularly proud of and attached to his Sillonist heritage. In 2006, he published a biography of Francisque Gay, which also tells the story in great detail of Marc Sangnier's movement, Le Sillon, and which he regarded as integral to understanding his grandfather's own militant commitment as a journalist, publisher, political activist and member of the Resistance during World War II.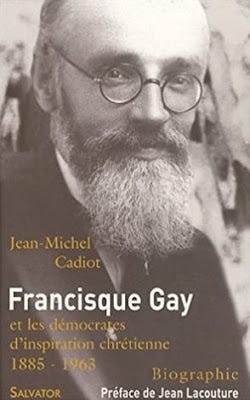 Indeed, he followed in the footsteps of Francisque Gay precisely as a journalist, publisher and political activist and even as a member of the Cercle du Sillon, a study circle that we created in 2001 to revive on a small scale the memory of the original Sillon movement for democracy. And in recent years he published three volumes of articles selected from L'Aube, the daily newspaper founded by Gay.

Jean-Michel began his journalistic career with Témoignage Chrétien, the French Catholic magazine launched as a Christian witness during World War II. There he worked under the tutorship of the great former JOC leader and journalist, Georges Montaron.

Later he joined Agence France Presse, becoming their Baghdad correspondent. Having strongly criticised Saddam in Iraq when he worked there (I think he was eventually expelled), he also became an implacable critic of the US invasion of 2003. He foresaw the suffering that this would cause not only for Iraqi Christians but indeed for Christians throughout the Middle East.

As a result of all this, he became very active not only in inter-religious dialogue with the Muslim community but also as a public defender of Christians in the region. In 2010, he published "Les Chrétiens d'Orient. Vitalité, souffrance, avenir" (Middle East Christians, Vitality, Suffering, Future) and in 2014, "Noun, Chrétiens de Mossoul persécutés (Noun, Persecuted Mosul Christians). And he was a regular guest on French television news and current affairs programs sharing his knowledge of these issues.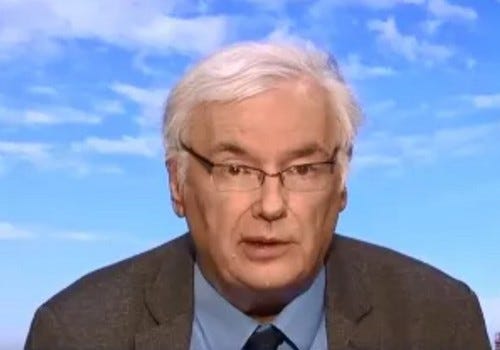 Jean-Michel Cadio interviewed on 124NEWS
Jean-Michel was also a committed and active trade unionist and member of the Conféderation Générale du Travail (General Confederation of Labour). He engaged in a years long struggle with his employer, Agence France Presse, which he eventually won in the French supreme court, the Cour de Cassation.

At a personal level, he was a great source of advice to me last year when I experienced a dispute with a former employer.

He also greatly assisted Helen Ting, my wife, when she was in the process of submitting her PhD thesis at the Institute of Political Science in Paris, helping her correct the French of her thesis summary - a 250-page summary of a 1200-page thesis!

Only yesterday I sent Jean-Michel a copy of our latest Australian Cardijn Institute Newsletter, featuring an article to mark the 70th anniversary of the death of Marc Sangnier on Pentecost Sunday 1950.

Clearly he never got to read it. Nevertheless, I am sure that he would have felt honoured to follow Marc Sangnier not only in earthly life but in entering into eternal life on the day after Pentecost on 1 June 2020.

Vale and thanks, Jean-Michel, a genuine 21st century Sillonist.

Stefan Gigacz

READ MORE

Jean-Michel Cadiot (Wikipedia)

Soutien de François BAYROU à Jean-Michel CADIOT (YouTube)

PHOTOS

Jean-Michel Cadiot/Wikipedia


BOOKS BY JEAN-MICHEL CADIOT

Quand l'Irak entra en guerre, Éditions L'Harmattan, 1989.

Mitterrand et les communistes, Ramsay, 1995.

L'Almanach politique et religieux, Éditions JD, 1999-2006.

Francisque Gay et les démocrates d'inspiration chrétienne, Éditions Salvator, 2006 (ISBN 270670439X).

Les Chrétiens d'Orient. Vitalité, souffrance, avenir, Éditions Salvator, 2010 (ISBN 978-2-7067-0782-7)4,5.

Saâd Abssi, le combat pour la dignité, Riveneuve éditions, 2014 (ISBN 978-2-36013-306-2).
Noun, chrétiens de Mossoul persécutés, Éditions Érick Bonnier, 2014.

Petit lexique pour comprendre les chrétiens d'Orient, Éditions Érick Bonnier, 2015 (ISBN 978-2-36760-0550).

Pierre Santini, le but c'est le chemin, coécrit avec Pierre Santini et André Renaud, Éditions Érick Bonnier, 2015 (ISBN 978-236-760-0499).

L'aube. Un journal d'inspiration chrétienne dans la tourmente et l'espérance des années 1930. Janvier 1932-Juin 1936. Éditions ATF FRANCE 2017 (ISBN 978-1-925438-03-1)

L'aube; Un journal d'inspiration chrétienne dans la tourmente et l'espérance des années 1930. Juin 1936-Août 1938. Éditions ATF FRANCE 2017 (ISBN 978-1-925438-05-5)

L'aube. Un journal d'inspiration chrétienne dans la tourmente et l'espérance des années 1930. 1938-1940. Éditions ATF France 2018 (ISBN 978-1-925438-10-9)

Laïcité: l'expression publique de la religion. Coécrit avec Pierre Whalon. Éditions ATF FRANCE 2018 (ISBN 978-1-925438-27-7)

Maurice Berthelot, avec les autres, pour les autres. Editions JMC. 2019 (ISBN 978-2-490918003)