Discover more from Cardijn Research
My research notes about the life and work of Joseph Cardijn and his network
Blessed Oscar Romero and the See, Judge, Act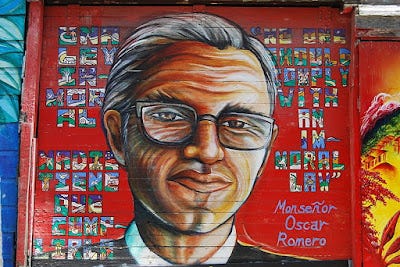 Archbishop Romero / Photo: Eric E Castro / Flickr / Wikipedia / CC 2.0
As we saw in an earlier blogpost, Archbishop Oscar Romero is reputed to have been greatly influenced by the assassinated Jesuit, Fr Rutilio Grande, who had learned the Cardijn methods while studying in Brussels.

Indeed, Romero did become a practitioner of the See, Judge, Act as the homilies he delivered during the last years of life as archbishop of San Salvador testify.

Gilberto Graffe from the Universidad Central de Venezuela documents this in a recent article,  Monseñor Oscar Arnulfo Romero, Educador para la paz (Archbishop Oscar Arnulfo Romero, A peace educator), which can be read here:

http://190.169.94.12/ojs/index.php/rev_ped/article/view/12503

He writes:

Por otro lado, es de destacar que en el proceso de concientización en pro de la paz y de la defensa de los derechos humanos que caracterizó la labor pastoral de Monseñor Oscar Arnulfo Romero y Galdámez al frente de la Arquidiócesis de San Salvador entre 1977 y 1980, jugaron un papel especial la promulgación de sus cartas pastorales y las homilías que domingo a domingo eran radiadas por Emisora YSAX La Voz Panamericana de la Arquidiócesis de San Salvador, las cuales eran escuchadas tanto por el pueblo salvadoreño como por sus propios adversarios.

Mediante ellas Monseñor Romero difundía su pensamiento y el conjunto de acontecimientos que ocurrían en el contexto de la sociedad salvadoreña, a la luz de la palabra de Dios que el comentaba en la celebración de la Misa dominical, utilizando para ello el método VER, JUZGAR Y ACTUAR, el cual nació en el marco de la Juventud Obrera Católica en Europa en la primera mitad del siglo XX; y que la Iglesia Católica utiliza para ejercer su labor de educación en la fe y para la ciudadanía (Graffe, 2010).

Google-aided English translation

On the other hand, the transmission of the pastoral letters and homilies that characterized the pastoral work of Monsignor Oscar Arnulfo Romero y Galdámez at the head of the Archdiocese of San Salvador between 1977 and 1980, which were broadcast each Sunday by the YSAX Broadcasting and published in La Voz Panamericana of the Archdiocese of San Salvador and heard both by the Salvadoran people and by their own adversaries, played a noteworthy role in the process of raising awareness for peace and the defense of human rights 

Through these letters and homilies, Monsignor Romero disseminated his thinking about events that occurred in the context of Salvadoran society, in the light of the word of God, which he commented on during the celebration of the Sunday Mass, using the method SEE, JUDGING AND ACTING, which was born in the framework of the Young Christian Workers in Europe in the first half of the twentieth century; And which the Catholic Church uses to exercise its education in faith and for citizenship (Graffe, 2010).

Another earlier article, Monseñor Romero: ver, juzgar y actuar, by Anaí Sorto, citing César Ochoa, also notes this use of the SJA by Archbishop Romero.

Indeed, so too does Michael E. Lee from Fordham University in New York in an article "¿Era Monseñor Romero un verdadero representante de la teología de la liberación?"

Interestingly, however, when he received his honorary doctorate at the Catholic University of Louvain in 1980, just two months before his assassination, Romero made no mention of Cardijn.

Read his speech here:

http://www.sicsal.net/romero/DoctoradoLovaina/DiscursoLovaina.html

Yet even if Archbishop Romero did not know Cardijn personally, he certainly knew and practised his method.

Perhaps we can learn more about their relations from Romero's long time friend, the newly named Cardinal Gregorio Rosa Chávez of San Salvador.