Discover more from Cardijn Research
My research notes about the life and work of Joseph Cardijn and his network
See Judge Act: From John XXIII to Pope Francis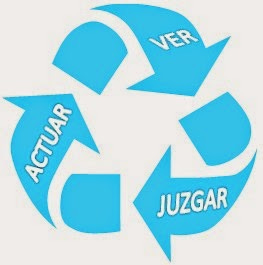 Great to see the Synod bishops following the See Judge Act method in their work as their Mid-Term Report shows. But as we've seen previously, there seems to be confusion in some minds over where the method came from.

So here's recap of how the SJA made its way into Catholic social methodology.

As early as 1946, the French Mgr Emile Guerry, who had founded the YCW and specialised Catholic Action in the diocese of Grenoble before becoming archbishop of Cambrai, had praised the See Judge Act method as follows, relating it to the virtue of prudence:


All chaplains and leaders of Catholic Action should make a profound study of the marvelous tract of St. Thomas on Prudence. Prudence is essentially the virtue of action. With his keen psychology, St. Thomas analyzes the three acts which make up the exercise of prudence: to deliberate (the small inquiry, the interior counsel which one holds within himself); to judge; to act. Here we easily recognize practically the same three acts of the method of specialized Catholic Action: observe, judge, act.

Reference:


http://testimonies.josephcardijn.com/1946---la-prudence

 No doubt there were other similar references by other bishops.

However, as far as I have been able to determine, the first papal reference to the SJA was by Pope Pius XII in his address to the International YCW Pilgrimage to Rome on 25 August 1957.

http://www.josephcardijn.fr/discours-au-rassemblement-mondial-1957

Also here in the official Vatican AAS:

http://www.vatican.va/archive/aas/documents/AAS%2049%20[1957]%20-%20ocr.pdf

Here is the text:

Vous voulez vivre une vie chrétienne profonde, authentique, non seulement dans le secret de vos consciences, mais aussi ouvertement, dans vos familles, dans le quartier, à l'usine, à l'atelier, au bureau, et manifester par là votre appartenance sincère et totale au Christ et à l'Eglise. Votre solide organisation, votre méthode résumée par la formule bien connue : « Voir, juger, agir », vos interventions sur le plan local, régional, national et international, vous mettent en état de contribuer à l'extension du Règne de Dieu dans la société moderne et d'y faire pénétrer les enseignements du christianisme avec toute leur vigueur et leur originalité.

Translation:
You want to live a profound, authentic, Christian life, not just in the secret of your consciences, but also openly, in your families, in your neighbourhood, in the factory, in the workshop, in the office, and also to show your sincere and total belonging to Christ and the Church. Your solid organisation, your method summed up in the well known formula: "See, judge, act", your interventions on the local, regional, national and international levels, enables you to contribute to the extension of the Reign of God in modern society and to enable the teachings of Christianity to penetrate with all their vigour and originality."
It's virtually certain that Cardijn and the IYCW would have sent a draft proposal for the text of the Pope's speech to the Holy See. And indeed this statement of Pius XII certainly closely reflects the YCW spirit and method.
Little over a year later, Pius XII died and was succeeded by Saint Pope John XXIII, who announced in January 1959 that he was calling an Ecumenical Council which became Vatican II.
From the beginning, Cardijn was greatly impressed by this. Indeed, I am convinced that he saw it as a great opportunity. And in his usual thorough fashion worked hard to prepare for it and to influence it.
In 1960, he met John XXIII for the second time, proposing to him that the pope prepare an encyclical to mark the 70th anniversary of Rerum Novarum. 
Marguerite Fiévez and Jacques Meert report the conversation as follows:

"Holy Father, next year is the 70th anniversary of Rerum Novarum. It is time the Church talked about work again. The question is not the same in 1960 as it was in the time of Leo XIII or even in the days of Pius XI. No one could have foreseen then its present dimensions, its universality, its technological growth, its influence on all races and on the whole of youth. An encyclical on the world of work of today would have even more influence than Rerum Novarum or Quadragesimo Anno, but an encyclical that is positive and open to all the collaboration that would be needed!" 

"Very well", John XXIII replied, "you write out all your ideas on the subject and send them to me!"

Cardijn did indeed send his notes to Pope John in a document entitled "L'Eglise devant le monde du travail" (The Church before the world of work), containing a detailed analysis of the worker problem as it presented itself in 1960:
http://www.josephcardijn.fr/1960---l-eglise-devant-le-monde-du-travail
The next year on 15 May 1961, the encyclical Mater et Magistra was indeed published.
And although Cardijn had not originally proposed it in his notes, the encyclical did make explicit reference to the See Judge Act in No. 236:
There are three stages which should normally be followed in the reduction of social principles into practice. First, one reviews the concrete situation; secondly, one forms a judgment on it in the light of these same principles; thirdly, one decides what in the circumstances can and should be done to implement these principles. These are the three stages that are usually expressed in the three terms: look, judge, act.
How did that happen?
Certainly Cardijn had many contacts in the Roman universities, and was close to Pietro Pavan, who is often credited as one of the principal drafters of Mater et Magistra. Moreover, it seems that Cardijn also actively lobbied for reference to the See Judge Act, as indicated in this testimony of Fr Basile Maes, later director the Belgian Catholic development organisations Broederlijk Delen and Entraide et Fraternité, who was then studying at the Belgian College in Rome, where Cardijn often stayed:
Cardijn was very in touch with what was happening in Rome and sought to have an influence there. Here is a sample of this, which was also a great moment that I experienced in 1962, when I had returned to Rome to prepare my doctorate. I still see him joyfully entering my room, enthusiastically shouting: "Basil, it's happened! See, judge, act!" A little earlier, Pope John XXIII had promulgated his great social encyclical "Mater et magistra". Cardijn had sought to influence the compilation of this text.
I am convinced that one of Cardijn's aims in all this advocacy was to influence the direction of Vatican II which would open 18 months later in October 1962.
Indeed, Mater et Magistra did become the most encyclical in Gaudium et Spes, which as we have seen previously was drafted using the See Judge Act method.
http://cardijnresearch.blogspot.fr/2013/01/see-judge-act-at-vatican-ii.html
Ultimately, the See Judge Act would find its way into four documents of Vatican II:
Gaudium et Spes, where the method is applied in Part II;

Apostolicam Actuositatem No. 29:
Since formation for the apostolate cannot consist in merely theoretical instruction, from the beginning of their formation the laity should gradually and prudently learn how to view, judge and do all things in the light of faith as well as to develop and improve themselves along with others through doing, thereby entering into active service to the Church.

Ad Gentes No. 21:
Let the clergy highly esteem the arduous apostolate of the laity. Let them train the laity to become conscious of the responsibility which they as members of Christ have for all men; let them instruct them deeply in the mystery of Christ, introduce them to practical methods, and be at their side in difficulties, according to the tenor of the Constitution Lumen Gentium and the Decree Apostolicam Actuositatem.

and finally in

Dignitatis Humanae No. 8:
Wherefore this Vatican Council urges everyone, especially those who are charged with the task of educating others, to do their utmost to form men who, on the one hand, will respect the moral order and be obedient to lawful authority, and on the other hand, will be lovers of true freedom-men, in other words, who will come to decisions on their own judgment and in the light of truth, govern their activities with a sense of responsibility, and strive after what is true and right, willing always to join with others in cooperative effort.
Thus, was the SJA adopted by Vatican II.
One of the key actors in the adoption of the method for Gaudium et Spes was, again as we have seen, Bishop Manuel Larrain of Chile:
http://cardijnresearch.blogspot.fr/2014/10/a-cardijn-apostle-bishop-manuel-larrain.html
And although he died in 1966, he played a great role in the preparation of the memorable CELAM at Medellin, Colombia in 1968 where the Latin American bishops adopted the method for the implementation of Vatican II.
In 2007 at Aparecida, Brazil, the Latin American bishops again re-affirmed the SJA method in its deliberations in which then-Cardinal Jorge Bergoglio played a significant role.
See also:
http://www.cardijn.info/2013/04/see-judge-act-with-pope-francis.html
Seven years later, the Synod bishops under Bergoglio's leadership as Pope France have now adopted the Cardijn method on a global level.

And this is how, beginning with Cardijn, it all came about.

PS Let me not forget that the SJA has also been taken up in the Compendium of the Social Doctrine of the Church published by the Pontifical Council for Justice and Peace, complete with reference to the virtue of prudence:

Acting with prudence

547. The lay faithful should act according to the dictates of prudence, the virtue that makes it possible to discern the true good in every circumstance and to choose the right means for achieving it. Thanks to this virtue, moral principles are applied correctly to particular cases. We can identify three distinct moments as prudence is exercised to clarify and evaluate situations, to inspire decisions and to prompt action. The first moment is seen in the reflection and consultation by which the question is studied and the necessary opinions sought. The second moment is that of evaluation, as the reality is analyzed and judged in the light of God's plan. The third moment, that of decision, is based on the preceding steps and makes it possible to choose between the different actions that may be taken.