Discover more from Cardijn Research
My research notes about the life and work of Joseph Cardijn and his network
See Judge Act or Harvard Business School?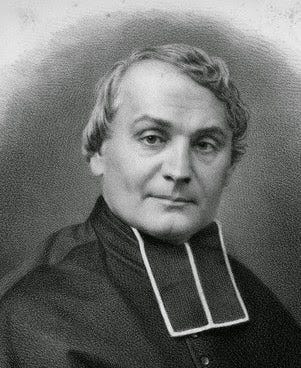 Alphonse Gratry - Reality, reflection, resolution
"What's happening within the synod is we're seeing a more inductive way of reflecting, starting from the true situation of people and trying to figure out what's going on here," said Archbishop Paul-André Durocher of Gatineau archdiocese and president of the Canadian Conference of Catholic Bishops.


The bishops at the Extraordinary Synod on the Family are "finding that the lived experience of people is also a theological source -- what we call a theological source, a place of theological reflection," he added, according to NCR Online.
At last, I thought, nearly 50 years after Cardijn's death, the Synod is rediscovering his See Judge Act (SJA) method. But Archbishop Durocher, speaking at a Vatican press briefing yesterday, was not done.
"I think we're learning to use the Harvard case study method in reflecting theologically on the lives of people," he continued.
The Harvard Business School (HBS) case study method? Yes, that's what Archbishop Durocher said. Why? No idea. Is it because SJA doesn't sound sophisticated enough? If so, it's a startling example of how little the history and theory of the SJA are understood.
Nevertheless, it's clear there are many parallels between the HBS method and the SJA method, as this quote from the HBS website makes clear:
Judgment, based on sound analysis rooted in facts, is what our students need to absorb from their education. But, as the late HBS professor Charles I. Gragg sagely noted, "We cannot effectively use the insight of others; it must be our knowledge and insight that we use." By applying the case method to business education, we break the boundaries of passive learning to encourage students to become active participants in their own progress. With each case, students empathize with a decision maker ("the protagonist"), analyze varied and frequently ambiguous data, and assume responsibility for an action plan that effectively resolves the case's business challenge.

And here's a bit more on the history of the Harvard case study method:
The case method was central to the original vision of Edwin Gay, first Dean of HBS, for the School's curriculum. Gay's prototype was the case method developed at Harvard Law School decades earlier. Gay called it the "problem method," and foresaw its value in educating business students to be able to adjust as necessary to ever-changing business climates... Within ten years of the founding of the school in 1908, Gay's case method model was officially approved for long-term curriculum planning.

In other words, the HBS method was developed between 1908 and 1918.

This corresponds quite closely with the period during which Cardijn was developing his own educational methods for the future JOC-YCW, although the actual term See Judge Act did not emerge until 1925 (which is why SJA only appears in the 1930 Second Edition of the Manuel de la JOC, rather than the first edition of 1925).
However, as I have written elsewhere, the SJA method was mainly derived and developed from the "method of democratic education" developed by the Sillon. And as the Sillon counsellor, Louis Cousin, pointed out, the Sillon method in turn was a transformation of Frédéric Le Play's sociological "method of social observation" into a tool for raising the levels of consciousness and responsibility of young people.
Moreover, there was a strong Aristotelian and Thomist philosophical theoretical basis for the Sillon-Cardijn method. See, for example, Léon Ollé-Laprune's "see, judge, conclude (decide)" and AD Sertillange's "search, judge, act", and going back even further, Alphonse Gratry's inductive "reality, reflection, resolution" method.
In other words, the so-called "inductive method" has deep roots in Aristotle's and Thomas Aquinas' analyses of the virtue of prudence (phronesis), which Ollé-Laprune and the Sillon sought to re-cast as a democratic virtue.
So it's very surprising to read this comment from Joshua J. McElwee in NCR Online on Archbishop Durocher's statement:
His reflections, which came at the end of the 70-minute briefing, may suggest a change in how bishops develop theological thought, which in the past has typically followed deductive methods of authors such as Aristotle and St. Thomas Aquinas over inductive methods used in systems like pastoral, or even liberation, theology.
Which, as I have just illustrated, gets the contribution of Aristotle and Aquinas completely back to front.
What both Archbishop Durocher's and Joshua McIlwee's comments seem to show is just how much the understanding of Cardijn's SJA method has eroded within the Church.
When Cardijn and the JOC first formulated the expression "see judge act" during the 1920s, everyone (in their networks) immediately understood it as a reference to Sertillanges, Ollé-Laprune, Gratry, Aristotle, Aquinas, Le Play and others.
Nearly fifty years after Cardijn's death, the historical and theoretical understanding of the SJA has been almost completely lost.
As for the HBS case method, it's clear that it developed more or less in parallel with the Sillon-Cardijn method. Were there any common roots? Certainly, e.g. Cardijn was familiar with the pragmatic philosophy of William James, who was linked to Charles Pierce, who was linked to Alphonse Gratry, etc. 
However, it's also very clear that Cardijn's SJA has its own history and intellectual foundation, which needs to be better known, particularly in the context of renewed interest in the so-called "inductive method".