Discover more from Cardijn Research
My research notes about the life and work of Joseph Cardijn and his network
See, Judge and Conclude with Léon Ollé-Laprune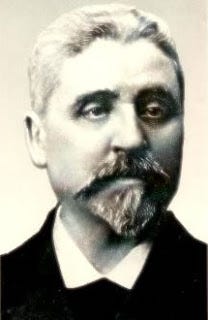 I initially stumbled across the role of Léon Ollé-Laprune in the development of the See Judge Act method while following Cardijn's list of his reading at various stages of his life.

Indeed, I found Cardijn's personally annotated copy of Ollé-Laprune's master work, Le prix de la Vie in his library which is now housed at the Université catholique de Louvain at Louvain-la-Neuve.

As soon as I read the Preface to the Third Edition it was clear what an important work it was. This is what Ollé-Laprune writes:

«  Chacun doit s'appliquer plus que jamais, mieux que jamais, à consulter courageusement et fidèlement les principes et les faits pour se rendre plus que jamais, mieux que jamais, capable de voir clair, de juger et de conclure, précisément parce que ce n'est guère plus la mode. »

Translation:


"Everyone must apply themselves more than ever, better than ever, to courageously and faithfully consult the principles and the facts in order to become more than ever, better than ever able to see clearly, judge clearly and conclude, precisely because it no longer fashionable to do so."
Moreover, Ollé-Laprune specifically relates this to the overall object of his book which, citing Aristotle, he sets out as follows:
« Je suis convaincu, et je voudrais convaincre les autres que la vie est singulièrement précieuse, si l'on sait voir ce pour quoi elle nous est donnée et ce que nous pouvons et devons en faire. »

"I am convinced," Ollé-Laprune argues, "and I would like to convince others that life is singularly precious provided one is able to see what it is given for and what we can and should do with it."
To make matters even clearer, later in the book he again quotes Aristotle: "La vie est action" - "Life is action".
Everybody has something to do in life, Ollé-Laprune says, and particularly in regards to social issues and the division in society.
Towards the end of the Preface, he again emphasises his method:

« Comme il faut qu'elle (la philosophie) tâche d'égaler ses vues à toute la réalité donnée, elle doit conseiller, elle doit prescrire, elle doit essayer elle-même d'user de tout l'homme et de toutes les ressources humaines et divines mises à la disposition de l'homme. L'autre conviction qu'il importe de rappeler sans cesse, s'est que chacun doit agir. »

Translation:
"How necessary it is for philosophy to endeavour to equal its views with the whole of given reality, it must counsel, it must prescribe, it must itself make use of the whole man and of all human and divine resources placed at the disposition of man. The other conviction that is vital to always recall is that everyone must act."
 

Thus, Ollé-Laprune again emphasises the need to start with reality, to counsel (or judge) and to prescribe (resolve) in order to act.
And the reason that all this is important is because 
«  L'histoire, elle aussi, parait se démocratiser.  » 

Translation:
"History also appears to be democratising."
Hence, the need for an "effort personnel pour élever les esprits et les âmes" - a personal effort to raise up spirits and souls who will be capable of acting for the democratic good.
Significantly, Le Prix de la Vie, went through 52 editions from its first edition in 1896 until the 52nd edition in 1944. To be precise, it might be better in English to speak of 52 printings since no further changes were made from the 3rd edition in 1896. In any event, it is an amazing publishing record for a book of philosophy, and it offers some insight into the profound influence that Ollé-Laprune exercised on the generations of Catholic social activists from the 1890s until World War II.
In fact, even during his lifetime, Ollé-Laprune was already known as the "second Ozanam" and it is well documented that he endeavoured to model his life on that of Ozanam.
Among a string of famous students of Ollé-Laprune at the Ecole Normale Supérieure in Paris was a young Maurice Blondel writing his Ph.D. thesis L'Action in 1893.
So it's no surprise that young Joseph Cardijn was reading Ollé-Laprune while still in the seminary. Moreover, it is easy to see how once Cardijn coined the phrase "see-judge-act" everyone who was familiar with Ollé-Laprune would immediately make the connection.
Now, this Preface to the Third Edition is dated 23 April 1896 so it's also significant to note that only a few weeks earlier on 8 February 1896 he had given an address to mark the unveiling of a bust of the philosopher Alphonse Gratry at the Juilly College in Paris.
In that earlier talk, Ollé-Laprune writes:
«  Il (Gratry) signale les plaies hideuses; il entre dans le détail précis, vif; il nomme par leur nom certaines choses auxquelles on ne pense pas assez; il montre ce qu'elles font, et, devant ces réalités poignantes en nous, autour de nous, il provoque des réflexions, des examens de conscience, des résolutions; et cela va loin, cela mène loin, cela suscite et prépare bien des changements.  »

Translation:

"He (Gratry) signals the hideous wounds; he enters into precise, living detail; he names certain matters that we do not think about enough; he shows what they are doing, and, faced with the poignant realities in and around us, he provokes reflections, examinations of conscience, resolutions; and this goes a long way, it leads very far, it stirs and prepare many changes."

The same method in other words, reality, reflection and resolution - a new 3Rs!
Also significant is the fact that he cites Gratry as his source for this adhesion to reality. And indeed Gratry's major work La Logique (Volume I and II), extolled the virtues of the inductive method.
But even more significant is the importance that Ollé-Laprune gives to his method, linking it to the formation of a mature and virile humanity that will:
«  (elle) apprenne l'usage de la liberté ; sans doute il est plus commode d'être défendu que de se défendre, d'être mené, je ne dis pas d'obéir, que de se conduire ; d'être protégé que de lutter ; mais tel n'est pas le plan divin : de par l'histoire, de par les faits contemporains, il est avéré que, plus que jamais, il faut lutter ; plus que jamais, l'effort éclairé, libre, énergique, persistant de chacun est indispensable, et il faut savoir, plus que jamais, enfin, s'unir les uns aux autres, renoncer aux divisions qui nous affaiblissent, qui nous perdent : ainsi se relèveront les esprits et les âmes, et, le moment venu, les sociétés, les peuples, les nations.  » 
Translation:
"A mature humanity that "will learn the use of liberty; certainly it is easier to be defended than to defend oneself, to be led, I don't say obey, than to conduct oneself; to be protected than to fight; but this is not the divine plan: both historically and in contemporary facts, it is clear that more than ever it is necessary to fight; more than ever the enlightened, free, energetic, persistent effort of everyone is indispensable, and, finally, it is necessary to know more than ever to join with others, to renounce the divisions that weaken us. In this way, spirits and souls and, at the right time, societies, peoples and nations will also be raised up."
And again a few months after writing the Preface, Ollé-Laprune gave another talk, La virilité intellectuelle  on 20 August 1896 to the Unions of Social Peace in Lyon where he again referred to the need to see, judge and conclude in order to deal with the social issues of the day:
«  Si nous pensons virilement, nous aurons, je crois, trois qualités : nous saurons voir clair, nous saurons juger, et nous saurons conclure... il faut savoir oser ce que tant d'hommes n'ont pas le courage de faire : voir clair, juger et conclure.  »

Translation:

If we think in a manly manner, we will have, I believe, three qualities: we will know how to see clearly, we will know how to judge and we will know how to conclude... we must know how to do what many men lack the courage to do: see clearly, judge and conclude.

All this makes it clear that see-judge-conclude is not just an off the cuff phrase for Ollé-Laprune but a deeply thought out method. Indeed, we can almost see his thought developing over the course of these three 1896 essays.
And we can find the sources of Ollé-Laprune's method in his very first book, Essai sur la morale d'Aristote, published in 1881, written as part of his thesis studies.
It is a beautiful and truly profound piece of writing and the book was justly awarded a prize by the Académie des sciences morales et politiques to which Ollé-Laprune would later be elected.
The very first chapter is entitled, Esquisse de l'homme vertueux et sage - Outline of the virtuous and wise man setting out the role of the virtuous, social,  just and courageous citizen who must learn to act by developing practical wisdom:
« La raison pratique discerne ce qui est à faire en toute occurrence; elle tient compte des temps et des lieux et des personnes; elle apprécie les circonstances; elle détermine la conduite à tenir: ce sont des définitions pratiques, en vue non de la science, mais de l'action. Cette prudence ou sagesse pratique, ce n'est point le vertu morale, mais c'en est la condition, parce que c'en est la lumière. »
"Practical reason discerns what is to be done at any point; it takes account of time, place and persons; it appreciates the circumstances; it determines the conduct to take: these are the practical definitions, not in view of science but action. This prudence of practical wisdom is not moral virtue but it is the condition of it, because it is the light of it."
Already we find Ollé-Laprune, following Aristotle, detailing the three steps of practical wisdom, namely taking account of events (see); appreciating circumstances (judge), determining conduct (act).
This is why I think it's right to say and I am sure that Cardijn would agree that Léon Ollé-Laprune was truly the philosopher of the see-judge-act.
Only 18 months after his talk on intellectual virility, Ollé-Laprune died prematurely on 13 February 1898, aged only 58. From reality - reflection - resolution, to see - judge - conclude and with Cardijn to see - judge - act, this is the democratic legacy of Léon Ollé-Laprune.