Discover more from Cardijn Research
My research notes about the life and work of Joseph Cardijn and his network
Sources of Pope Francis' praxis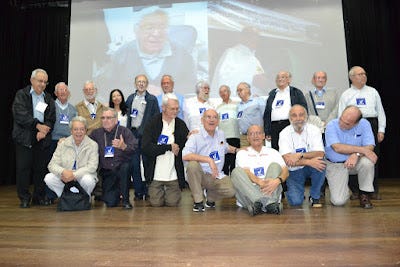 The "Jurassics" of liberation theology
"The thought of Pope Francis is profoundly marked by the 'theology of the People', an Argentinian version of the theology of liberation,' writes Belgian Benedictine monk, Dom Armand Veilleux, "of which three representatives were Juan Carlos Scannone, Lucio Gera and Rafael Tello."

"The same fundamental insights of this theological approach can also be found in the final document of Aparecida, of which Jorge Bergoglio was one of the principal authors.

"As archbishop first and later as pope, Francis has always been a pastor and has never turned into a professor of theology. All the same he possesses a powerful and coherent theological vision that one finds in all his actions and all his texts."
Francis "wishes first to know all the concrete situations that families are experiencing before asking what the Gospel has to say about these situations. He makes it very clear that free expression of all opinions and all theological approaches is welcome, but that the evangelical doctrine of mercy is non-negotiable", Dom Veilleux continues, referring to the see-judge-act that is characteristic of Francis' approach.
So who are or were the three representatives of the theology of the People that Dom Veilleux cites?
According to Daniel Decker and Horacio Verbitzky, Lucio Gera was an Argentine JOC and JUC chaplain during the 1950s. He also wrote a number of articles for the JOC magazine, Notas de pastorale jocista, during that period, including:

El sacerdote hecho espectáculo, NPJ, 1951
Revelatur ira Dei, NPJ, 1953
Un problema argentina planteado desde Argentina, NPJ, 1955
Reflexión sobre el clero y el laicado, NPJ, 1956
Encuentro des asesores, NPJ, 1956
Reflexión sobre Iglesia, Burguesía y clase obrera, NPJ, 1957
Sunt lacrymae rerum, NPJ, 1957
Hay lágrimas en las cosas, NPJ, 1957
Notas sobre la educacion, NPJ, 1958
Funcion del clero y del laicado en la Iglesia, NPJ, 1958.
According to Josep-Ignasio Saranayana, many of these articles owe much to the emerging theology of Yves Congar.
As for Rafael Tello, he became a JUC chaplain in 1953.
Stefana Falasca notes that although Tello was not well known, he was "a proponent of a eminently pastoral theology at the service of evangelization", in fact, a "search for a pastoral theology that is practical and realistic," and "is now recognized as one of the most original, creative and fruitful thinkers" in Argentina.
She cites Bergoglio as recalling his activities as an expert theologian of the Argentinian Episcopal Pastoral Commission (Coepal) in 1969 where he proposed a popular pastoral understood as an "action of the Church whereby the people evangelise themselves". Bergoglio noted its many pastoral initiatives among which the best known and that continues today: the youth pilgrimage to the Marian shrine of Luján.
Certainly, this is very close to Cardijn's own thought and practice, which also included numerous Marian pilgrimages.
I cannot find any direct reference to Juan-Carlos Scannone and either the JOC, JUC or JEC. However, many Jesuits in Argentina were chaplains to the JUC during the 1950s and 1960s. In any case, Scannone is clearly an adherent of the see-judge-act methodology as this interview shows: 
What are the characteristics of this "theology of the people"?
Just as with liberation theology, it uses the method of "seeing-judging-acting", it connects historical praxis and theological reflection, and makes use of as intermediaries the social sciences and humanities. But it favors a cultural-historical analysis compared with the socio-structural Marxist type. It is a form of thinking that emerged in the immediate post-conciliar period, from two sources: paragraph number 53 of Gaudium et Spes, which speaks of "culture" as a way of life of every people, reading it with the conviction that the first evangelization contributed much to forge the Argentine culture that manifested itself especially in popular Catholicism; and the social theories which originated at the University of Buenos Aires in the 1960s and based on the categories of "pueblo" and "anti-pueblo", which recognized that there was injustice, but which emphasized unity rather than conflict, as would have occurred if it used the concept of "class".
Therefore, this way of thinking stresses the importance of culture, religiosity and popular mysticism, while affirming that the most authentic and faithful interpreters of culture are the poor, with their traditional spirituality and sensitivity for justice. This way of thinking gives rise to the pastoral care of the barrios and poor neighborhoods.

In any case, these are just a few of the indices of how much the theology of the people, which is a a form of theology of liberation, owe to the influence of Cardijn and the specialised Catholic Action movements.
This is clearly also the case for the theology and practice of Pope Francis.
Incidentally, the above photo illustrates how close so many of these theologians are - and also how many have their own roots in the specialised Catholic Action movements, e.g. Gutierrez (JEC), or particularly the JUC, e.g. Boff, Betto, Beozzo, Whitaker, Richard to name a few. As for the JOC, it seems we are still waiting for a successor to Cardijn!

SOURCES
Francis

http://temoignagechretien.fr/articles/religion/la-theologie-de-francois

http://www.scourmont.be/Armand/writings/theologie-de-francois.pdf
Lucio Gera
https://es.wikipedia.org/wiki/Lucio_Gera

http://bibliotecadigital.uca.edu.ar/repositorio/tesis/lucio-gera-pastoral-popular-interpretacion.pdf
http://www.americalatina.va/content/americalatina/es/secciones/articulos---reflexiones/otros/lucio-gera--in-memoriam--16-1-1924--7-8-2012--.html
https://books.google.fr/books?id=WTDoBAAAQBAJ&pg=PT70&lpg=PT70&dq=lucio+gera+JOC&source=bl&ots=hVtrGXP4D0&sig=ZhfaRGo0OLwLIninbds4kOfVmzc&hl=en&sa=X&ei=3nKNVf62CsrnUtPIgfAK&ved=0CFEQ6AEwBg#v=onepage&q=lucio%20gera%20JOC&f=false
https://books.google.fr/books?id=1Kk9-XXBTIYC&pg=PT294&lpg=PT294&dq=lucio+gera+JOC&source=bl&ots=wthsfzOZ_-&sig=O0sbHc-P5XYMG-MUqZRm_Jg8Ods&hl=en&sa=X&ei=096FVeOPGMreUbyGjfgC&ved=0CEUQ6AEwBA#v=onepage&q=lucio%20gera%20JOC&f=false
Rafael Tello
http://www.avvenire.it/Cultura/Pagine/Lomaggio-del-Papa-a-Rafael-Tello-teologo-incompreso-.aspx
http://www.pastoralparaguayo.com.ar/wp-content/uploads/2015/01/Semblanza-teol%C3%B3gica-de-Tellor.pdf
http://www.pastoralparaguayo.com.ar/wp-content/uploads/2015/01/pensamiento-teologia-arg.pdf
Tello speaks: https://www.youtube.com/watch?v=XV3DtYh2zCk
Bergoglio on Tello: 
https://www.youtube.com/watch?v=boCYFCfCU4k
https://www.youtube.com/watch?v=N4RLyt3AlQU
Juan Carlos Scannone
https://en.wikipedia.org/wiki/Juan_Carlos_Scannone
http://www.olimon.org/uan/filosofos-scannone.pdf
http://vaticaninsider.lastampa.it/en/world-news/detail/articolo/francesco-francis-francisco-23770/
PHOTO
Virtualmente: Gustavo Gutiérrez, Sergio Torres Gónzalez Presencialmente: José Marins, Cecilio De Lora, Pedro Trigo, Elsa Tamez, Jon Sobrino, Paulo Suess, Leonardo Boff, Joao Batista Libanio, Pablo Richard, Jesus Garcia, Victor Codina, Juan Carlos Scannone, Frei Betto, Juan Hernández Pico, Carlos Mesters, José Oscar Beozzo, Eleazar López, Francisco Chico Whitaker, Diego Irarrázaval. (Foto de Wagner Altes) 
http://www.unisinos.br/blogs/ihu/bastidores/os-jurassicos-da-teologia-da-libertacao/