Discover more from Cardijn Research
My research notes about the life and work of Joseph Cardijn and his network
Suenens clears the decks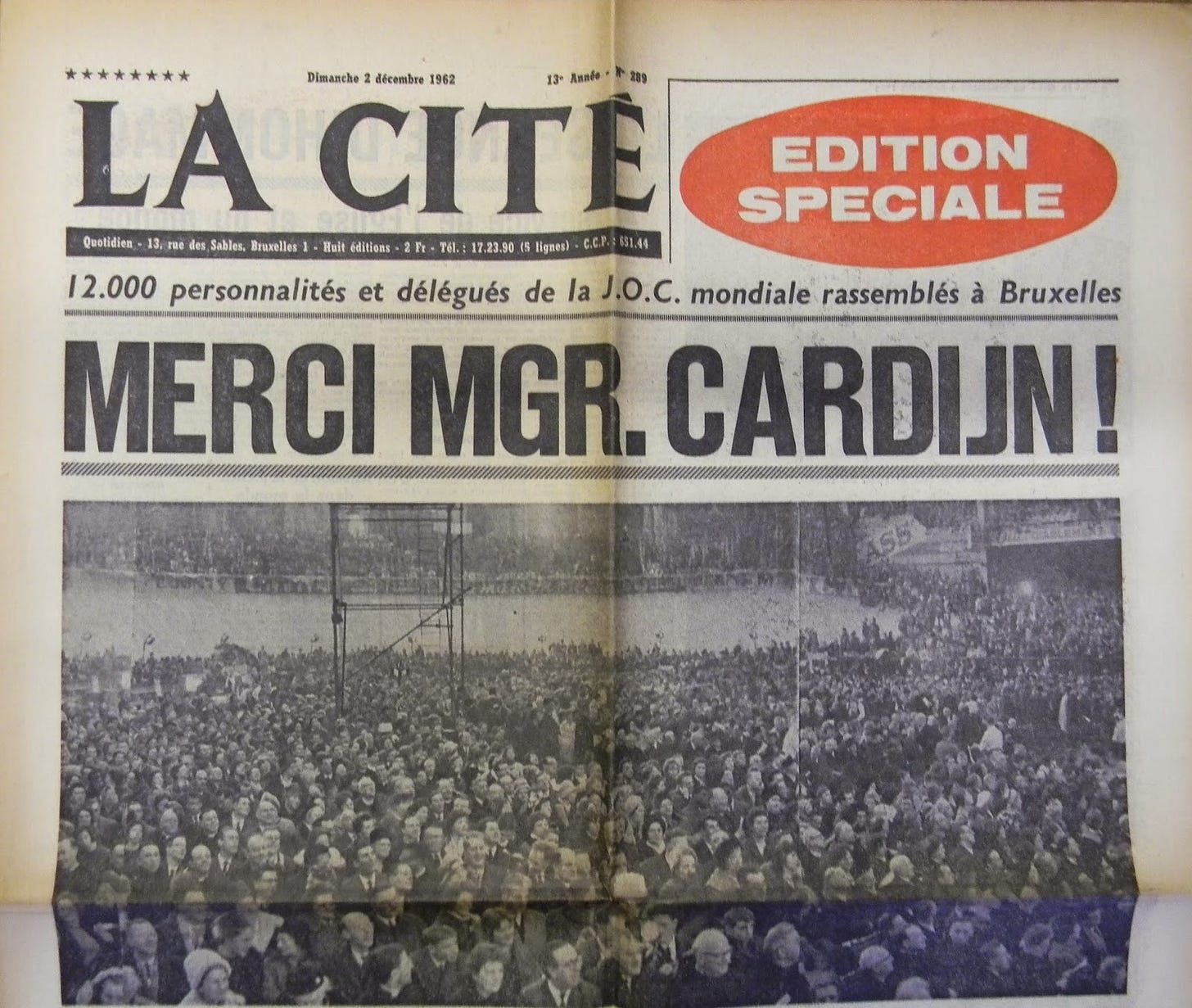 Cardijn's 80th birthday celebration (Archives Tournai Diocese)
Previously I have raised the question of who locked Cardijn out of the First Session of Vatican II and indicated the probability that Cardinal Suenens, who did not share Cardijn's understanding of the lay apostolate and Catholic Action, was involved, as he had been in blocking Cardijn's ally Bishop Himmer from becoming a member of the Conciliar Commission on the Faithful.

Suenens, who had become archbishop of Malines-Brussels in November 1961 just eleven months before the opening of the Council, was also involved in a much broader operation to clear the decks.

Another Cardijn ally to lose his post was Bishop Honoré Van Waeyenbergh, who was replaced as rector of the University of Louvain in 1962. Mgr Emile Blanchet, Van Waeyenbergh's counterpart as rector of the Institut catholique de Paris, recorded the latter's feelings in his own council journal:

3 December 1962

I was cold and needed something to warm me up so I went to the "bar". There I met Mgr van Waeyengergh who told me his woes. He has been reduced to a purely honorific role; he was not consulted about the changes that have been made; he no longer has a decent office at the University; he learnt everything in the newspapers. A dejected man, with trembling voice, eyes full of tears.

Original French:

J'ai froid, j'ai besoin d'un peu de réaction : je vais au « bar ». J'y rencontre Mgr van Waegenberghe[216] , qui me dit ses tristesses : il est réduit à un rôle purement honorifique, il n'a pas été consulté pour les changements qui ont été faits : il n'a plus de bureau décent à l'Université : il a tout appris par les journaux… Un homme abattu, la voix tremblante, les yeux pleins de larmes.
In reality, Bishop Wan Waeyenbergh turned 71 in 1962, and he had been rector since 1940. So there's no question that it must have been time for change. Nevertheless, the brutal fashion of his removal does speak volumes. 
Was it also relevant to his removal that as a young seminarian in 1919, young Van Waeyenbergh had been among the first work with Cardijn in organising the young workers of Laeken?
It also emerges that Suenens simultaneously engineered the removal of the rector of the Pontifical Belgian College, Mgr J. Devroede, and his replacement by Mgr Albert Prignon. 
In his introduction to Prignon's Council Journal, Claude Troisfontaine writes:
(Albert Prignon) was named rector of the Pontifical Belgian College on 15 August 1962, two months before the opening of the assembly. He thus succeeded J. Devroede whose eviction did not fail to surprise. It was no secret for anyone to see the will of L-J Suenens in this sidelining. The latter... had clashed with the incumbent rector during the reception of his cardinal's hat. The somewhat rebellious attitude of the students at the Belgian college during the holding of the ceremony - and undoubtedly the maladroitness of J. Devroede himself - served as pretext.
Original French:
A. Prignon n'a pas été appelé comme expert au Concile (il ne l'est devenu qu'en mars 1963). Ce qui l'a préparé à entrer dans le cercle des periti, c'est le fait d'avoir été nommé recteur du collège pontifical belge, le 15 août 1962, deux mois avant l'ouverture de l'assemblée. Il succédait ainsi à J. Devroede dont l'éviction n'a pas manqué de surprendre. Ce n'est un secret pour personne que de voir, dans cette mise à l'écart, la volonté de L.-J. Suenens. Ce dernier, récemment nommé archevêque de Malines-Bruxelles, s'était brouillé avec le recteur en place, lors de la remise de son chapeau de cardinal. L'attitude quelque peu frondeuse des élèves du collège belge au cours des épisodes de la cérémonie - et sans doute aussi quelques maladresses de J. Devroede lui-même - ont servi de prétexte.
Again, Devroede had been there since 1949 so no doubt time for a change.
Moreover, Suenens had taken over the Archdiocese of Malines-Brussels after the 35 year reign of Cardinal Van Roey, during which Suenens had served as auxiliary for 16 years. Clearly, Suenens was champing at the bit by 1961.
And he did not hesitate to take advantage of his new position with little regard for niceties, even if his moves did not endear him to his Belgian episcopal colleagues, as it would seem. As Suenens wrote to Veronica O'Brien of the Legion of Mary on 16 October 1962:
In any case the 65 Belgian missionary bishops are behind me - which is not the case for the seven here [i.e. the seven diocesan bishops]... I felt this in De Smedt's manoeuvres which aimed to place Himmer on the list of candidates for the Catholic Action Commission [i.e. Lay Apostolate Commission]. I told him privately that I did not agree with the idea but he came back to the charge in public for us to place him on our list.
Original French:
En tout cas les 65 évêques missionnaires belges sont derrière moi - ce qui n'est pas le cas des 7 d'ici…. J'ai senti cela aux manoeuvres de De Smedt qui voulait mettre Himmer sur la liste de candidats pour la Commission Action catholique. Je lui avais dit en privé que l'idée ne m'agréait pas, mais il est revenu à la charge en public pour qu'on le mette sur notre liste.
Nor was Brazilian Bishop Helder Camara impressed by Suenens.
In November 1962, Cardijn turned 80. A major celebration for this was organised at the Heysel Stadium in Brussels - NOT by his own Malines-Brussels archdiocese, but, you guessed it, by priests from the chancery of Mgr Himmer's diocese of Tournai!
Camara, who did come to Brussels at the end of the First Session, took it upon himself to write to Suenens:
Profiting from Mgr Cardijn's (80th birthday) jubilee, please offer the International YCW a broad gesture of understanding and paternity (a letter, a visit, invitation for a dinner). This would crown a task that I have had the joy of sharing and which has met with resounding success.
Original French:

En profitant du jubilé de Mgr. Cardijn (80e. Anniversaire), ayez pour la JOC International un geste large de compréhension et paternité (une lettre, une visite, invitation pour un déjeuner). Ça couronnera un travail que j'ai eu la joie de faire et qui a rencontré une résonance absolue."
Moreover, it was Camara who appears to have been one of the prime movers to get Cardijn added to the list of periti (experts) at the Council. In a letter from the Council to his colleages in Brazil he wrote:
Rome, 18 November 1962

To my dear family at Sao Joaquim,

Mgr Cardijn has just left. He cried with joy at everything that Dom Larrain [Chile], Dom Tavora [former YCW national chaplain in Brazil] and I told him. If God wishes, we will succeed in having him appointed as an expert on lay apostolate issues (and who surpasses him in this area?).

Tomorrow he will come to celebrate his 80th birthday with us. What a life, fully and well lived in the light of grace!

I remember the very great impression (one of the greatest of my life) he made when he presented a universal panorama of the great issues of our time at the first International Congress on the Apostolate of the Laity...

Just about everything that we are trying to achieve, with the grace of God, is in response to the anguished call of this great apostle. May God allow us to spend our lives like him in the service of God and our neighbour! May God allow us to age with the youthfulness of soul that he possesses!
So Cardijn was present in Rome for a time during the First Session - but not as peritus.
Suenens did at least sign the moving letter from the Belgian bishops addressed to Cardijn from Rome on 1 December 1962 during that First Session of the Council:
United in Rome with the supreme Pastor, the episcopate of the whole world is re-thinking the task and mission of the Church in the world today.
Of these 2.500 bishops, how many have you not met during your travels around the world!
How many of them have been won over to your ideal by the appeal of your personality and the conviction of your word. How many have of them have become your friends!
Equally, how many have accompanied their jocists, young workers from 91 countries of the world, during the assembly at St Peter's [1957], when they delivered to the Holy Father their enthusiastic testimony of their filial fidelity and their fervent apostolic spirit.
They appeared in Rome like the announcement of a new spring in the Church, like missionaries of new times spread across every country, like the seed of a new and more beautiful world, like the rich promise of a working class conscious of its human and Christian dignity.
Original French:

Réuni à Rome autour du Pasteur suprême, l'épiscopat du monde entier repense la tâche et la mission de l'Eglise dans le monde d'aujourd'hui.

De ces 2.500 évêques, combien n'en avez-vous pas rencontrés au cours de vos périples à travers le monde !

Combien d'entre eux n'ont-ils pas été conquis à votre idéal par l'attrait de votre personnalité et la conviction de vos paroles. Combien ne sont-ils pas devenus vos amis !

Combien également n'ont-ils pas accompagné leurs jocistes lors du rassemblement, sur la place Saint-Pierre, des jeunes travailleurs et des jeunes travailleuses de 91 pays du monde lorsqu'ils apportaient au Saint Père le témoignage enthousiaste de leur fidélité filiale et de leur fervent esprit apostolique.
Ils sont apparus à Rome comme l'annonce d'un nouveau printemps dans l'Eglise, comme des missionnaires des temps nouveaux répandus à travers tous les pays, comme la semence d'un monde nouveau et plus beau, comme la riche promesse d'une classe ouvrière consciente de sa dignité humaine et chrétienne.
Not a surprise though that, for whatever reason, Suenens does not appear to have been among those bishops who had been present in Rome for the great pilgrimage and world assembly in 1957.
In any case, the circumstantial evidence just keeps accumulating that it was indeed Suenens who kept Cardijn from being appointed as peritus during the First Session. 
Even once he was appointed in January 1963, the difficulties were not over. With Himmer's appointment to the Commission on the Apostolate of the Faithful (the Lay Apostolate Commission) also having been blocked, it meant that there was no Belgian bishop there to support Cardijn, who thus had to rely on Camara, the French, Canadian, Chilean and other bishops.
At the end of the day, it seems to me very difficult to avoid the conclusion that Suenens did indeed systematically work to undermine Cardijn's influence at Vatican II. The fact that he did not completely succeed was due to the influence of the bishops and periti formed by the YCW and the other movements of specialised Catholic Action, and particularly, to Pope Paul VI who in February 1965 made Cardijn an archbishop and cardinal.